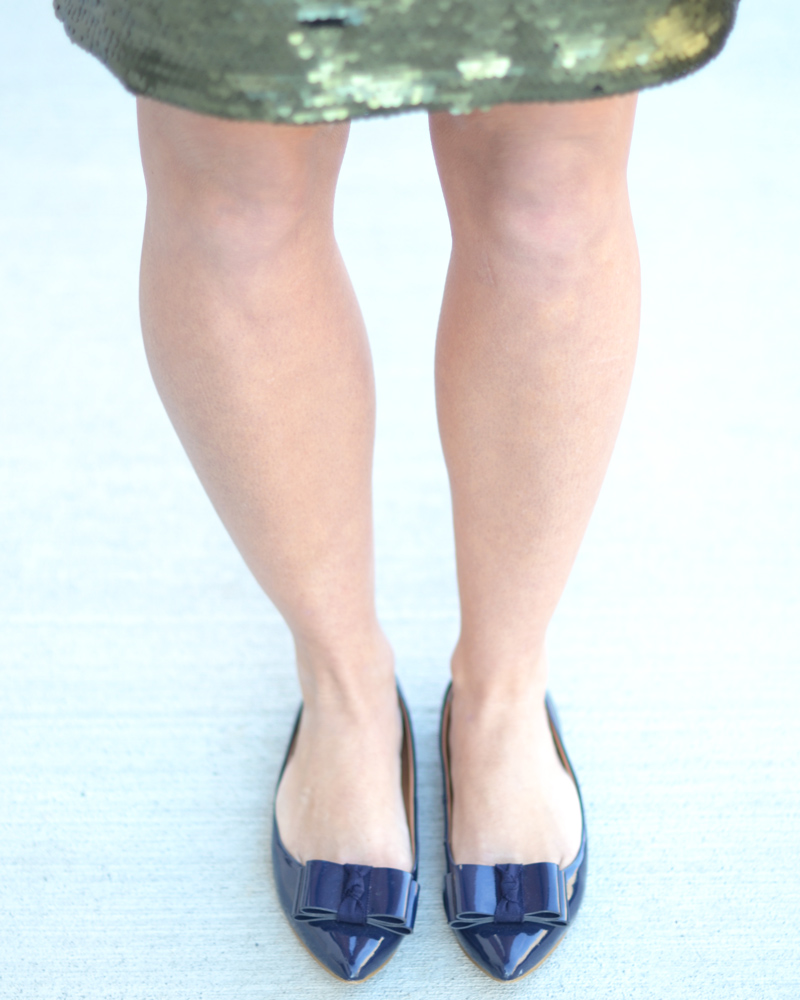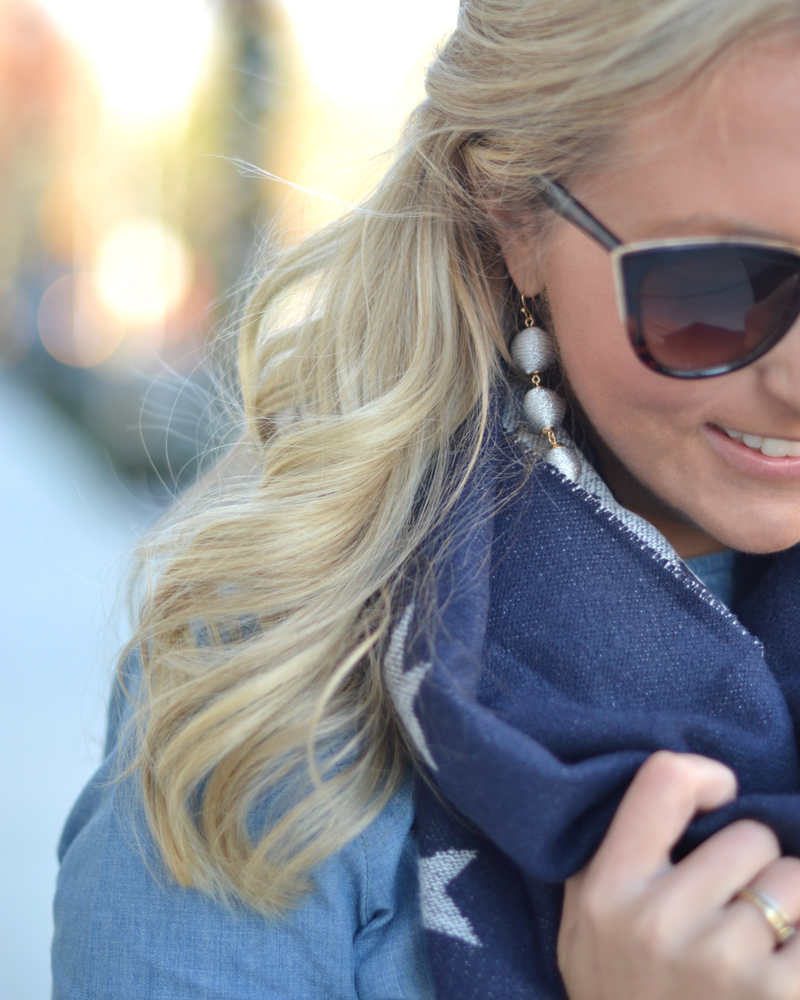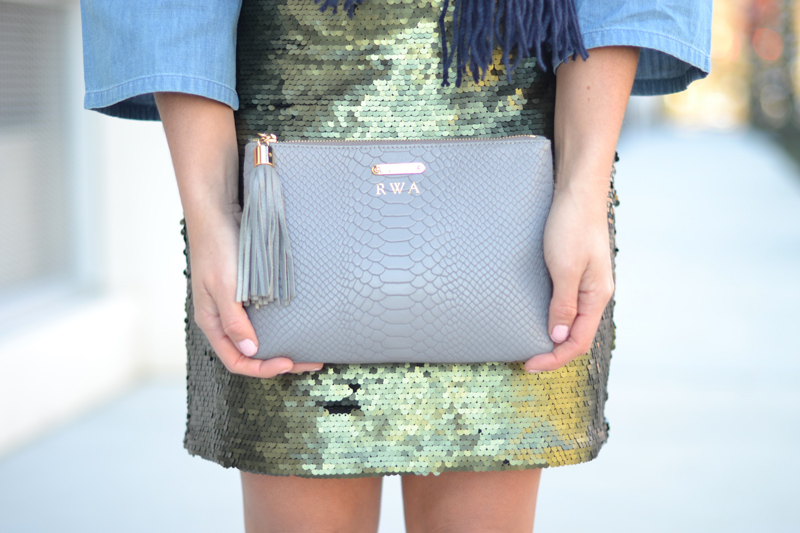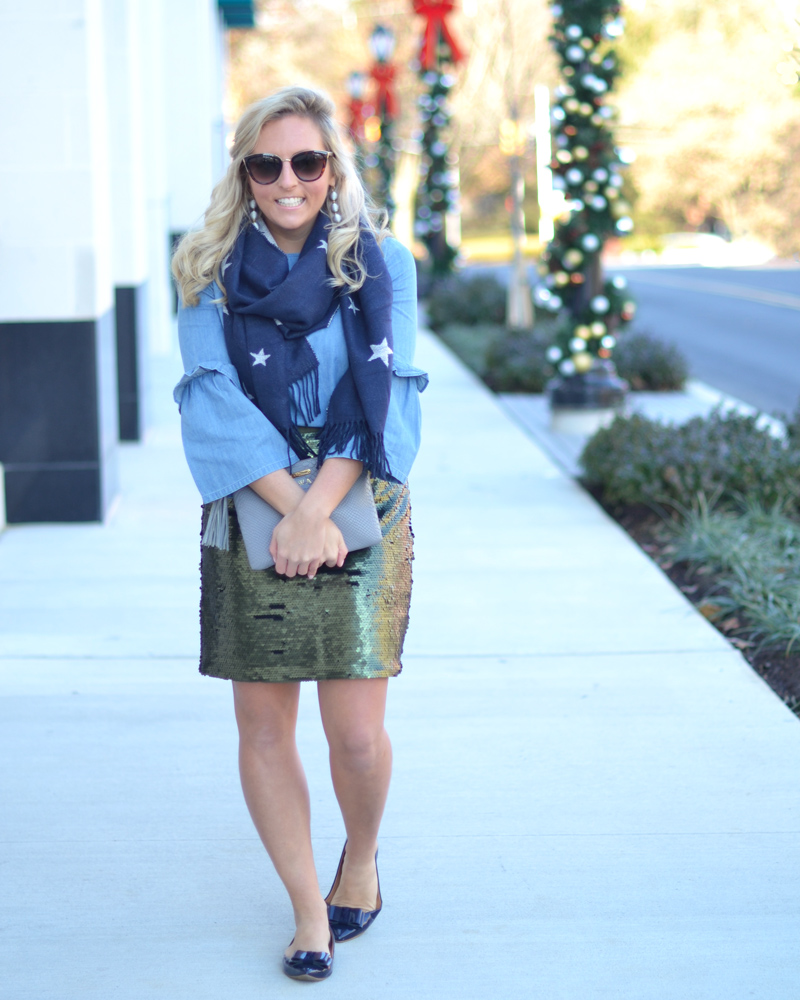 ~ Photography by my friend, Amy, from the awesome colorful blog(you'll love it!), I Believe in Pink! ~
~ Outfit Details: Sequin Skirt ~ Chambray Bell Sleeved Shirt ~ Stars Scarf ~ Monogrammed Clutch ~ Sunglasses (under $20!) ~ Earrings c/o SUGARFIX by Baublebar ~ Bow Flats (mine are Navy, but they are still in-stock in tan and black!) ~
~ If you've been following along on instagram, I revived Outfit Advent…an epic tradition I started back when I was styling at Vineyard Vines as a way to bring a little extra joy and daily excitement to the studio (and then it extended to the office and to our freelance talent, too!). Outfit Advent is the BETTER and WAY more fun way to count down to Christmas. Eating numbered chocolate is a thing of the past. 24 epic themed outfits is definitely the way to go!
This year, I felt like EVERYONE could use a little extra joy (myself included), and I wanted to revive this old tradition and extend it to the blog following and to everyone who would like to participate. Each day, I'll be sharing updates on instagram and on my instagram story! If you participate, DM me your look or tag me in your post so I can share on instagram! The themes this year are pretty wonderful…and I made a main section at the top of the Wear Bows & Smile home page dedicated to Outfit Advent, where you can find the calendar! I hope you have as much fun with this as I am, and PLEASE share with me…I can't wait to see your looks!
Today's theme was MORE IS MORE! A theme for my whole life really! In Milan for a school project, we had to work with a small magazine for 2 months and the moment the founder said "One word to describe my magazine: MINIMAL," my heart shattered and my soul died a little bit. PLEASE oh my GOODNESS never let me describe my style or anything I put my heart into as MINIMAL. ICK. YUCK. EWW. GROSS. I. CAN'T.
Put a bow on it! Throw kindness like confetti! Better yet, throw confetti! COLOR & SPARKLE = Happiness! In the words of Iris Apfel, "More is more, and less is a bore." AMEN TO THAT!
Head on over to the calendar to check out tomorrow's Outfit Advent theme. Which one appeals most to you?!
Gratefully with love,
xoxoxoxoxoxoxoxo Rhiana