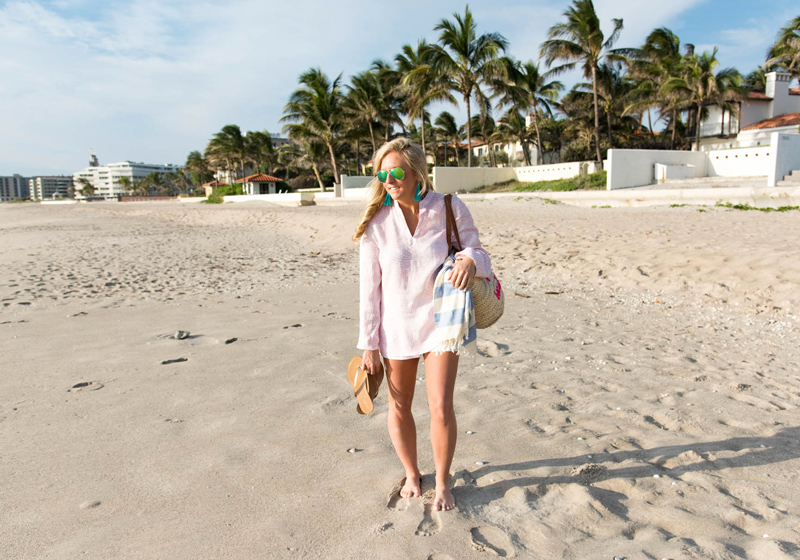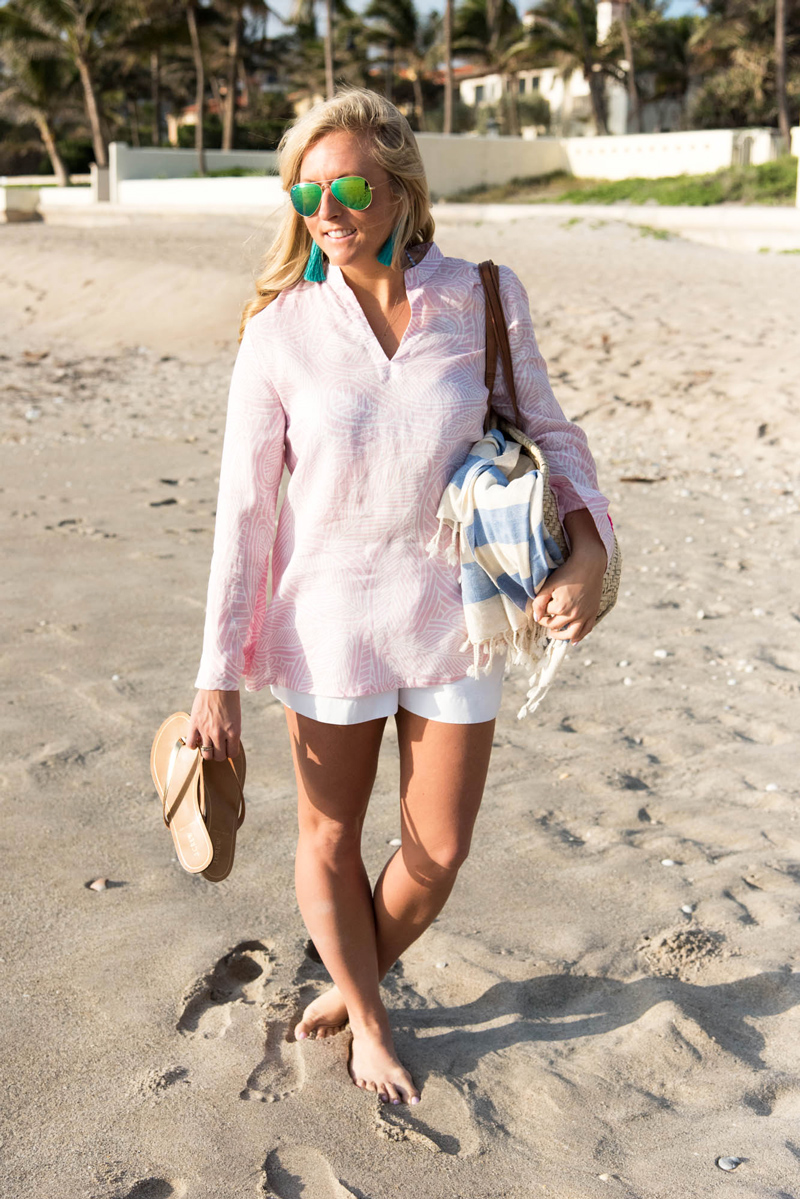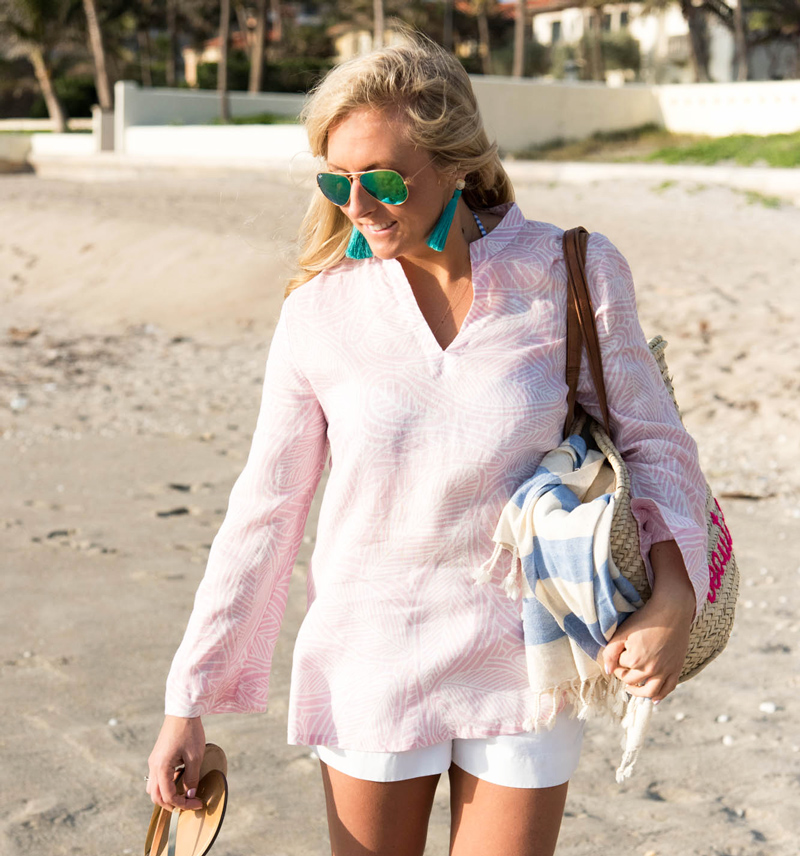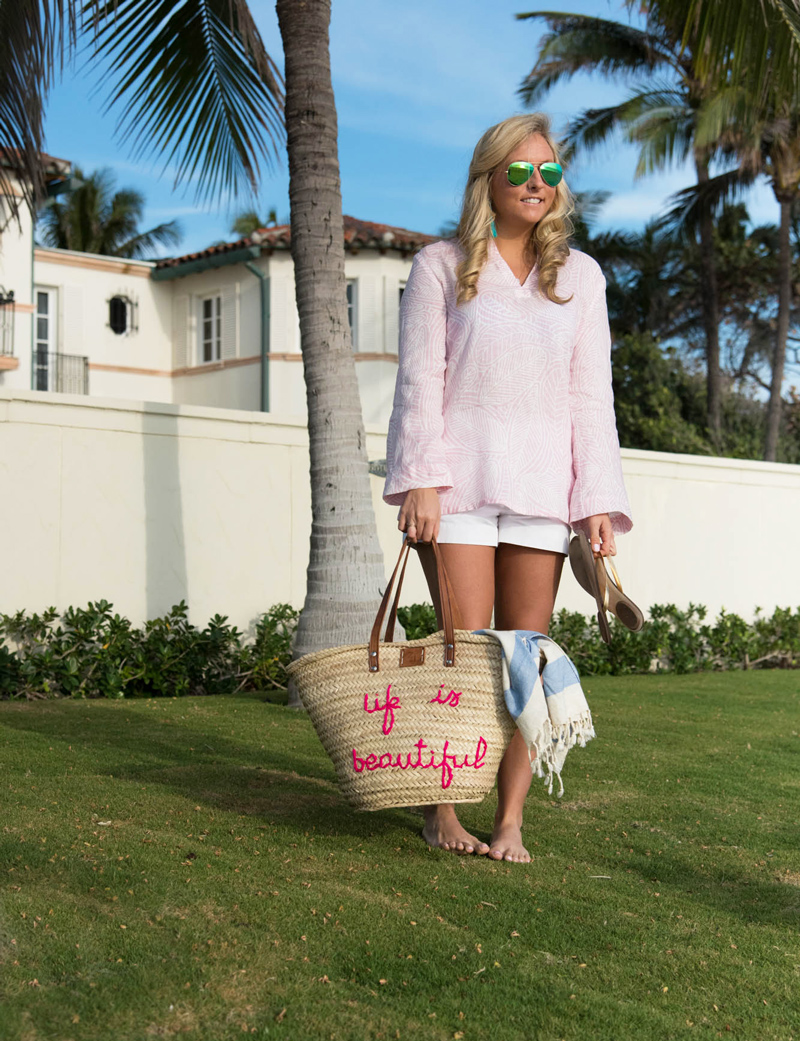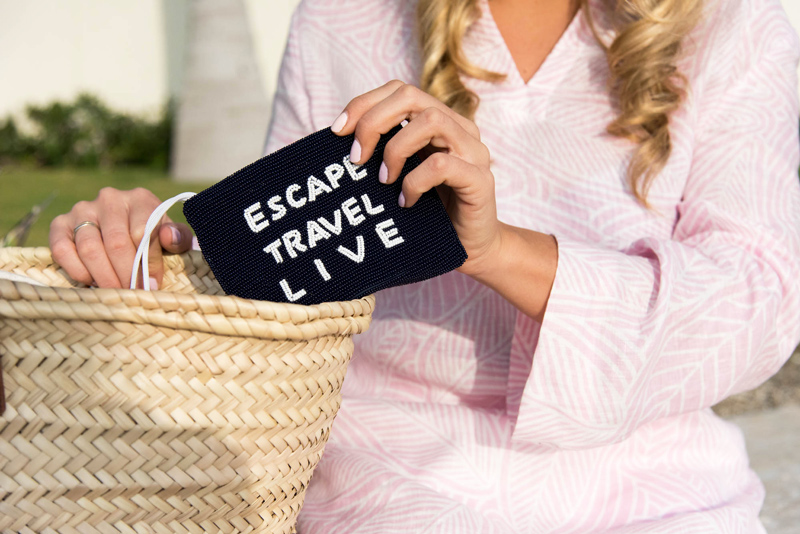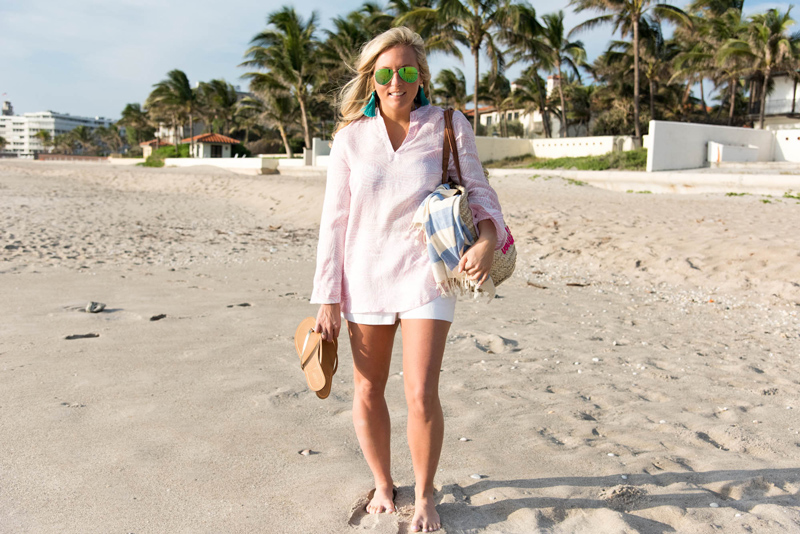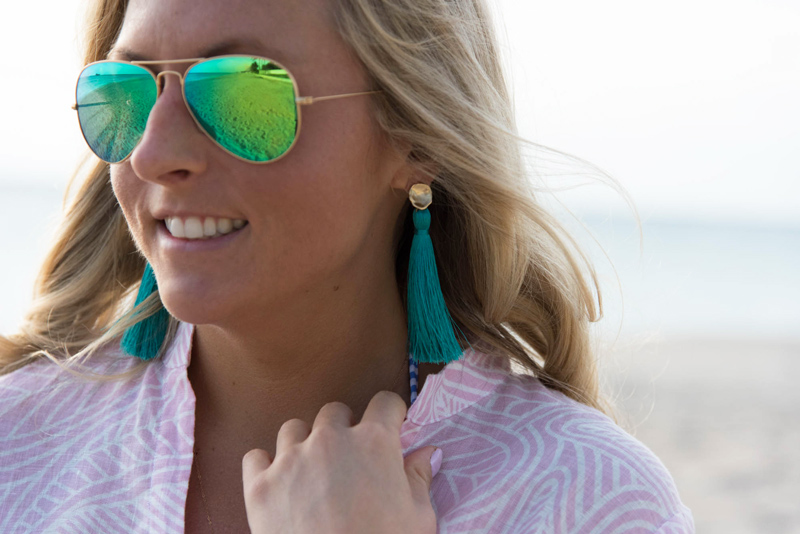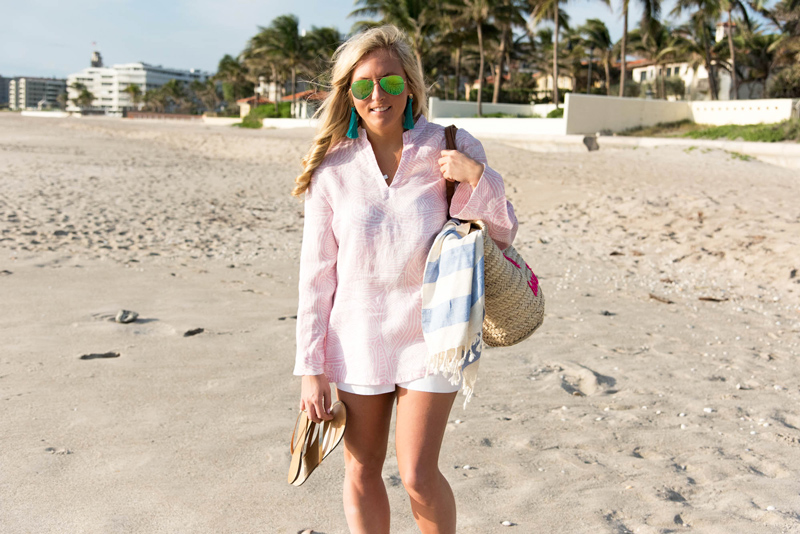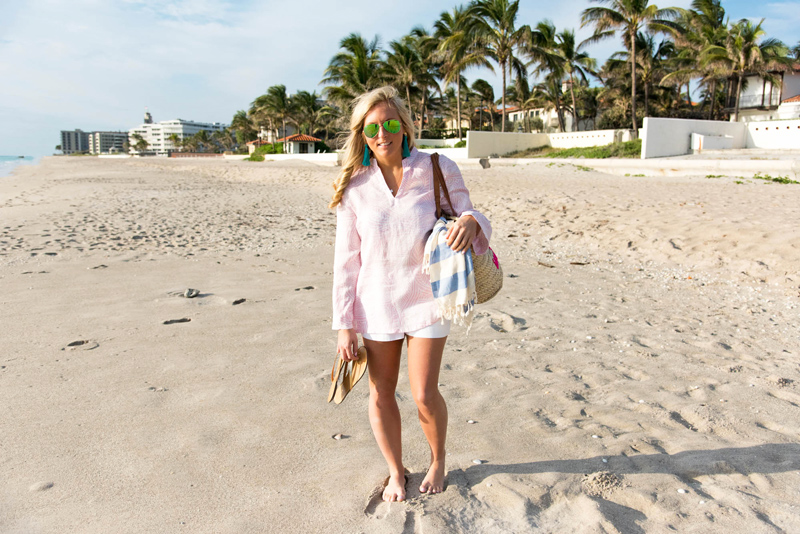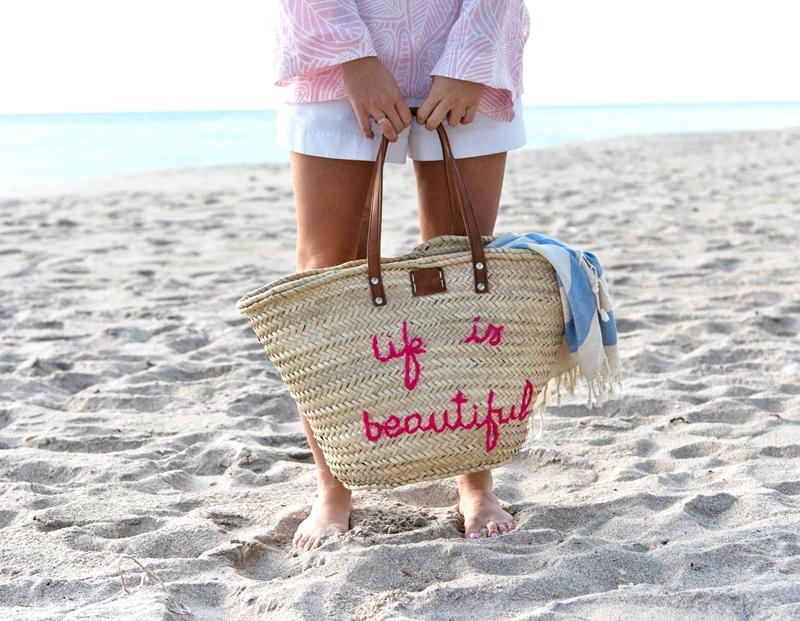 ~ Photography by Jacki Campany ~
Outfit Details: Tunic and Beaded Wristlet c/o Island Company ~ Shorts (old) by J.Crew ~ Earrings and Necklace by Andrea Del Bello Jewelry ~ Flip-Flops by J.Crew ~ "Life is Beautiful" Straw Bag by Z & L Europe (you can purchase here)~ Sunglasses by Ray-Ban ~
Hi guys! I am so excited to be featuring one of my favorite brands, Island Company, on the blog today! I've loved them since first learning about them and have fond memories of getting my first Island Company linen dress and the softest bikini at their store on the Vineyard. I just love their easy breezy feel, fun prints, amazing colors….and you cannot deny the feeling of being on vacation each time you walk into one of their stores! I'm loving this Anguilla Tunic from them. They specialize in linen and I really think you can tell the difference in their high quality linen verses other brands. It's so incredibly soft and light! This pale pink pattern was completely screaming my name, and I loved styling it up for a fun beach look with a bikini underneath (because let's be honest here, if I'm going to any social event on a beach, I'm definitely getting in after one drink). I also have big plans to wear this out to dinner this summer with white jeans and a pair of cork wedges!
This Island Company "Escape, Travel, Live" beaded wristlet is perfect for your phone, change, keys, and jewelry that you don't want clinking around on the bottom of your beach bag (aka…the things I usually lose at the beach so this wristlet has been a lifesaver). I also really feel like it captures my state of mind lately. I know I've talked about this before, but I just can't stop thinking about traveling, meeting new people, seeing new places, and having new adventures.
These tassel earrings by my friend Andrea are just so amazing and LIGHT! I feel like I could dance all night in them and my ears would be fine! They also make any outfit look more effortlessly cool and glam. I'm already dreaming about the other looks I want to style them with!
Whether you were able to go on spring break, take that girls trip (or that solo trip), or explore somewhere new close to you, I hope that you had the chance to "escape," "travel," and "live" recently too! My spirit always feels happier after a trip and I always come back with new inspiration. Now, to plan that next vacation….
Gratefully with love,
xoxoxoxoxoxoxo
Rhiana
P.S.
Big thanks to Island Company for partnering on this post!