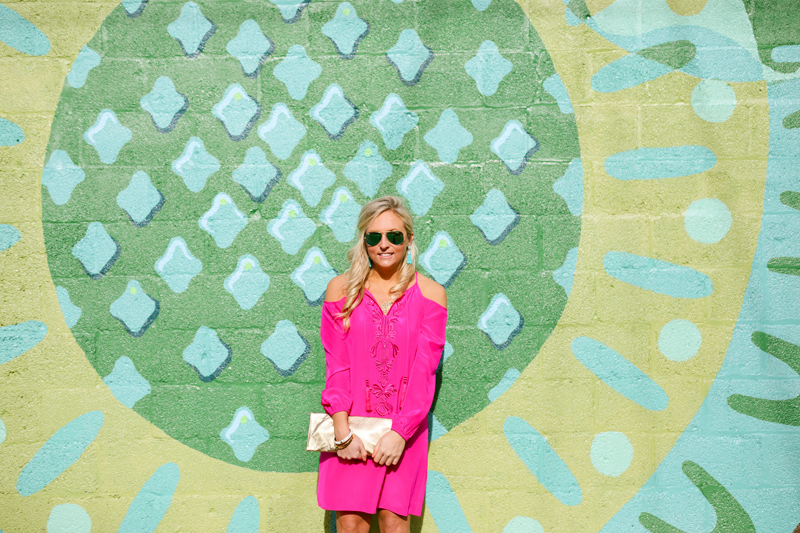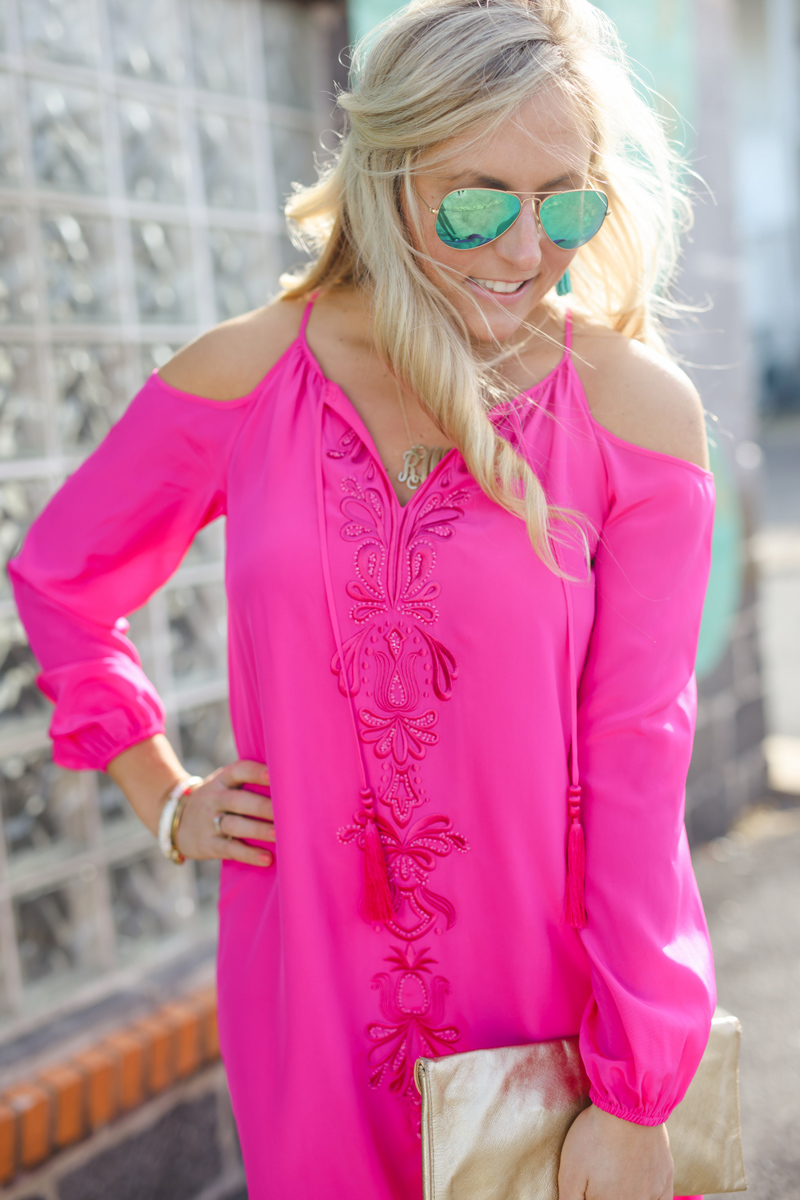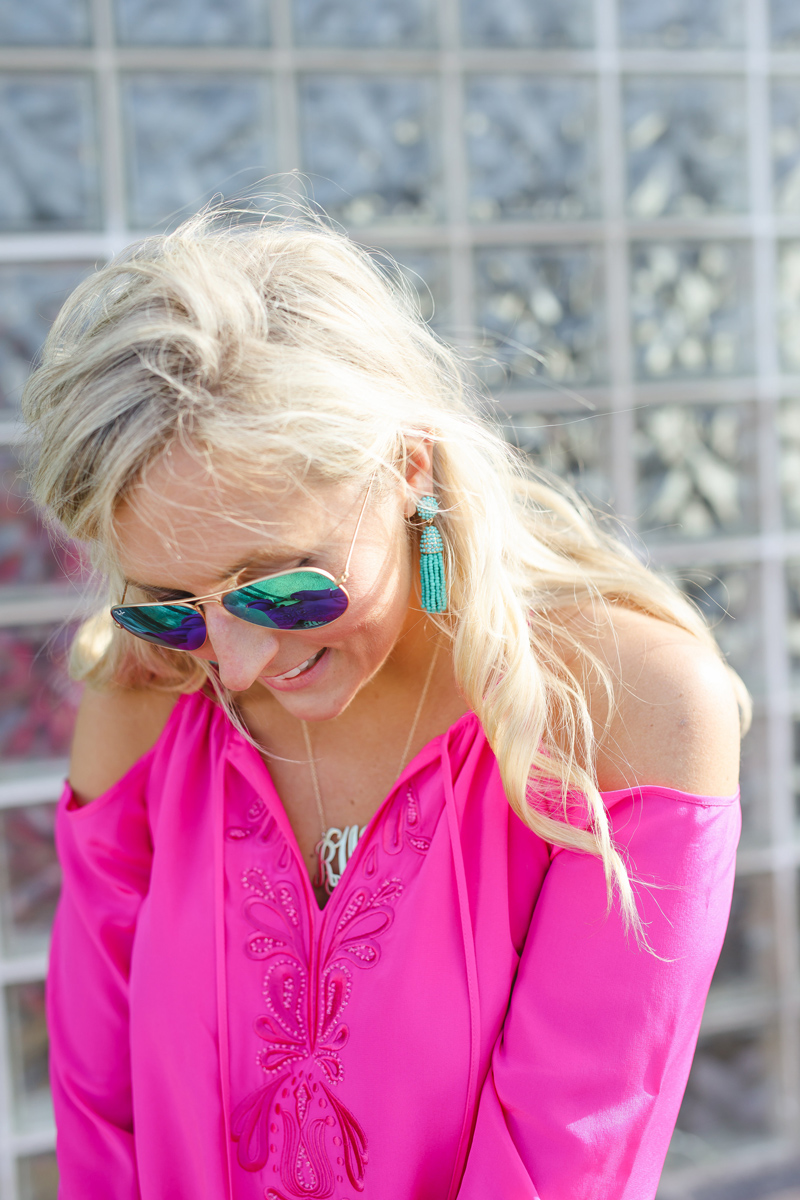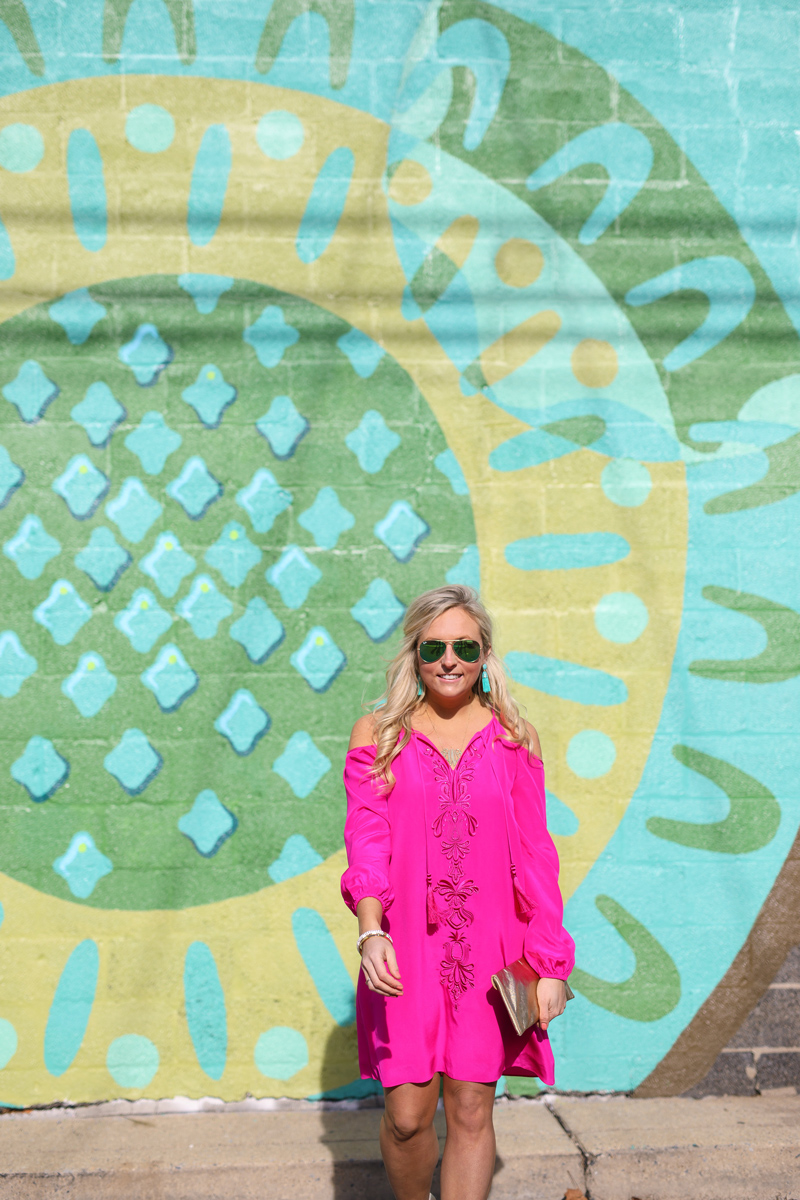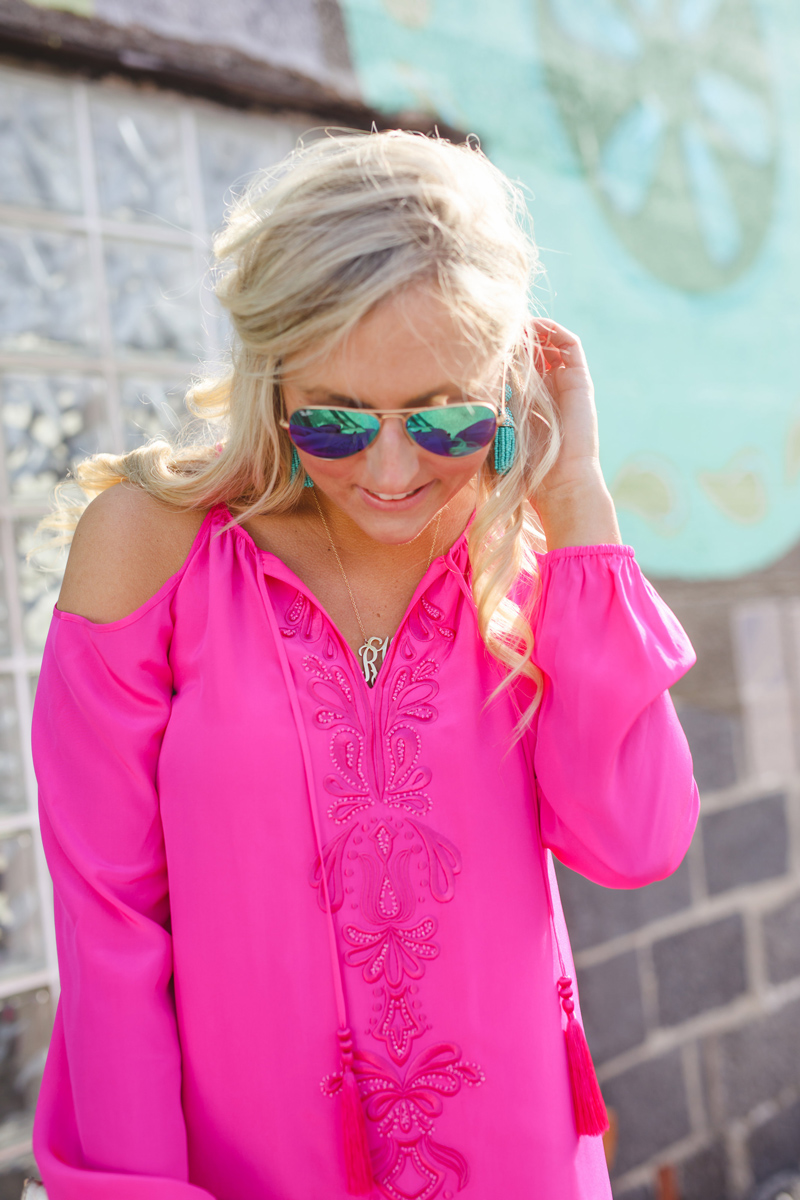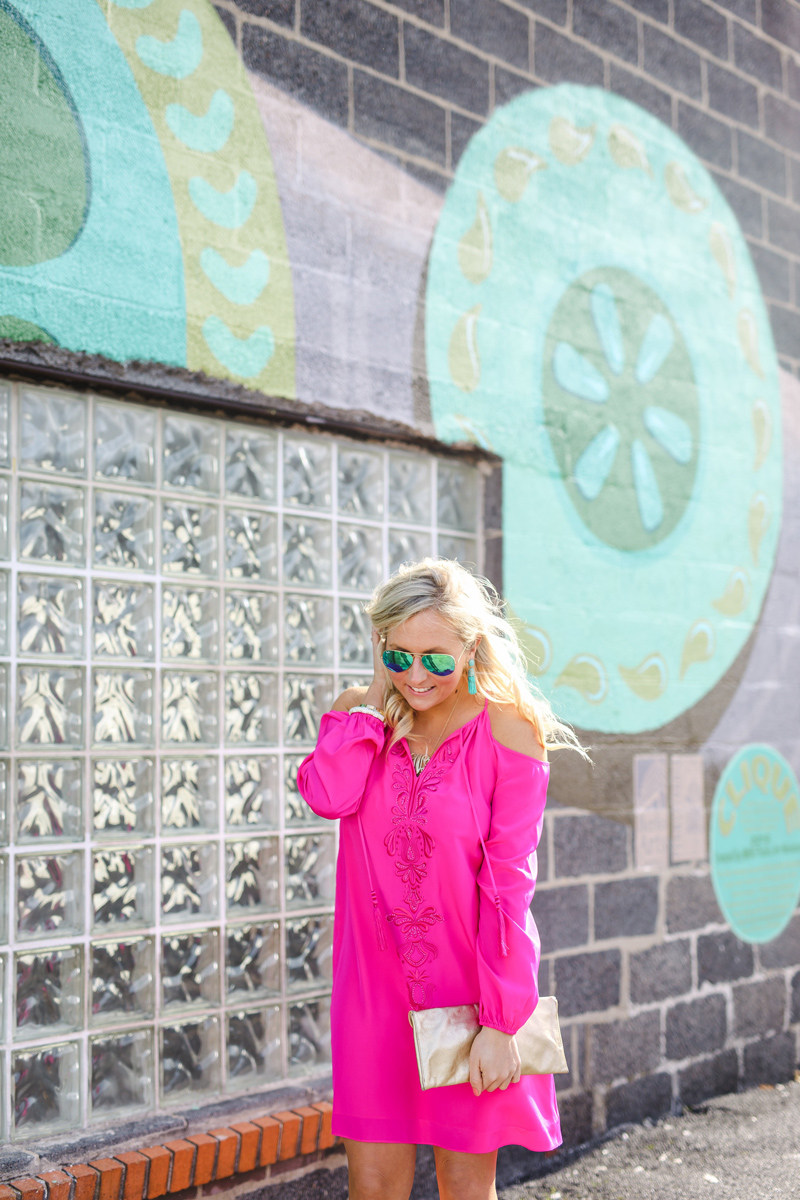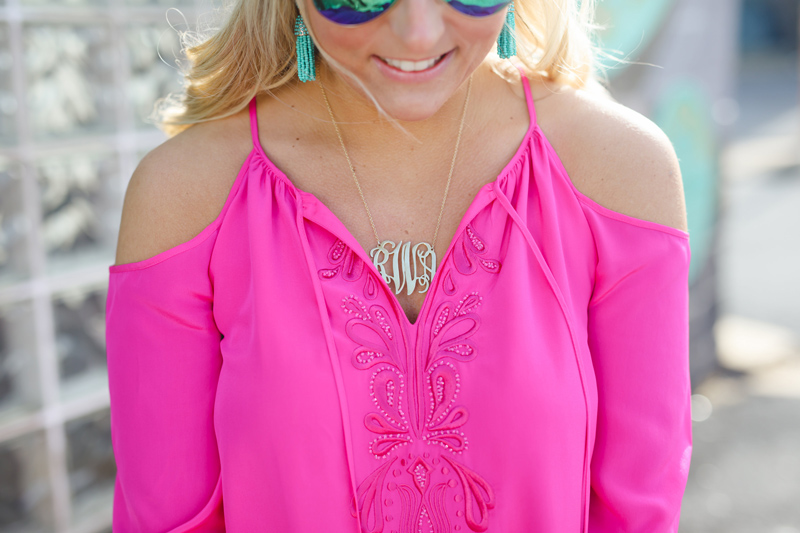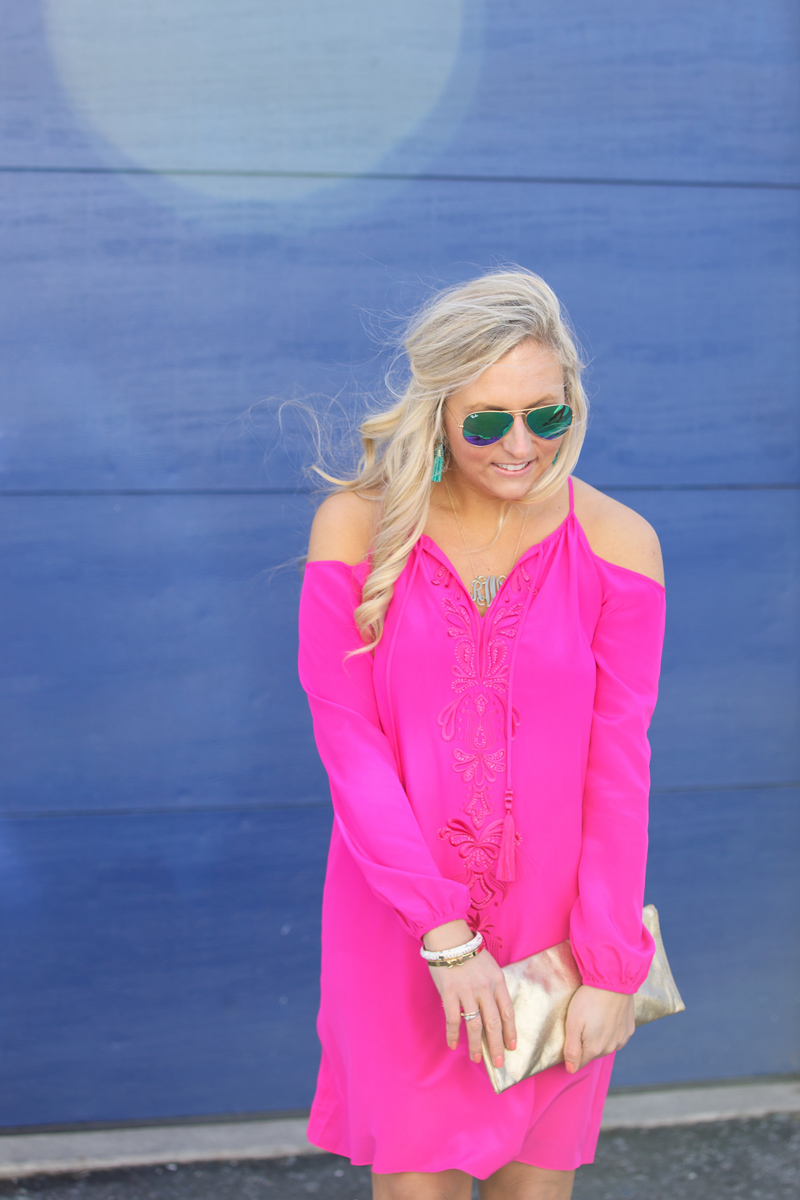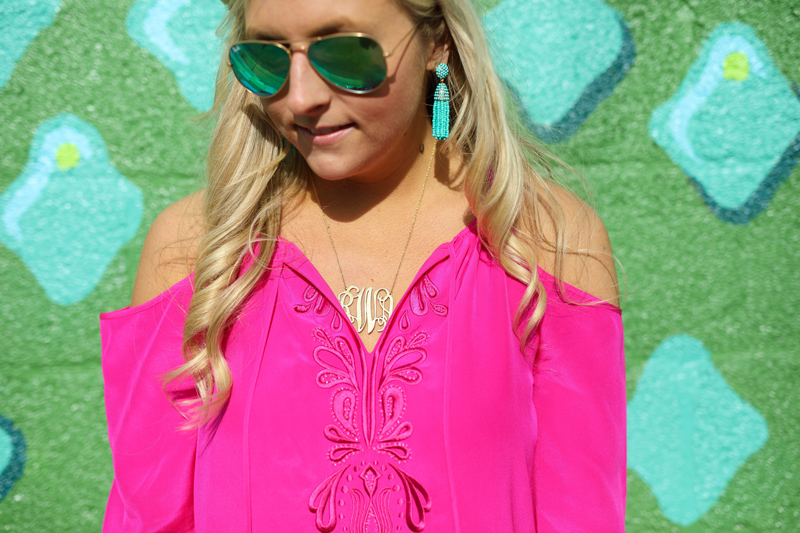 ~ Photography by Tawanda Faye Photography (scroll down to learn more about Tawanda, who was so much fun to work with!), photography assistant Cara Udicious ~
~ Outfit Details: Lilly Dress ~ Wedges (not pictured) ~ Monogrammed Necklace ~ Earrings ~ Sunglasses ~ Clutch (old Lilly from when I was their summer intern!), but love this new gold Lilly clutch! ~ Bangles (old) but love this gold bamboo Lilly bangle! ~
~ OH MY GOODNESS! I just absolutely love this bright pink Lilly dress with embroidery and tassels! It's almost Valentine's month and I've been joking a lot about how I've yet to find a guy who lights me up as much as Lilly Pulitzer does! Haha (*but actually) This dress put the biggest smile on my face and I couldn't stop beaming in it!
After interning at Lilly (way back in the day), I went on to intern at Oprah Magazine. The Creative Director would call me the "Lilly girl" and say "all Rhiana knows is Lilly." I remember thinking at the time, "this is probably not good." I had trouble shaking the same title when I first began working at Vineyard Vines HQ, and that worried me a little. But NOW, age, wisdom, brand awareness, experience, and consistent exposure has led me to a different conclusion. Here I am in Milan getting my masters in Fashion Styling and Visual Merchandising and I AM a Lilly girl and you know what? I am proud of it and I OWN IT! Every great stylist has a designer or brand that they are in love with and identify with. Mine is Lilly. It's a brand that matches my personality the best and I have loved introducing it to classmates here in Italy!
Lilly has so many wonderful things right now, and so I rounded them up (below!) with little love note comments. (*If you are reading this from your e-mail inbox, switch on over to the blog page to view the round up!)
Gratefully with lots of Lilly love,
xoxoxoxoxoxoxoxoxo Rhiana
My Current Lilly Top Picks!
~ About the Photographer! ~ When I was home in PA, I had the incredible opportunity to shoot with Tawanda, who is just as bright and happy as these photos! She has an incredible positive energy that really brought joy to the shoot and I think brought out the best in me, too! She also has a great eye and a special talent for handling natural light in the best possible way! Check out her website (loved clicking through the weddings and family shoots!) and if you are in the Berks County area, be sure to keep her in mind! I really wish we lived in the same city! xoxo