I'm so excited to be sharing this Q & A with Leah and Rebecca, the sister duo behind Plante Clothing. These two do it all, from sourcing beautiful fabrics, to designing the stunning environmentally conscious pieces in each collection. I also love that each feminine and enchanting piece from Plante is beautifully constructed and made in NYC! Below are a few "behind-the-scenes" photos from their recent shoot in their hometown of Charleston. Take a peak and then read on for their insightful and inspiring Q&A below (and then don't forget to check out the STUNNING pieces on their website after!)!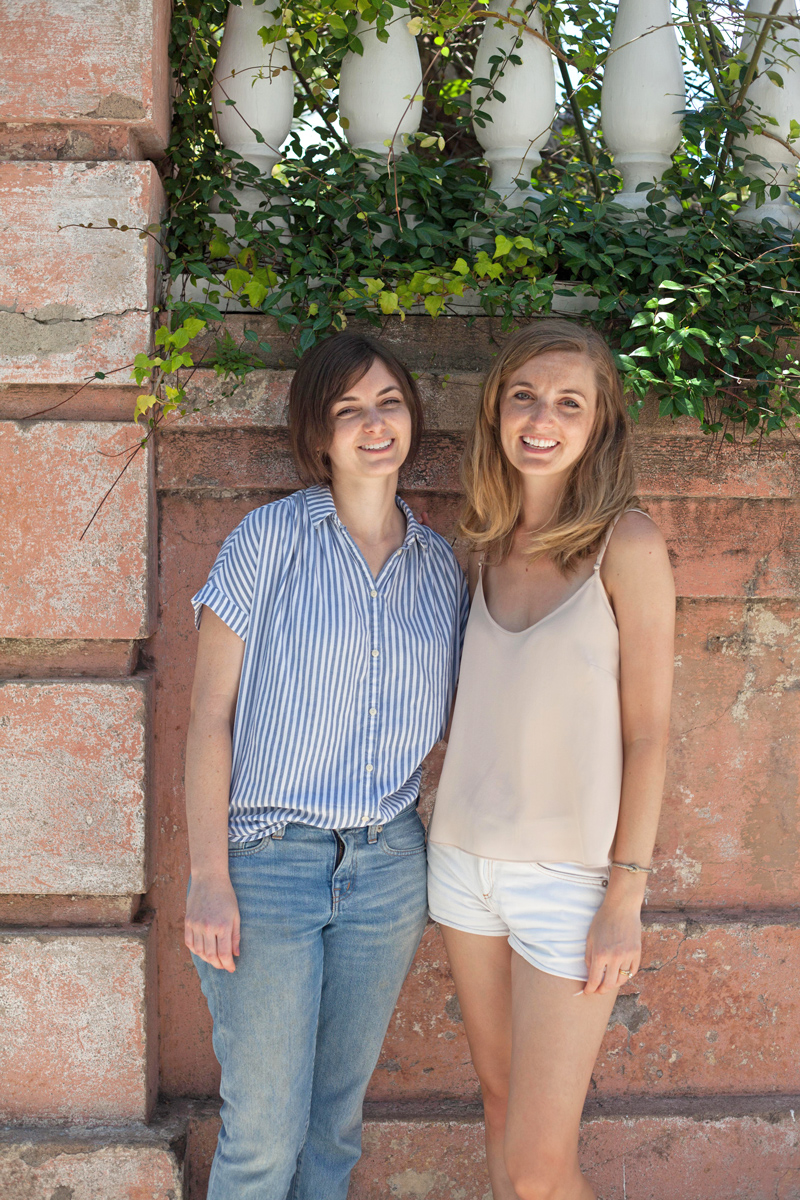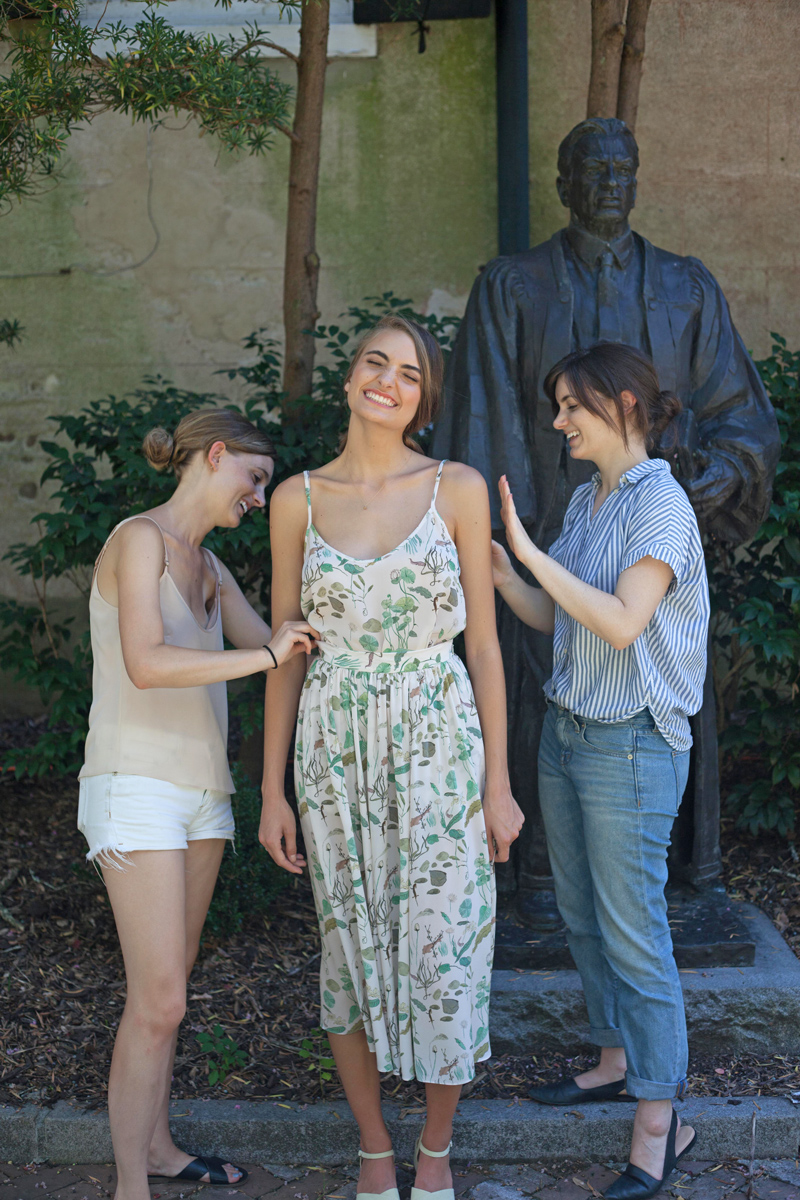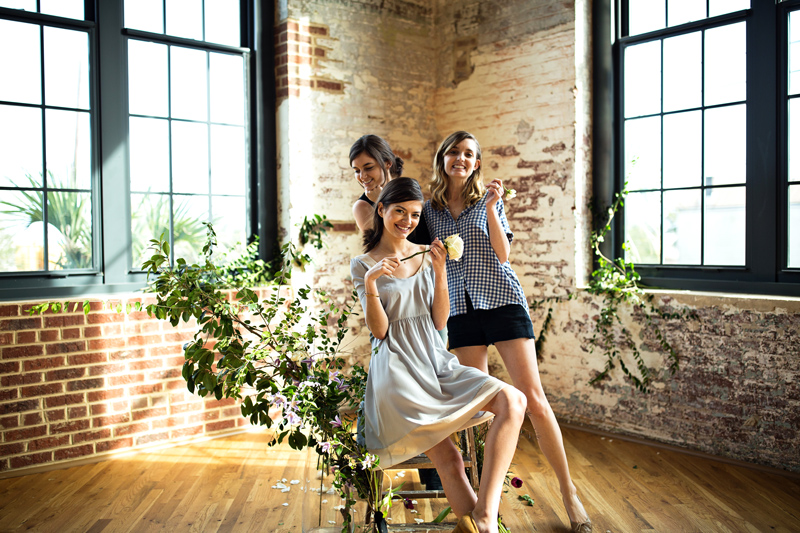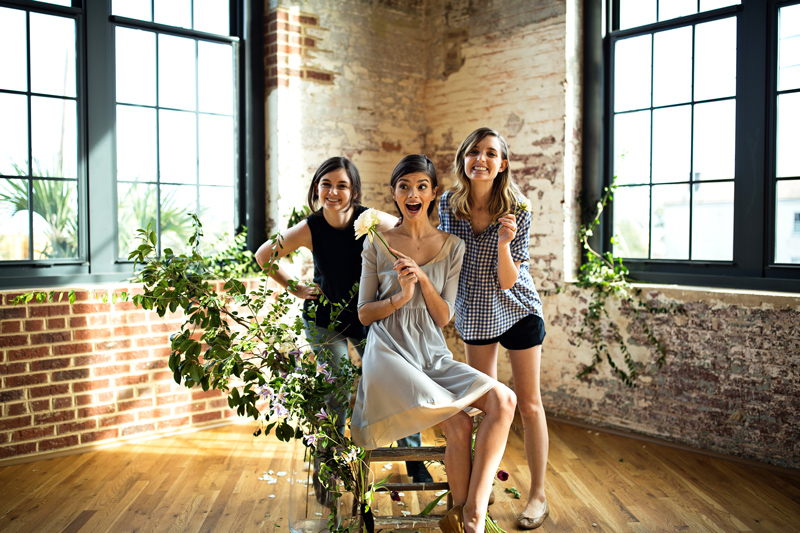 ~ Photography by Margaret Wright ~
When did you first become interested in fashion and design?
Leah: I can't even remember! We were always artsy craftsy kids so the design world was a natural line of work for us. My degree is in Apparel Design and Rebecca's is in Fine Art so we combine our passions and education with this line.
Where do you most often find inspiration?
Rebecca: Outside! We love Pinterest, and the internet in general, but I think going outside and spending time in nature always leads to the best inspiration. Our Fall collection is inspired by the colors and patterns on butterfly and moth wings.
Leah: We also love looking to vintage fashion and design.
Did you always want to have your own line together?
R: We started thinking about it a long time ago! I think we were both in college when we started making plans to someday open a store together, in Charleston. The first and most important step was building up our brand and launching our clothing line.
What's it like to work together as sisters?
L: It's awesome to be able to work with someone you trust, especially when it's such an exciting and risky venture as running your own company. We also have a natural tendency towards a similar aesthetic, so it makes designing so fun and collaborative. And! It's very easy to be totally honest with your sister. We never waste time skirting an issue or avoiding tough discussions.
Do you have a favorite piece or a favorite collection that you've ever designed?
L: I love our breeze top, a super wearable button down that has a loose, modern fit that's great for work or play. We did it in a new butterfly print that was taken from a vintage french book for Fall 2016. (this top here)
R: A couple seasons ago we made a dress that used prints from 19th century scientist Ernst Haeckel. I loved how modern the old illustrations looked on a crisp, white tee shirt dress. That's got to be one of my favorites! (this dress here)
Favorite designer?
L: I love looking at current Valentino and 2000s era Chloe for beautiful feminine pieces and true inspiration. But for me I love buying from other NY labels like No. 6, Maryam Nassir Zadeh, and Ryan Roche.
What is your most treasured item in your closet?
R: I found this amazing 70s halter dress from a vintage store in Charleston. It's cream with a super full skirt and scattered floral print. I hardly ever wear it, but it's definitely the prettiest dress I own.
L: The dress I wore to my rehearsal dinner last summer was a really pretty Plante piece from Fall 2015. It's a soft pink tonal ballerina dress– I love it, and now it has sweet sentimental value as well!
What has been the biggest thing that you've learned since starting your own business?
R: Good things come to those who wait! We've been steadily building our brand by gaining fans and stockists each season- it just takes time.
Most exciting thing that's happened since launching Plante Clothing?
L: I'm not sure! We've had some cool milestones; our first stockist, our first trunk show, our first trade show. It's impossible to name just 1!
If you could only wear one outfit for the rest of your life, what would it be?
R: This is so hard! Probably a silk tee shirt, midi skirt, and some loafers.
L: A flowy silk midi skirt (like our rose skirt, which I wear all the time!), a soft tee or leotard, and sandals.
What women have inspired you?
L: We have a lot of muses. Our friends who work in creative fields (our good friend Ashley Wood is a great photographer, and my friend Amelia has a great line, just two ladies we saw this weekend!) are always a source of inspiration, and we love celebs and fashion people like anyone else. My faves include Zoe Kravitz, Elle Fanning, and Alexa Chung.
What's one thing that most people don't know about you?
R: I was tennis team captain in high school! No one believes me about this because I hate sports so much. (I was not very good.)
What are the 3 things that you absolutely, positively, cannot live without?
R: French fries, Internet, 30 Rock
L: Burts Bees Chapstick, Diet Coke, many hair ties at all times.
Favorite indulgence?
R: Getting Uber Eats for lunch!
L: HGTV + white wine
What makes you smile the most?
R: My cat Maple! She loves to play fetch with hair ties.
L: The TV show Veep, which I just discovered and am obsessed with.
If you could go back, what's one piece of advice that you wish you had heard 5 years ago?
L: Don't overthink it and go with your gut!
R: Fake it till you make it! I've been hesitant to put myself and my work out there because I often feel like I'm not ready. But if you fake confidence, you can really push yourself and grow.