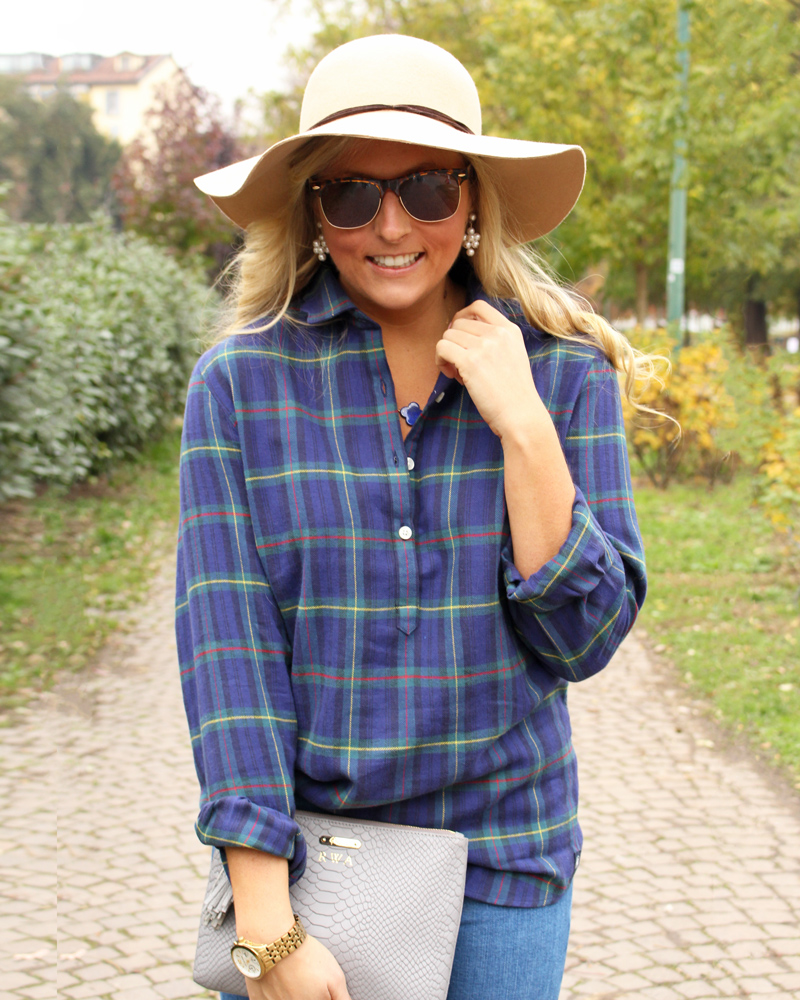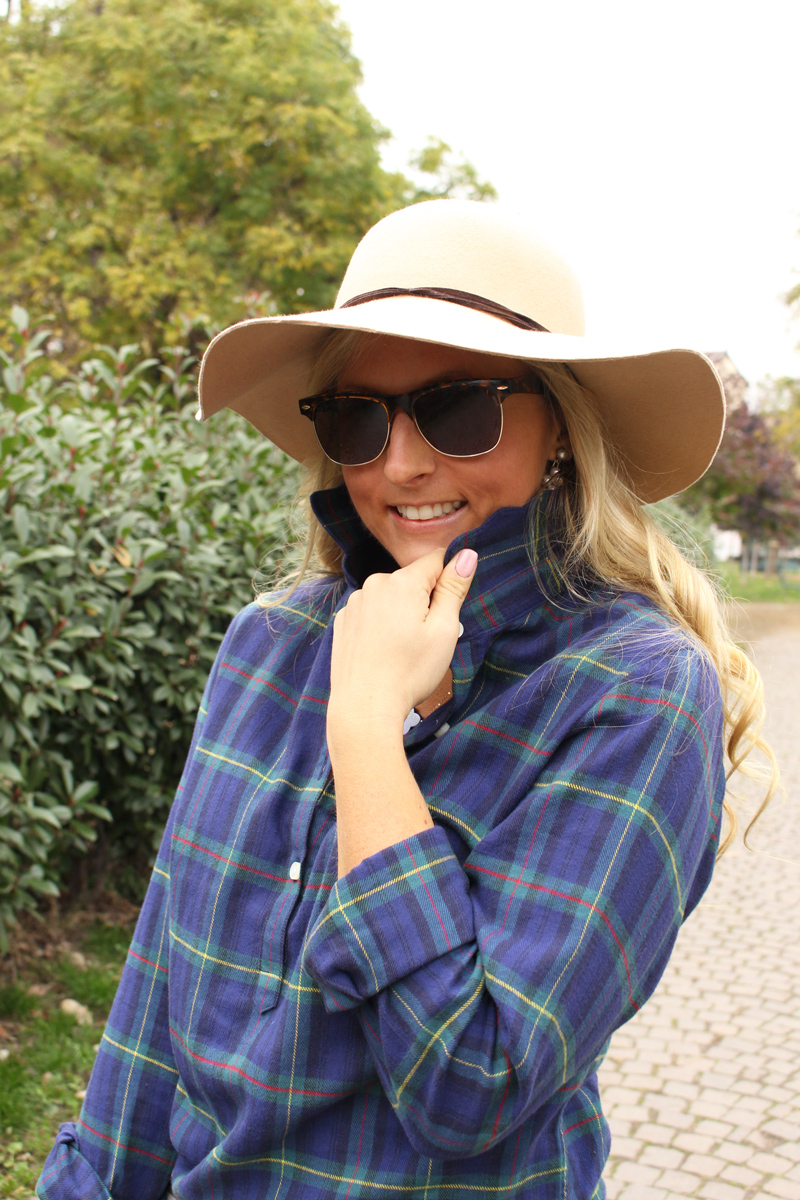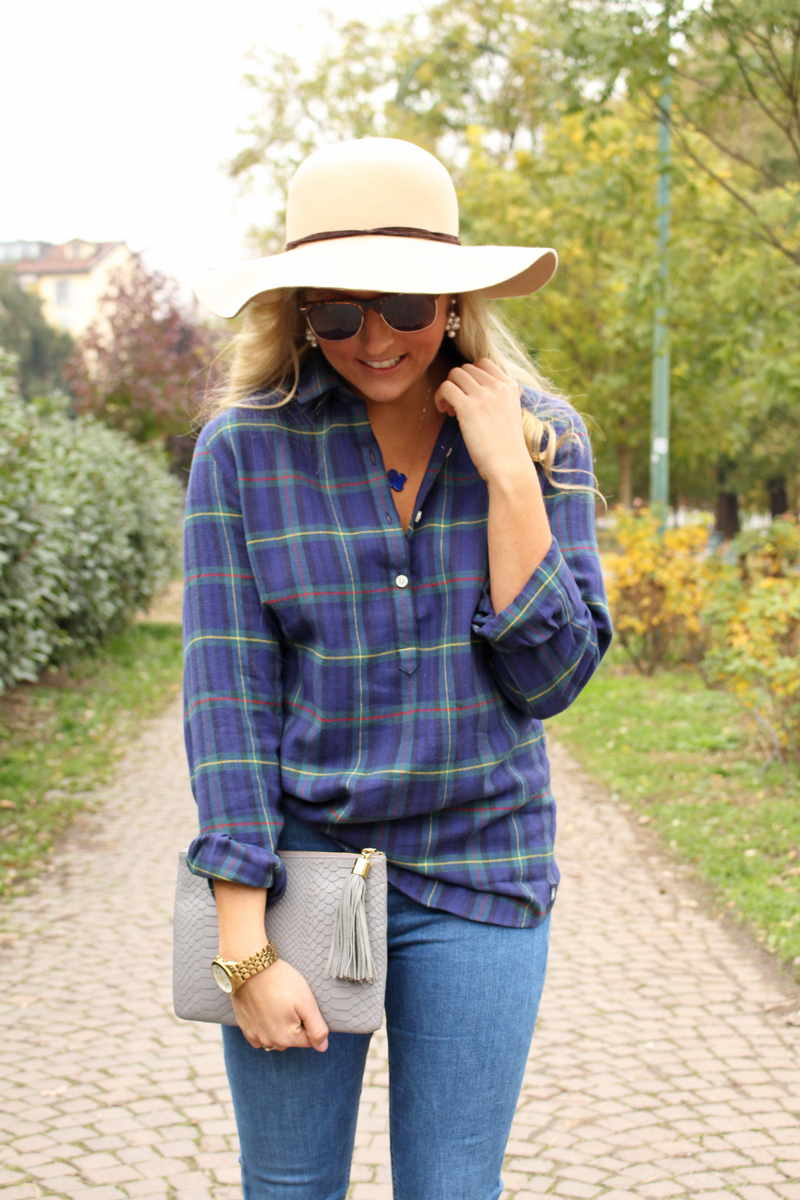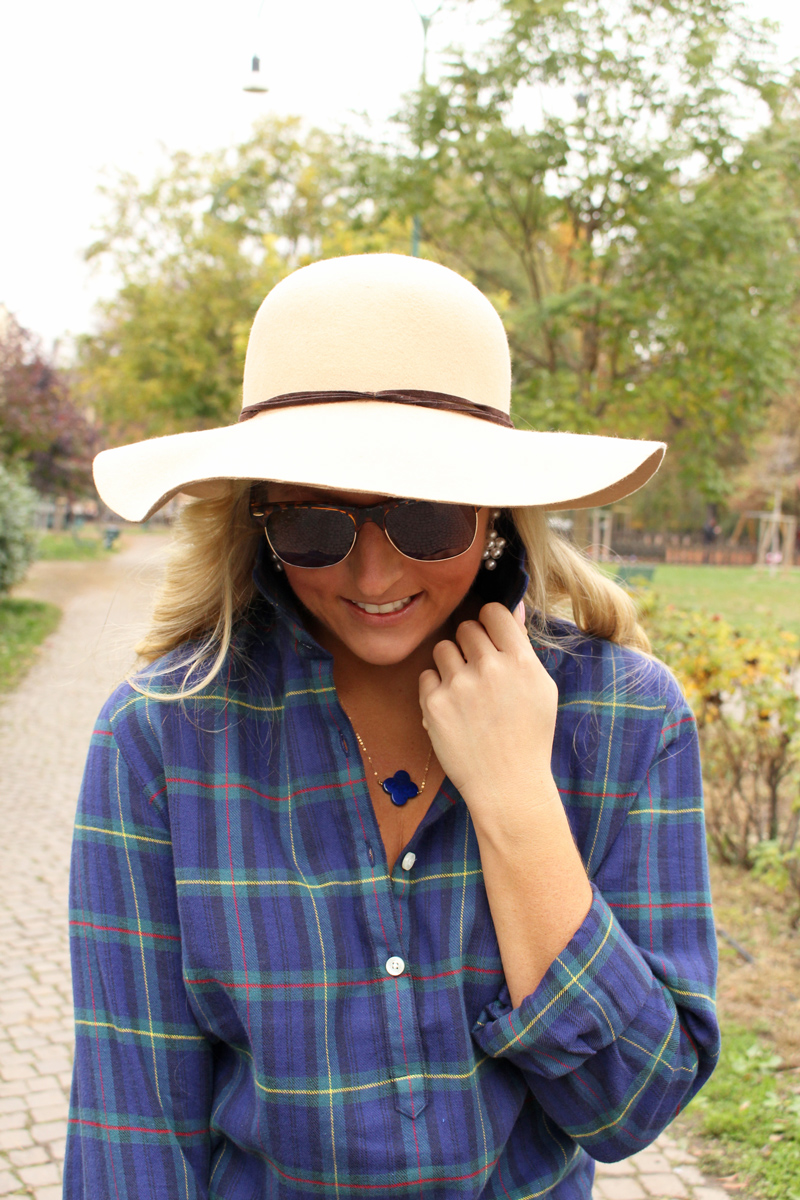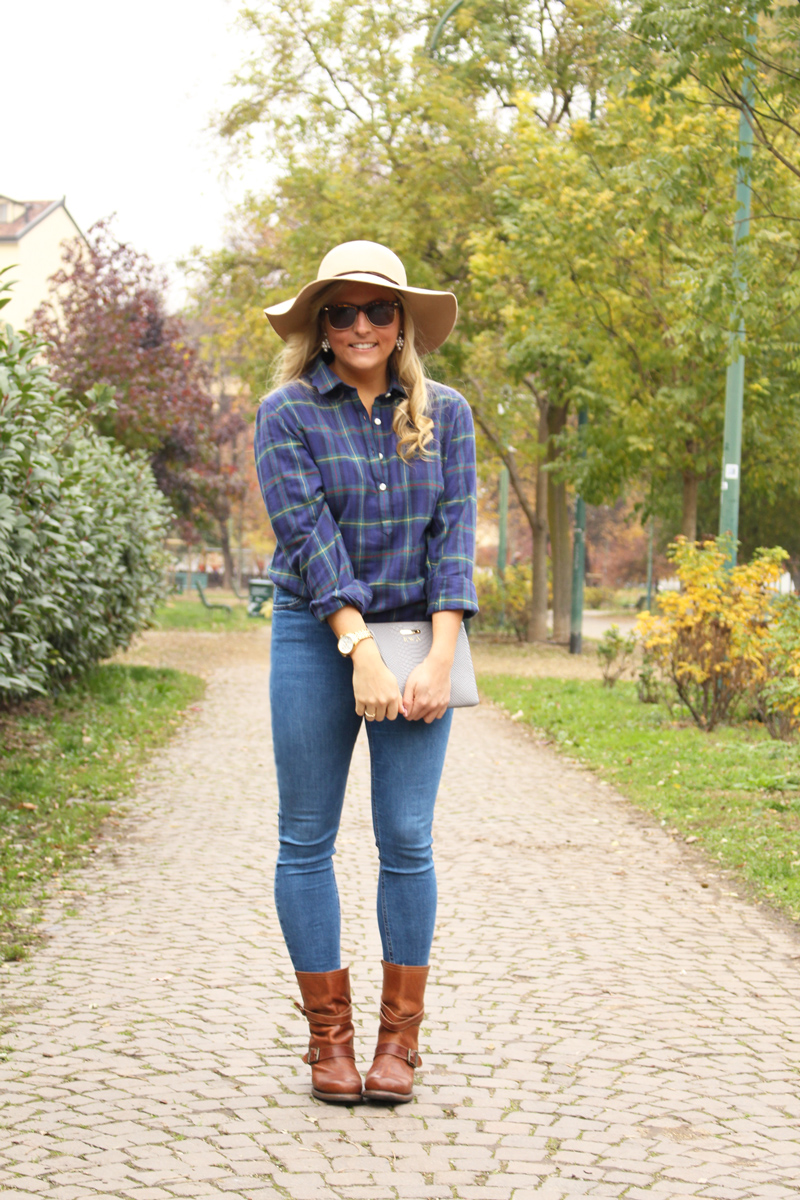 ~ Photography by the amazing Paloma Montanaro ~
~ Outfit Details: Scalloped Flannel Shirt c/o Southern Proper ~ Jeans by Topshop~ Boots by Frye(old) but absolutely in love with these two similar styles here & here ~ Watch (old) by Michael Kors, but almost the same here ~ Clutch by Gigi New York ~ Sunglasses by B.P. by Nordstrom ~ Hat (old) but loving these similar (ok, maybe even a little bit cuter?) camel floppy hats under $100, here and here! ~ Necklace by Andrea Del Bello Jewelry ~
~ One of my favorite things about fall is that I get to wear FLANNEL after having it packed away all spring and summer. This flannel shirt from Southern Proper is hands down my absolute favorite! This is a big statement for me, because I pretty much live in flannel during ski season. This one is a bit different because of how incredibly soft it is, how light (yet still so warm) it is, and of course, the collar is scalloped! I think the scalloped collar gives it the perfect amount of femininity. I have been having a lot of fun styling looks with this flannel here in Milan, too! Skinny jeans and a floppy hat has been my top choice, but I really also love wearing it with a fun party skirt now that holiday season is here!
~ Fall in Milan ~
So to go with this classic fall look, I wanted to give a quick little run down of what fall is like here in Milano! Even though in so many ways I still feel like I have a long way to go before I'm fully "settled," (decorating my flat, finishing my gallery wall, etc.), I'm starting to feel incredibly at home and comfortable. The leaves down town in Milan haven't really been changing so much, but I was briefly on the outskirts of the city this weekend and the leaves were just like back home! Of course, now I'm even more eager to do that Como hike I've been talking about. One surprising thing has been the rain. Rain, rain, rain, rain…..days and days and days on end. Making the umbrella ella ella a complete necessity. Goodness, when will the monsoon season pass? It's Tuesday and we have big hopes to see some sun by Sunday.
Besides that, another surprise has been the canal right in front of my flat here in Navigli. It's almost completely dried up. Since I leave for school early and get back in the evening, I thought it was just low tied for a while (because if you're a sailor, that might make the most sense, right?!). Nope. The canals of Milan are apparently not effected by the tides (I embarrassingly had to be corrected about this…twice). The canals from Milan actually get their water from the Alps runoff, meaning that when everything freezes, the canals are dry. WHO KNEW! I still think my street is the prettiest street in the world, though 🙂
I have really been loving the quietness of Milan with the peak of tourism season just ending. Especially in my neighborhood – it really now feels like I'm a local. I love it! I was also surprised that the markets seem to still be in full swing with the freshest produce you can ever imagine (and the cheese trucks…oh those cheese trucks!).
So many surprises in this city right now and I can't wait for more. Recently at Friendsgiving (more on that on Thursday), my friends all predicted that I would be the only one in our crew still here in 5 years. Dare to dream, I guess 🙂
Gratefully with love (and extra grateful on this special week!),
xoxoxoxoxoxoxoxoxoxoxoxo Rhiana