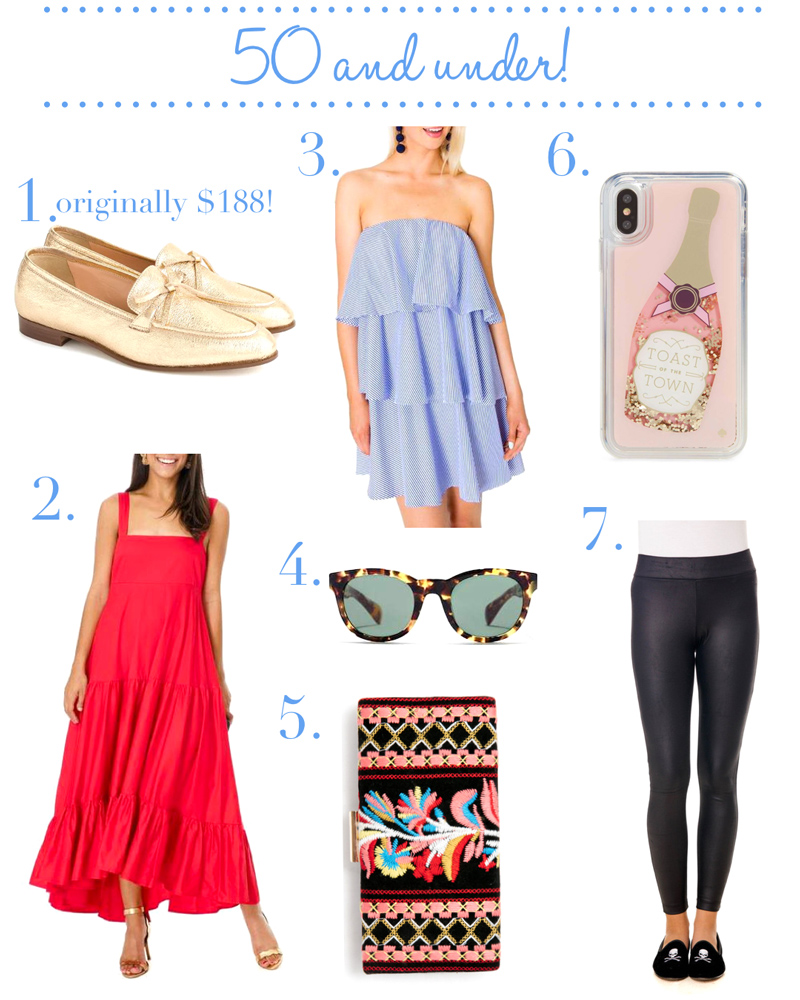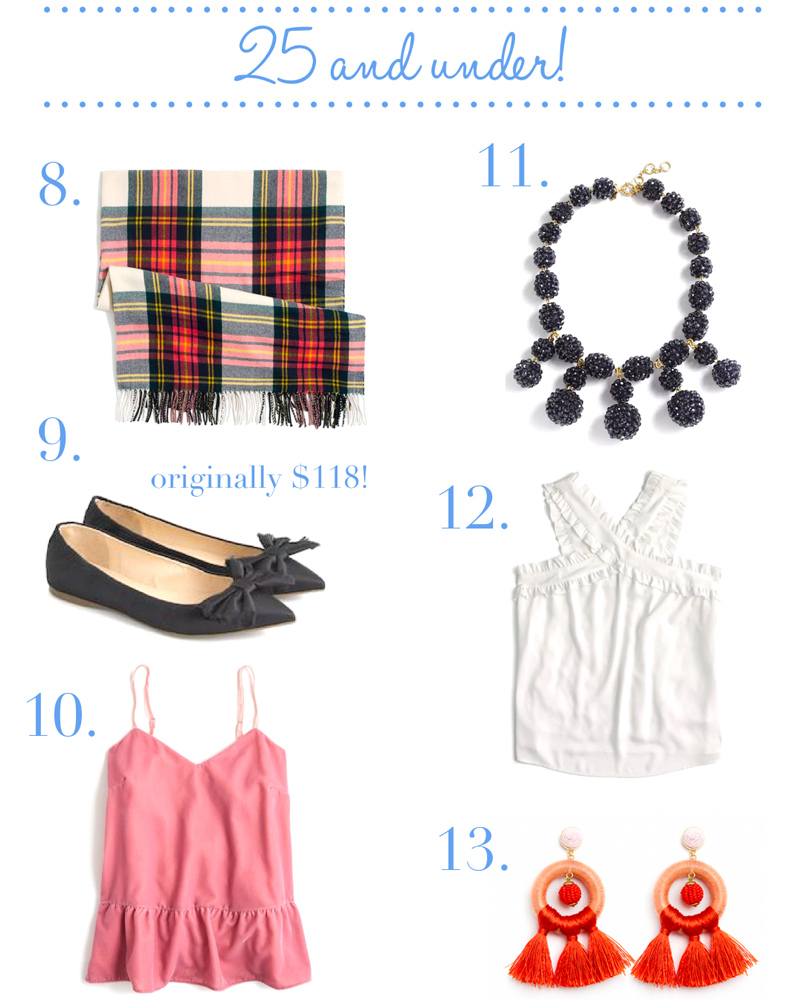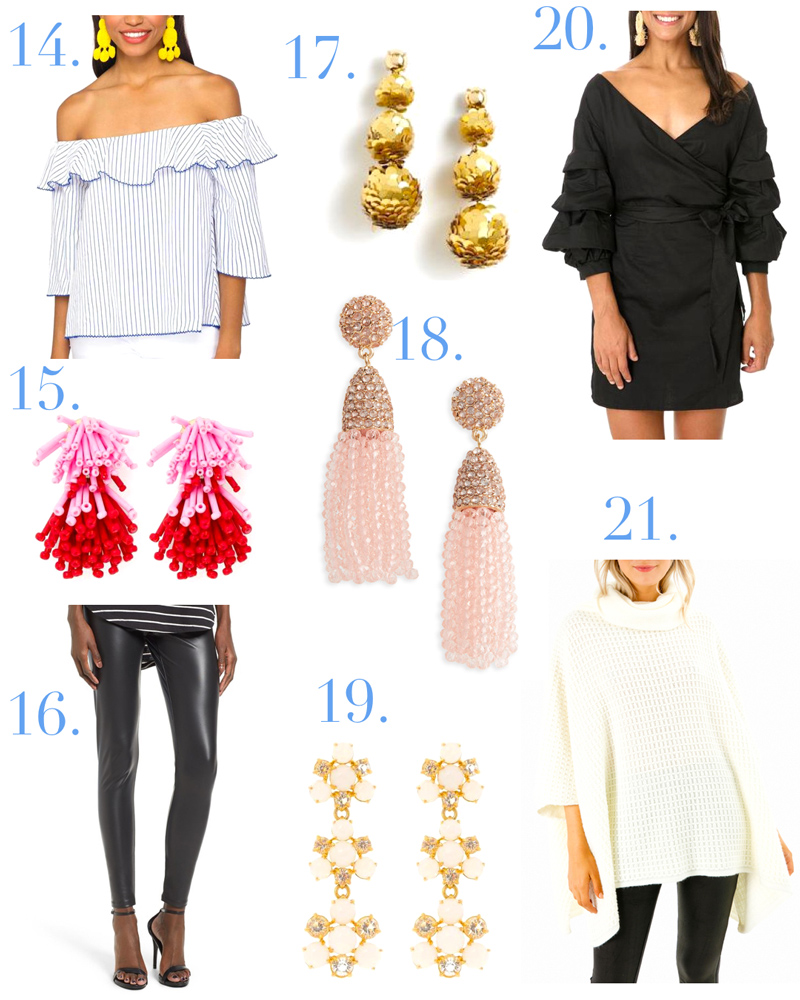 ~ 50 and Under: 1. Gold Bow Loafers ~ 2. Red Maxi Dress ~ 3. Strapless Dress ~ 4. Sunglasses ~ 5.Colorful Embroidered Clutch ~ 6. Champagne Phone Case ~ 7. Vegan Leather Look Leggings 
~ 25 and Under: 8. Blanket Scarf ~ 9. Satin Bow Flats ~ 10. Velvet Peplum Top ~ 11.Shiny Statement Necklace ~ 12. Silk Tank (only 7$!!!) ~ 13. Dreamcatcher Earrings ~ 14. OTS Top ~ 15. Party Earrings ~ 16. Leather Look Leggings ~ 17. Sequin Gold Ball Earrings ~ 18. Blush Tassel Earrings ~ 19. Statement Dangly Earrings ~ 20. Black Wrap Dress ~ 21. Knit Poncho ~
THESE WEEKEND SALES ARE NOTEWORTHY! I cannot believe the unreal sales that are happening and I just had to go ahead and round up the best for you all! I hope that you are having an amazing weekend wherever you are and I hope that you get to take advantage of all of these amazing sales! I truly mean it when I say that they are better than Cyber Week as far as what you are getting for HOW LITTLE you are paying! SEVEN DOLLARS FOR A SILK J.CREW TOP!?!? Take a look at my favorite products above, broken down by price, and be sure to scroll below, where there are over 50 products rounded up from my favorite retailers (click over to the blog if you are in your e-mail!)!
BEST SALES AND CODES
~ J.Crew ~ Extra 50% off of final sales and extra 25% off of full-priced items with CODE: GOTIME
~J.Crew Factory ~ Extra 40% off of EVERYTHING and extra 50% off of Clearance! CODE: YAYSALE
~ LOFT ~ Extra 40% off of EVERYTHING and extra 50% off of sale styles!
~ Ann Taylor ~ 40% off of Full-Priced Items and extra 70% off of sale styles! CODE: FRESHPICKS
~ GAP ~ 40% off your entire purchase with CODE: GOFORIT
~ Tuckernuck ~ 30% off of sale (AND THE SALE IS GOOD) with CODE: BIGCHILL
~ L.L.Bean ~ 25% off clothes, outerwear, and footwear with CODE: WINTER
~ ASOS ~ Spend more save more event! $50 off of $200 (with CODE:JAN50), $70 off of $250 (with CODE:JAN70), $100 off of $350 (with CODE: JAN100)
~ Baublebar ~ up to 70% off site wide…such good sales all over their site! No code needed.
---
MORE AMAZING SALE PRODUCTS