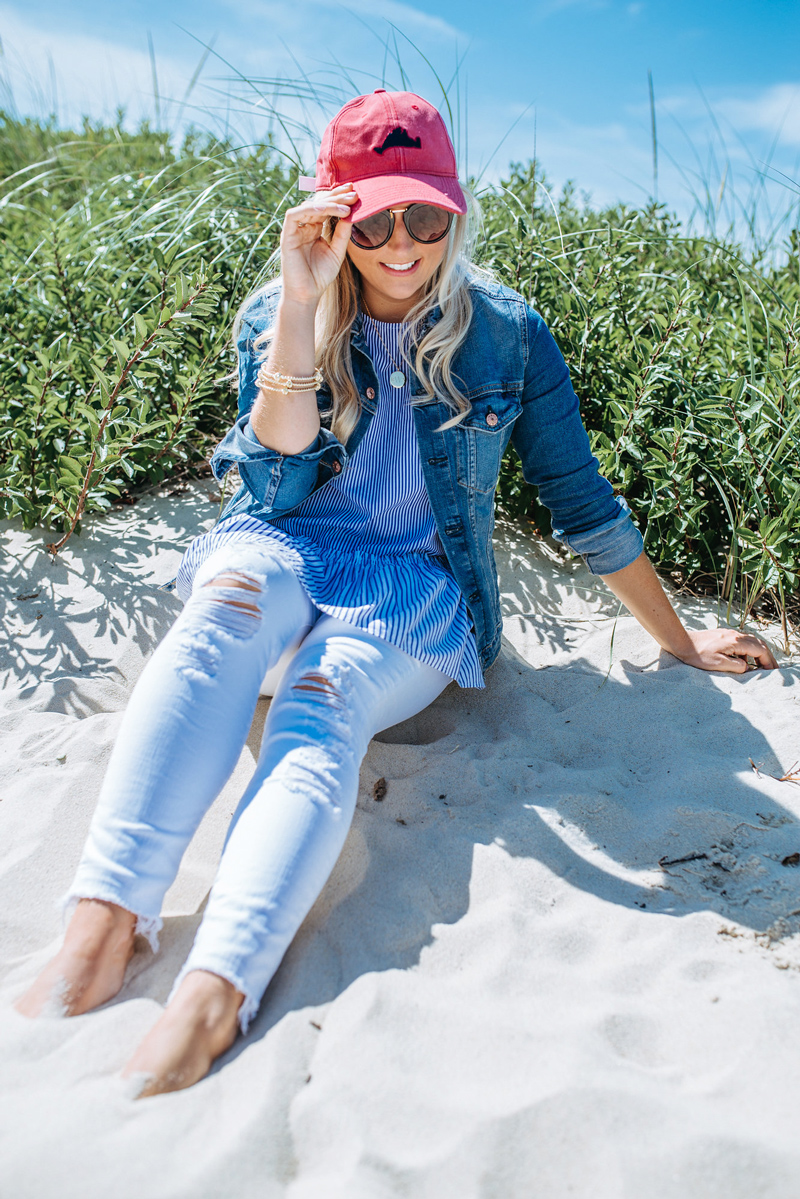 ~ Photography by Hannah Marlin ~
~ Outfit Details (more on this look soon!): Jeans (my favorites! Currently 30% off!) ~ Shirt (30% off currently) also in Petite, & Tall ~ Jean Jacket ~ Sunnies ~ Monogrammed Necklace ~ Hat ~ Bangles ~
*This is maybe too short for a FULL blog post, but it was definitely too long of an explanation for an instagram post. 
~ I'll cut right to the chase! I'm moving to my FAVORITE place in the world, Martha's Vineyard, to help part-time on the FOCUS Study Center for the month of September! I couldn't be any happier! I am so grateful for this short term opportunity, which buys me a bit more leeway time for the job search. It seems that new and exciting opportunities and interviews are popping up each week, and I really do think that September is going to be the month.
The FOCUS community is one full of love and support…it's something that I'll be grateful for my whole entire life, I know. I like to keep BUSY, and I'm so glad that I'll have a greater responsibility each day when I'm not working on the blog and applications. This happened so suddenly at a time when I needed it more than ever. God's provision is ALL over this – there's no other way around it. It will be so great to be in one place for a whole month. A temporary home base is exactly what I need during this time of transition.
I've had lots of questions about the job search, and I'm so grateful for everyone who has checked in or has been quick to offer to connect me with a friend who could help. I don't want to keep everyone in the dark, and I promise to let you all know as soon as an offer has been accepted. It's now been about 4 months of hard core searching and interviewing. Styling jobs (in particular, one that would be a great fit) are indeed competitive to get and not always easy to come by. However, it seems that with each interview, I feel more comfortable, confident, and sure of my abilities and what I want in my next role. In Milan, I had been mostly sending "cold call" e-mails to recruiters and HR contacts at companies that I love from around the world (you might remember me mentioning my color coded/country coded MASTER excel?). Now, I am seeing more styling jobs pop-up and have had interviews every week (I'm grateful for that fact alone). I just know that I'll know when I find the right thing. I seem to have a really good intuition the moment I get on a phone or Skype call whether or not it is a good fit. One of my mentors wisely advised, "continue pursuing the positions that you feel good about and don't stress about the ones that aren't making you feel good."
I've learned A LOT so far throughout this process and there's one big "take away": the many "fairy job-mothers"(as I like to call them) along the way who have made me believe in myself and have made me want to work at their companies even more. One of these women fought to create a styling position that didn't even exist for me. One of them wrote me the kindest e-mail of encouragement and offered to spread the word amongst her friends in the industry. There have been phone conversations that were scheduled for 15 minutes but lasted over an hour and women that I just really connected with. This miracle group of female recruiters and HR professionals from around the world have warmed my heart and helped me to gain confidence as an applicant, even more than before. Any time I start to feel down in this process, I go back to these encounters and am immediately lifted up. If any of them are reading this now...thank you! Thank you so much for believing in me and adding so much positivity to the search.
Well, I guess it was a little silly to think that I wouldn't have any beautiful content to share with you guys after leaving Italy, huh?! I'll probably be glued to my camera and tripod the entire month of September and can't WAIT to share more of MY special place with you!
By the time you are reading this, there's a good chance that it's Sept.6th and I'm already 29…and it's a full moon! Having your birthday on a full moon feels kind of lucky. There's magic in the air….stay tuned.
Gratefully with love,
xoxoxoxoxoxoxoxoxo Rhiana