It's a Sunday afternoon in Alexandria, VA and Emily Baird has anything but free time as we sit down for our interview and order a couple mimosas. She's one of those rare few people that you immediately want to be best friends with after, oh, I don't know, maybe 30 seconds! Before our interview, Emily had just finished doing an engagement photo shoot for one of her dear friends (sorority friends, it was her Big!). As I learned quickly, Emily is truly a renaissance woman with too many talents and wonderful qualities to count on your fingers. When she's not at her day job at Washingtonian Magazine, she keeps busy by designing beautiful invitations for weddings and events, spending time with friends, and helping others. It wasn't hard to figure out why she was a perfect nominee for Woman of the Year! That's correct…most recently, the majority of Emily's time has been spent fundraising for the Leukemia and Lymphoma Society as one of their Woman of the Year Nominees who is spearheading her team's efforts to raise $100,000 in just 10 weeks! I am completely inspired by this awesome young woman whose heart is as beautiful as she is. Read on to see how a compliment on a dress and then an unexpected diagnosis of a family member started an EMazing journey to help others…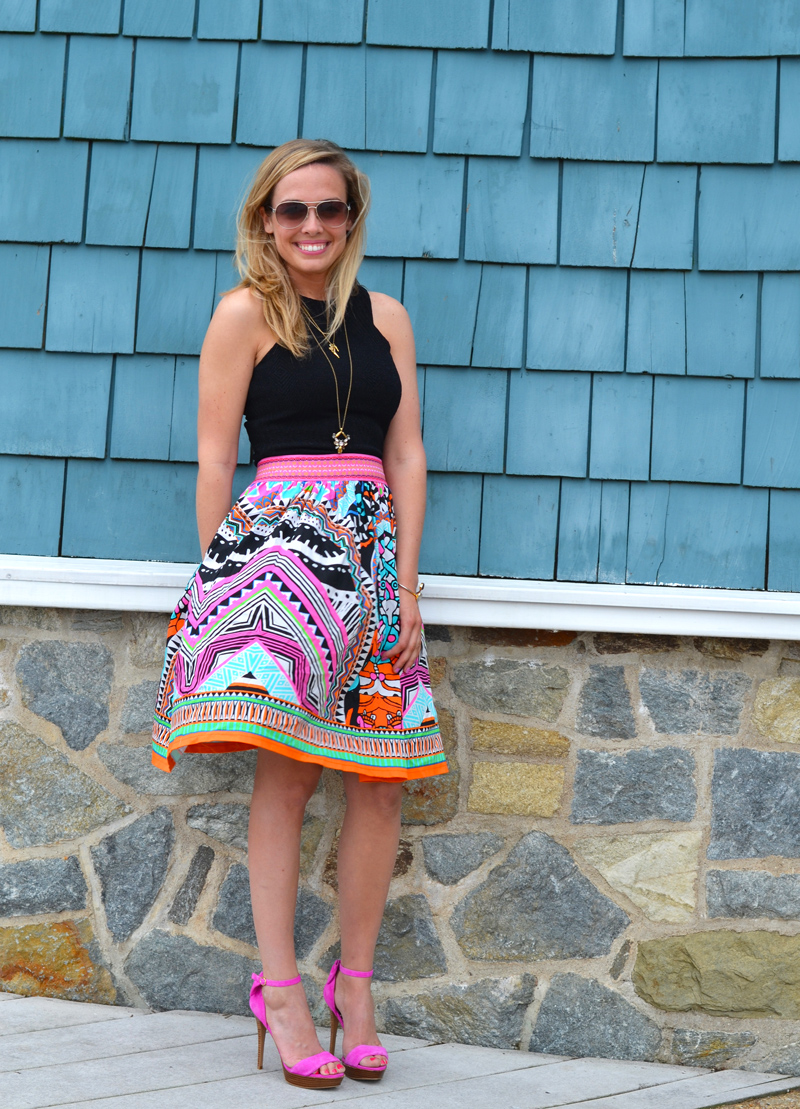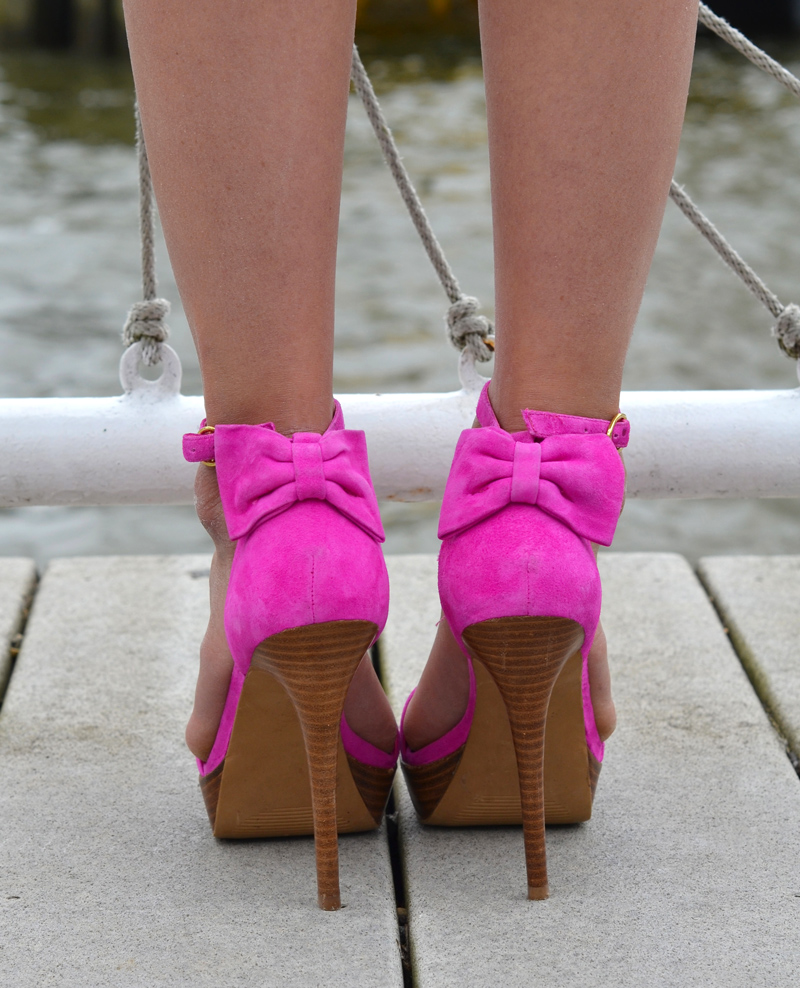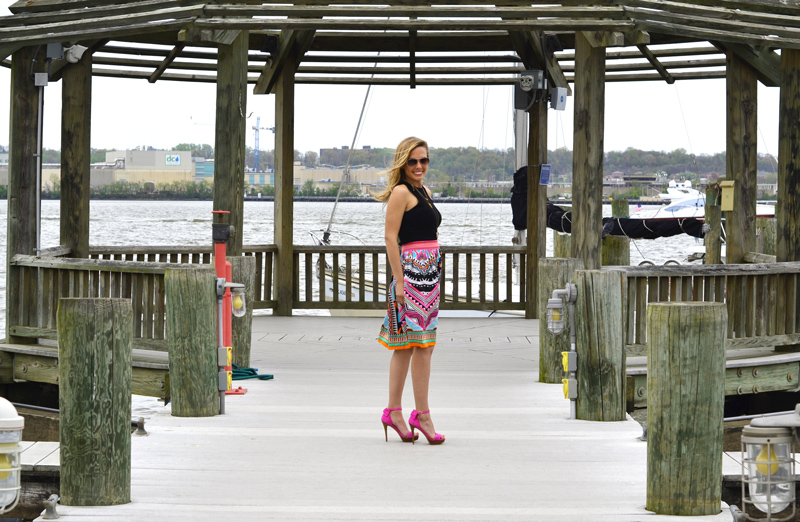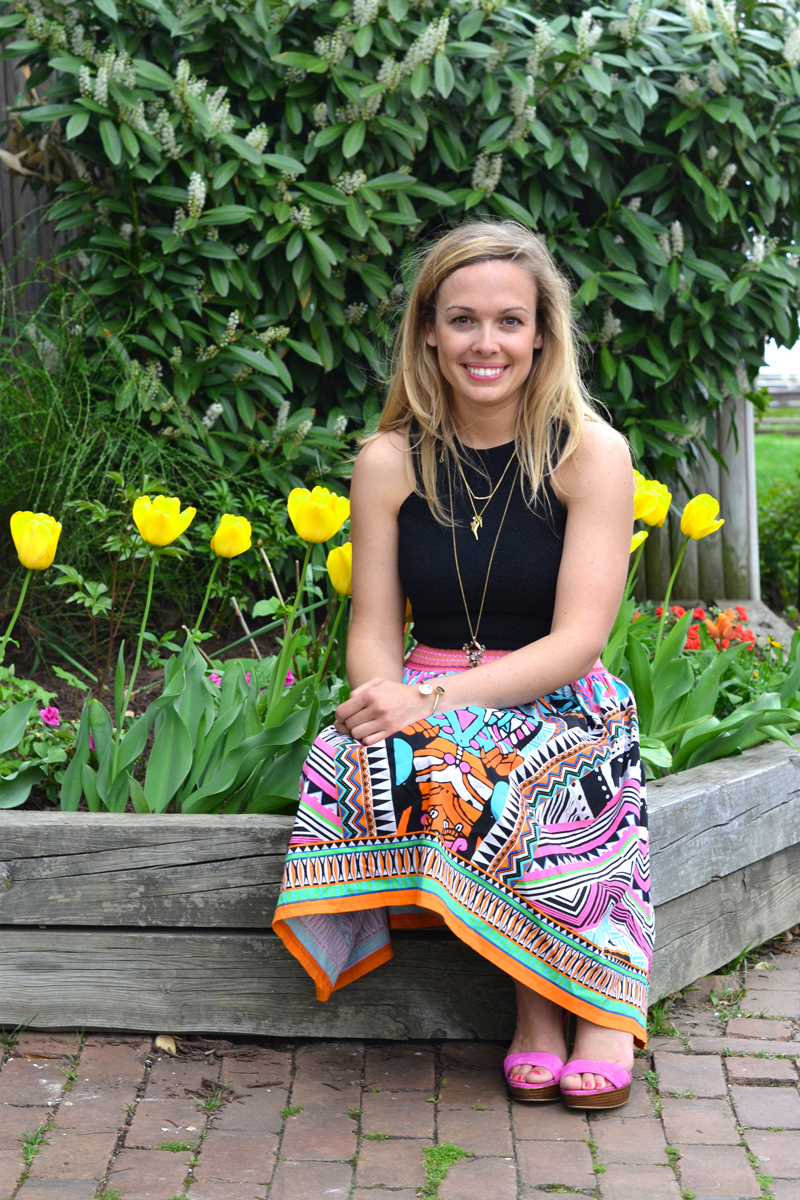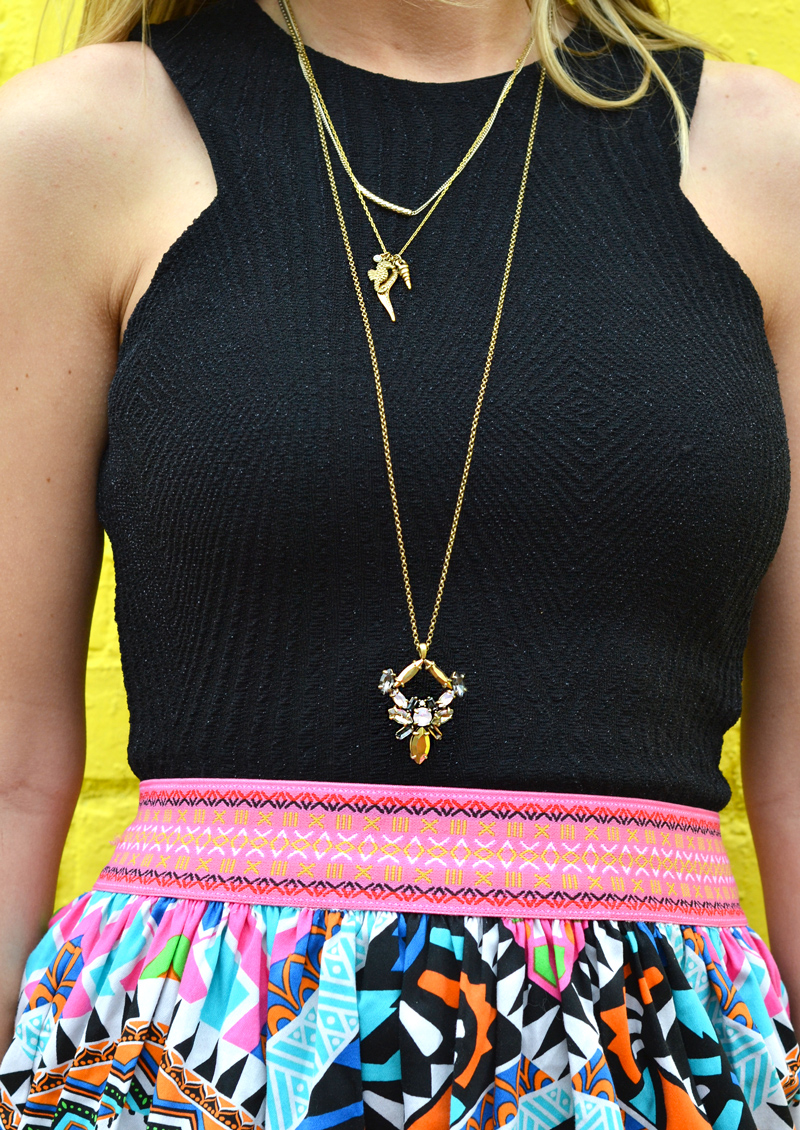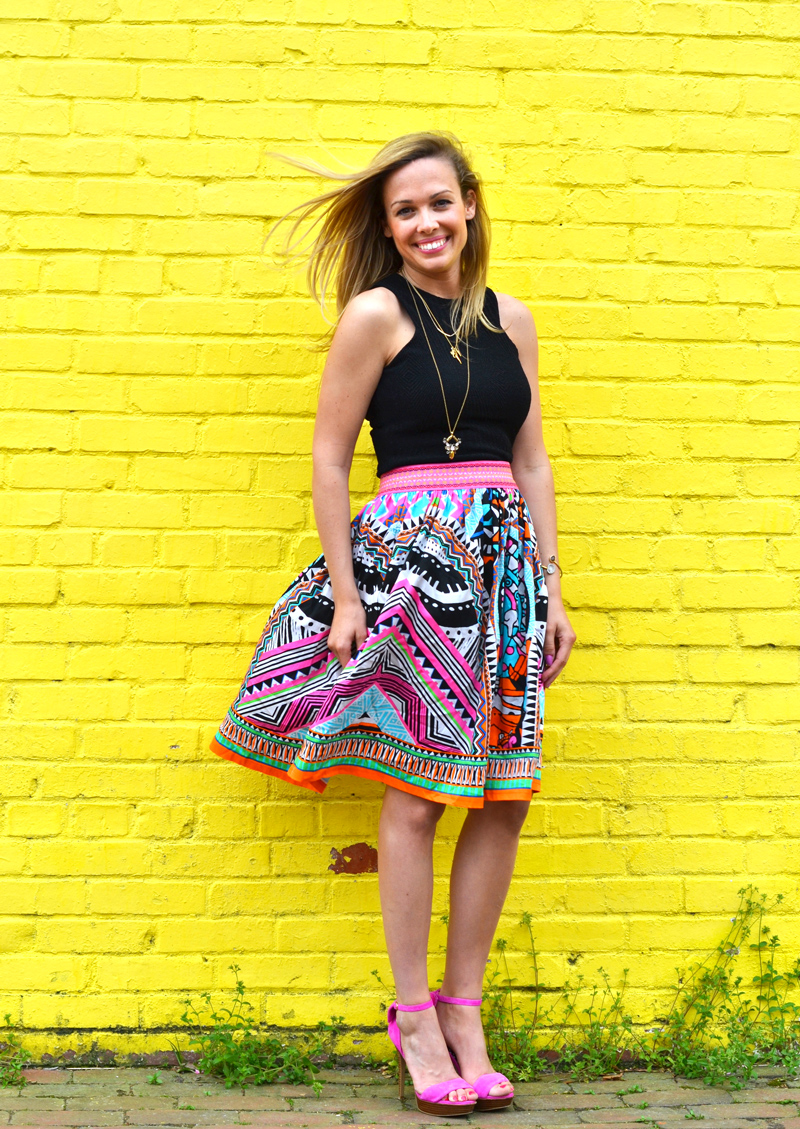 ~ Outfit Details: Skirt from South Moon Under ~ Top from Forever 21 ~ Shortest Necklace from H&M ~ Middle Necklace from Stella and Dot ~ Longest Necklace from J.Crew ~ Bracelet by ADMK ~ Sunglasses by Kate Spade ~ Heels by Jessica Simpson ~
Q: How did you first get involved with the Leukemia and Lymphoma Society?
I work at Washingtonian during the day, so that's our beneficiary for our biggest party of the year. So, that's when I first heard about them last summer when I went to our Best of Washington event and they were a beneficiary and we raise money for them each year through that. We always get a couple of free tickets to their events, so we got some free tickets for the Man and Woman of the Year Gala. I met this one woman because she liked the dress I was wearing (I had a pink BCBG dress on)! I started talking to her and mentioned that I'd love to get involved next year. She ends up writing me an e-mail the next week asking to get together to meet. She thought I'd be a really good fit for this [nominee for Woman of the Year] and wanted to send me on the next round of interviews. I had known a girl in my grade school that had Leukemia, so I thought it would be a really great thing to do, but I wasn't totally committed yet. Then, later that same week, I found out my cousin had Leukemia. I was going back and forth in my head, but finding that out, it set it all in stone. I then committed and went on a round of 2-3 interviews where I met with a few people from LLS. Basically, you commit yourself to raising at least $15,000, which was scary because I was looking at that paper thinking, "I don't even know if I have that much." But, I decided to go through with it and signed the papers in October.
Q: What was your biggest fear in accepting the nomination for Woman of the Year?
For one, I don't have the big corporate connections that most of my peers in this competition do. I'm fairly certain that I'm the youngest girl. Many of the women are between probably 30-50 and I'm 25! I was thinking, "What do I have to bring to this table at all?"… because it's a giant number. $100,000 is a huge number to me – I can't understand that number yet! $15,000 was a huge number and I kept thinking, "Oh my god, what if I don't raise 15?" I think my biggest fear was failure. I mean, there's really no such thing as failure in this situation because you either raise a lot of money or you raise a little money, but either way you're raising money for a great cause. But, personally, I'm super competitive with myself (not even other people)! But, I set a personal goal for myself, and when I do that, I'm really hard on myself when I don't meet it. Which is, I think, a flaw and a plus at the same time because it's kind of a double-edged sword. I think that's maybe what they're looking for? Someone who can be kind hearted in a spirited competition.
Q: How was Team EMazing Race formed? (I love the name so much)
That's so funny because I was so anti having my name be a part of it because I don't like being the center of attention! Part of me wishes we could just go in as a team name and not our name. I have some awesome people on my team! Luckily, there were a lot of people at work that were really into it and that has worked to my favor because we are all in the same office and are able to contact each other all day! When something happens, we all know about it and I can't even imagine coordinating with a group that wasn't near each other. Luckily, I have a group of 10, and 7 out of 10 are from work. It works out great. We're ages 22-31. It's really interesting to see what the older group brings to the table versus the younger one. The good thing is that we all have different social circles for the most part, so we each bring our own little group of friends, which works out. We have an audience that probably a lot of other groups don't have. Sometimes that leads to us planning a lot of bar events. [haha] Know your market I guess?
Q: What is the most exciting part of this ten-week journey?
I would say there have been two things. I would definitely say there's the emotional excitement of meeting the boy and girl of the year: two children who have overcome a lot. I wouldn't say exciting in like a "happy excited"? It's happy because they've overcome this, but it's very "moving excited," if that makes sense. That's been amazing…meeting those two children. And yesterday, there was a lady who showed up at our yard sale who was a two-time Lymphoma survivor, so that was exciting in kind of a "shocked exciting" kind of way. There's also the "shocked exciting" kind of feeling when you open up your e-mail and someone anonymous has donated $250 – there's that excitement too! During your campaign, you know that's going to help you get one step closer to your goal. There's also the excitement of people that you wouldn't expect reaching out and saying, "I wanna help you!" There are so many different kinds of excitement happening – things coming out of nowhere and meeting people that you'll remember forever.
Q: What's the biggest thing that you've learned since being nominated for LLS Woman of the Year?
Aside from taking in a lot of knowledge about Leukemia and Lymphoma and the research they're doing – that's something that I expected to start learning more about and I've learned a lot and it's been amazing. But, I wasn't expecting to learn as much as I did. I think it's been more a lesson in learning how strong you are as a person to be like, "Ok, I have to stay up this late tonight every single night for the next 10 weeks," [haha] and it helps you learn a lot about yourself and a lot about your drive and learning that you can do things that you never thought you'd be capable of. There's been that, but also, learning about the diseases, and learning about how supportive people are. There's this whole community of people who are amazing and do this all the time! When you're stuck in your own little bubble, it's hard to see that there are other things happening, so I've learned just about all of these other people doing amazing things and it's made me want to be more involved in that too. At the end of the day, I get fulfillment from helping other people. Sometimes you feel lonely when you're not helping other people – I like to be peoples' support! So this has made me feel like I can support a lot of people!
Q: How can we all help and get involved?
The biggest thing (which is the most awkward thing) is donations, because at the end of the day it comes down to money and it comes down to raising money for the cause. Even $5. Even if someone just decided to give up Starbucks for the day! I mean, if I had 5 people do that it's $25 dollars! Stuff like that. That's the biggest thing because that's the ultimate goal in the end. But there's a whole broader goal which is spreading awareness for the entire thing – even just making a comment on their facebook and talking about it. That get's a whole lot of other people talking about it and wanting to commit to do these kinds of things and help. One of the biggest things with fundraising that I've realized is that people feel bad when they have a certain expectation that they have to give a certain amount to make a dent and can't make that number. I'm on the other end SO THRILLED that you gave me $3! I know that everyone has their different organizations that they want to give to, but we all have $3 dollars to give.  People have an expectation and I think they're just afraid that I'm going to be disappointed with what they give, but in reality, I'm not disappointed with anything they give and neither is the society and neither are all those adults and kids that are hoping we can help them. People forget that a little bit can make big difference.
Q: So tell me a little bit about what you are wearing today:
I really like everything that's loud. A lot of people, I think, feel more comfortable when they wear solids and muted and dark colors. I feel like, when I don't want people staring at me, I wear really bright colors [haha]! Which doesn't make sense at all, but I feel the best in really colorful things, which is probably why I love Lilly and all of that! I have this skirt on from South Moon Under – I went in trying to find a basic and came out with this! [haha] I love things that are high-wasted because I have a small waist and that's what I like to accentuate. I don't like anything that's too tight. I also have another side of me(it really doesn't make sense) – I either dress really boho or really preppy. It's crazy because you can look in my closet and there's really either one or the other, there's nothing really in-between! I also like to layer and wear a bunch of necklaces (but to be totally honest, I usually forget to put on jewelry)! I don't switch it out a lot because when I'm running out the door, I'm making sure I have my bags and other things. I have a bunch of jewelry but really there are only a few things that I always, always, always put on. This one's Stella and Dot. I grew up in Hawaii when I was little, so I love aquatic stuff and its got seashells and stuff like that on it. It's become one of my favorite necklaces! I also love stuff with stones, like this bracelet. A woman around here makes it! She's called ADMK Jewelry and she is phenomenal! All of her stuff is super cool like this. It just seems to go with everything. I also love wearing jewelry that people make who aren't super well know. I tend to do better with things that aren't super chunky. I like things that are thinner because I tend to layer a lot of gold pieces.
Q: If you could only wear one outfit for the rest of your life, what would it be?
So, I actually wore it to work the other day, which is so funny (I didn't even know this was going to be a question)! I was at work thinking, "I could probably wear this everyday to work and be happy." It's really funny, I had these high-waisted floral pants on that are like totally hippy and they have these strings that lace up the front and I had on this white, really blousy top tucked into the pants. I might have been wearing this necklace and had these brown strappy heels on. It was super boho and I literally felt like I was going to Coachella! [haha] But I felt happy and free and non-constricted. I'm very much about comfort. I probably should have worn it today!
Q: What women have inspired you?
So, these two ladies should not even go in the same sentence. I really like Stevie Nicks and I really like Mother Theresa. I think that it's the juxtaposition of having someone who is so persistent in following their dreams next to someone who is so giving of whatever they have that creates this perfect balance of who I looked up to. They would not live in the same world in probably most peoples' heads, but they do in mine. Stevie Nicks is one of those people who believes so strongly in the power of women and what they can do and if people tell you "no" you just keep doing it and do what you love because you only have a certain amount of time. And she goes overseas a lot to sing for the soldiers, and I think that's really important. She gives back a lot.
Q: What are the 3 things that you absolutely, positively, cannot live without?
1) Peanut Butter (only chunky) 2) I love to fish and love deep sea fishing, so I would say the water and the ability to do things on the water like swim and fish. 3) Chapstick
Q: Favorite indulgence?
I would honestly say going out to eat. Second to that is Netflix binging. [haha] I LOVE to eat! I love eating and I love friends who love to go out to eat. I love to go to brunch and I love to go to dinner. I would probably rather go to dinner with my friends any night than go out. It's just so fun to me!
Q: What makes you smile the most?
I think knowing that people that I'm around are happy! I am happy when other people around me are pleasant and happy.
Q: If you could go back, what's one piece of advice that you wish you had heard 5 years ago?
That when things go bad it get's better. That there are peaks and valleys. In the past 5 years I have been through a lot of different moments where some have been really low and some have been really high and looking back on it now, I'm kind of in that position where I know if I hit a valley, it will go back up to a peak again, but 5 years ago I didn't realize that.

If you would like to donate to the Leukemia and Lymphoma Society and Team EMazing Race to the Cure(and it would mean A LOT to me if you did) please click here.