I feel so honored to be featuring my friend, Katie Fong, on the blog today. Katie is one of the most talented young women I know. After learning all she could at FIT, Oscar de la Renta, and Vera Wang, Katie broke out on her own and launched her own line, with a shop in Greenwich, CT, right off of the famous Greenwich Avenue. Katie and I met once a few years ago at a party in Greenwich, but by the time we had re-met (both members at IHYC), I was basically fan girl status of her line (really!). Katie is an incredibly talented designer –  every single one of her pieces has that "wow" factor. Her gowns, dresses, and separates are elegant, feminine, and so timeless. Her attention to detail and careful choice of quality fabrics and laces (not to mention the craftsmanship that goes into each piece) are just a few of the things that make her line special and distinct. I think that perhaps one of the many reasons I am so excited to be featuring Katie is that I know, without a shadow of a doubt, that she will be a big name in this industry one day and I can't wait to say "I featured her on the blog!" Besides being an amazing designer and all around girl boss, she is incredibly humble and kind. I can't wait for you to read our Q&A below! Be sure to check out her website to see more of her designs and if you have a big event or are a bride-to-be, her custom made gowns are absolutely exquisite!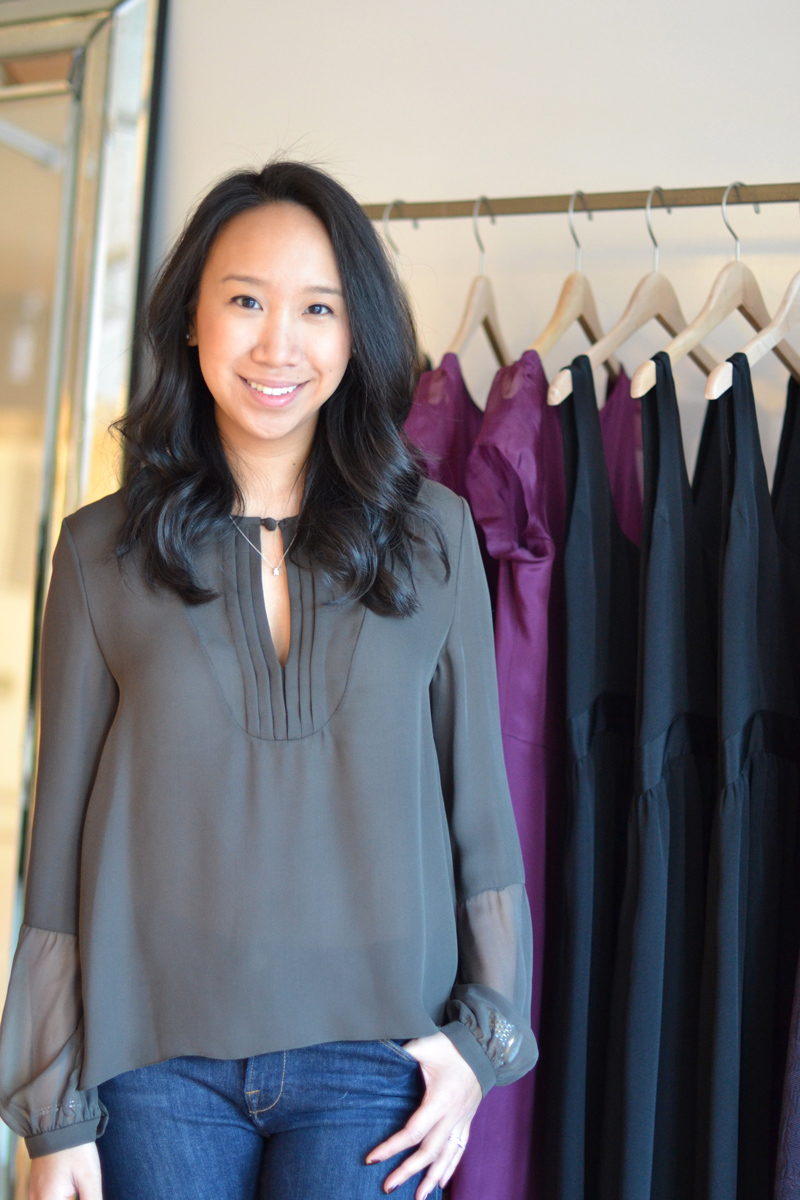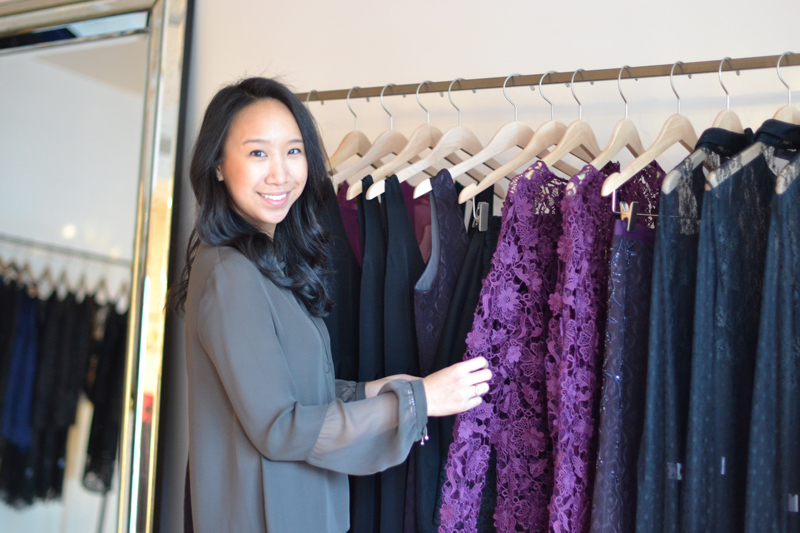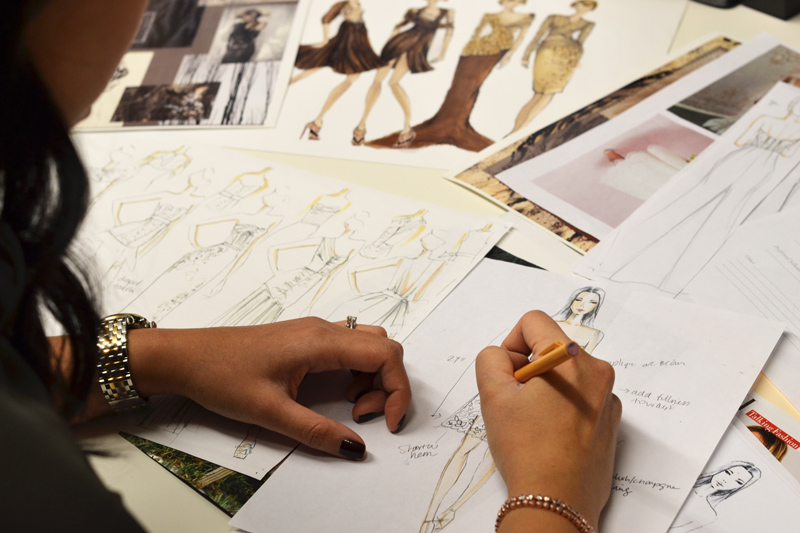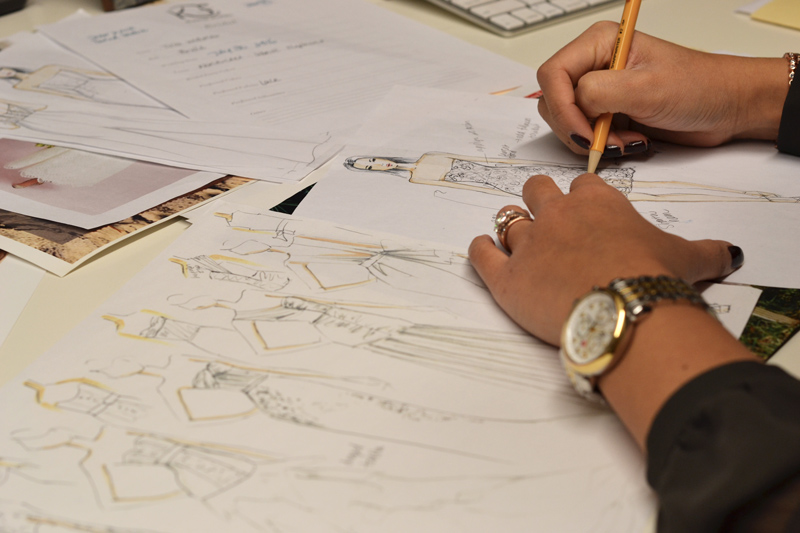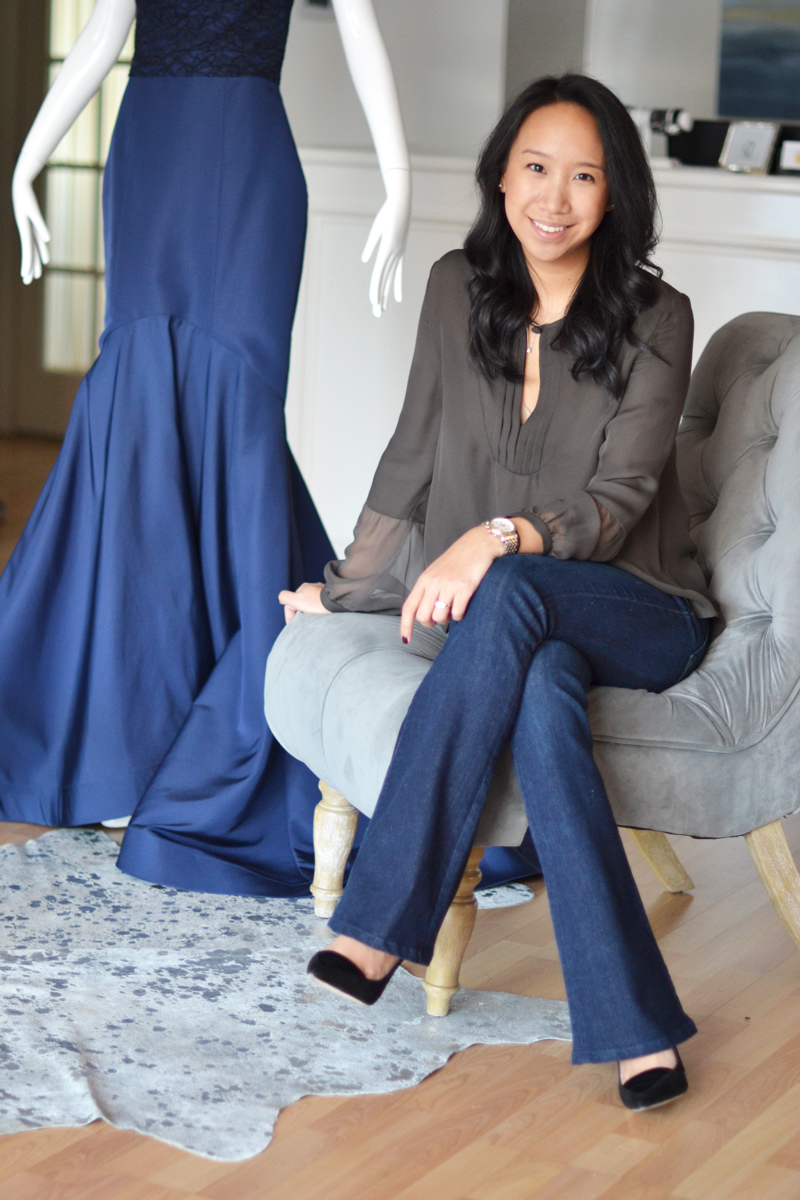 When did you first become interested in fashion and design?
I've been interested in fashion and design since I was about 4 or 5 years old. I was so young that I do not remember, but my parents do!
Where do you most often find inspiration?
I find inspiration everywhere – from people walking in the streets to my favorite lingerie boutiques in the city and flower shops. I love to incorporate details from everything around me with what I design.
Did you always want to have your own line?
Yes – it has always been a dream of mine. Not only do I love to design and be creative, but I also enjoy the business aspect of the fashion industry. It's unlike any other and keeps me on my toes.
What's the best part about designing wedding and custom gowns?
Designing custom is one of the most challenging projects any designer can work on – in any field. Not only are clients coming to you because they like your style, but they also are looking for something that suits them perfectly. The most enjoyable part of the process is seeing a customer feel and look beautiful in my creation. If the client is a bride, it is the first time she puts on a veil with her gown.
What was it like to design your own wedding gown?
From the very beginning, I knew I did not want a gown that consumed me or a gown that I had seen in the market. I wanted something fresh, timeless and a bit dramatic. I ended up designing a silk faille gown with a slight fit and flare skirt and a Chantilly lace illusion bodice with alencon lace applique. The gown had a detachable train that was also appliqued with seed pearls and subtle crystals. It was a fairly easy process since I am a very visual person.
Do you have a favorite piece or a favorite collection that you've ever designed?
I have many favorites! However, my all-time favorite is a dress I designed in my first Collection named the Jean Dress. It is a silk organza embroidered taupe tea length dress named after my grandmother Jean, who passed away a month before I launched my brand. We sold out in department stores and my mother wore it with a matching bolero for my wedding.
Favorite designer?
As many people know – Oscar de la Renta. I trained in his fashion house under the Design Director at the time, for three years. Not only did I love Oscar's style, but I also admired his work ethic and passion.
What is your most treasured item in your closet?
The Grace Dress from my first Collection – it is an ivory chiffon trapunto embroidered pencil dress that has so much detail in it… I only bring it out for very special events that I can wear white to.
What has been the biggest thing that you've learned since starting your own business?
The biggest thing I have learned since starting my own business is how to balance my work and personal life. I have always been a workaholic, but I know now that it is just as important to enjoy life and take time for myself.
What is the most exciting thing that's happened since launching your own line?
The most exciting thing to happen was moving my company's main studio to Greenwich and opening up a store here! It was a huge change and involved many long hours of hard work, but was well worth it when we saw our sales go up!
So tell me a little bit about what you are wearing today:
Today, I'm wearing one of silk staples, the Lily Blouse, with a pair of Frame Denim flares and Tory Burch pumps. I haven't purchased a pair of flared jeans since end of middle school, so when these came back in style I decided to give it a try and now I love them. To accessorize, I'm wearing David Yurman pearl and diamond studs my husband gave me on our first dating anniversary, and a ring that my mother passed down to me one month before my wedding. I am also never without a watch!
If you could only wear one outfit for the rest of your life, what would it be?
A simple white dress and nude wedges. I have many, many white dresses in a variety of fabrics that I absolutely love and feel comfortable in. I also love how a nude wedge can elongate my legs without straining them.
What women have inspired you?
My mother is my biggest inspiration. She is the strongest and most passionate person I know, and I hope to be at least half the person she is in my life.
What's one piece of advice that you would give to young women in the industry?
The best marketing tool is to be kind to everyone you meet and stay open minded. You never know who or what will surprise you!

What's one thing that most people don't know about you?
I love to cook!
What are the 3 things that you absolutely, positively, cannot live without?
My iPhone, a notebook, and sweaters (I always get cold so easily!)
Favorite indulgence?
Truffle Cheese…
What makes you smile the most?
My husband 🙂