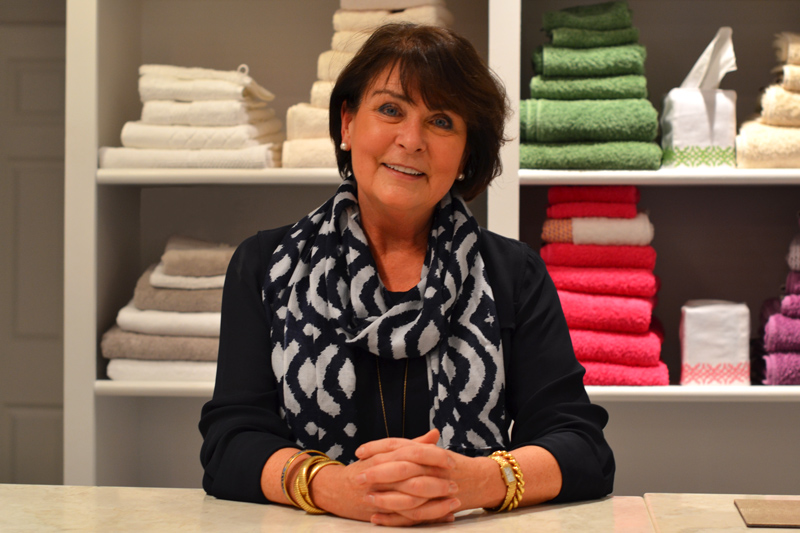 Lynne Jenkins is one of the loveliest women you might ever meet in your life (I know it to be true). There's a quote that I love from Maya Angelou, who said, "Prepare yourself to be a rainbow in someone else's cloud." Well, I'm pretty sure that Lynne is a rainbow in the clouds of many. Lynne is one of a handful of small business owners on the prestigious Greenwich Avenue in Greenwich, CT. Her store, Lynnens, is a high-end luxury linen shop that's well known around the world. I had the chance to sit down with Lynne (over a bottle of wine) and ask her a few questions, some of which I had really wanted to know myself. Her stories, her wisdom, her warmth, her sense of humor, her life advice….I feel like spending time with her is just this big gift! I know you will learn so much, as I did, from the amazing Lynne….happily read on.
Q: When did you first become interested in interior design?
Really through my Mom. My Mom always did beautiful homes for us, so I grew up with that. I was the only girl and the oldest, so I was the person helping her with polishing the silver and whatever we did to make the home beautiful. So that was really my first influence. As far as me getting into it, probably by the time I got my first apartment and started living on my own, which was really more in my mid-twenties when I moved into the city and had my own place to do and bought my own condo.
Q: Where do you most often find inspiration?
I do go to a lot of trade shows and I see a lot of things there, but also I have to really say magazines. I'm also lucky enough to go to a lot of homes around here where I get to see a lot of what people are doing and that's pretty interesting because its on quite a scale compared to the rest of the world and the country.
Q: What's your favorite interior design magazine?
Elle Décor. It's traditional but with a modern edge and it shows what's fashion forward.
Q: What has been your biggest challenge owning and operating your own business?
Oh, my biggest challenge…I don't know I love it so much that it's not hard for me. The only thing that's challenged me and challenged my business was this last recession – definitely a game changer (overnight, it wasn't a gradual thing). I was doing people's houses and it was their 3rd, 4th, or 5th house at the same time, so that all got cut back. If they were thinking of buying a house in Aspen, they probably were going to wait instead of buying it. Once somebody likes us, they have us do everything for them, so all that stopped. People were selling houses, people were not buying new houses and I'm sure they were looking in their linen closets thinking "I probably have enough sheets for right now, we'll just get the kids through college," because nobody knew. It was really the hardest thing I've faced business wise.
Q: What has been your greatest accomplishment since starting Lynnens?
My greatest accomplishment…it may not be the answer you're looking for…when I started Lynnens, I made a promise with God and I told him that if I was allowed to make it doing something that I loved so much and had such a passion for, that I would give back. And so I love the fact that I can donate to every charity that comes in here, especially I concentrate on children and older people, and that I can do fundraising things. I just did a fundraiser for the Y, and my next one will be for Kids in Crisis, and then the one after that is going to be for Greenwich Daycare for Adults. It's a great feeling.
Q: What has been the most surprising thing that you've learned since starting Lynnens?
You know, in a way, I guess it's just how nice people are. I don't know that that's surprising, but I'm very pleased with that because I have people who say to me things all the time like "Oh God, the customers will just kill you," and "Oh my God, it must be amazing in Greenwich," and I'll go to meetings with other retailers from around the country and they'll just assume that this is some really highfalutin, snobby kind of place and I say, "you know, honestly, the only customers that stand out in my store are the one's that aren't nice," because they're so rare. They're the sore thumb sticking out of all the nice fingers! People are really nice and polite and easy to work with. I love that my staff is so down to earth, nobody in here has an attitude, everybody in here is just lovely and my customers come in for that. I see so many of the same people over and over and over and over, and you kind of wonder, "what could they be coming in and buying in a linen store every other week?" But, they come in for gifts, and they come in to do something for their daughter's room, or their son just got an apartment, and they know that we're going to help them on whatever level they need to be helped. It's really neat…it really is.
Q: What's one piece of advice that you would give to other women who are starting their own business?
Oh, just to truly do something that you're passionate about, because it's so much work, and I don't think of it as the word "work." I mean, I have to say that to explain what I do, but I come in here on Sundays. I'll go to church in the morning and just come here before I do my grocery shopping because it's mine and I can and I love it and I'm so proud of it. I'll come in and just walk around and look at things and at night, when everybody leaves, I'll be here at eight-o-clock with the lights off just thinking "thank you." But, that's because I love it so much. And in my industry, I've become really well-known (I mean, I've been doing this for over 34 years) and there used to be a ton of stores like this in the country, and we're down to about, at max, 25 (20 maybe). Honestly, the level I do it at, there are maybe 12 of us, but the others are very close, and then there's a very big drop, and we go to a Bed, Bath, and Beyond or a department store. There used to be a lot of people on the different levels and because of the recession, especially, they've just been sifted out. We all know each other and because I'm in Greenwich and because I've done it so long and because I have such a good relationship with my vendors, everybody kind of knows who I am…and that's really fun. I never realized that for years – I never realized it, especially after my husband died, I buried my head in my work and I just didn't know.
Q: So, tell me a little bit about what you are wearing today:
Yes, it's all J.Crew [laughs]. I love wearing jeans to work, but I just like to wear dark, nice jeans to work and the shirt is navy blue crepe and it's from J.Crew. I love it because it's slightly dressy, because it's crepe, but it's still really …you know, you're in the shop, you're not here to make a big statement. And then your scarf just went perfectly with it!
*sidenote: I got Lynne the scarf she is wearing from vineyard vines for her birthday 🙂
Q: And your heart necklace has a special meaning, right?
Yeah, an old boyfriend gave it to me and I just love it. I mean, I always wanted this heart and it was so long ago! It actually has little teething marks on it, because when my first niece was born, I'd let her chew on it and teeth!
Q: If you could only wear one outfit for the rest of your life, what would it be?
There are two, can I tell you two? One is my J.Crew white shorts and my marine blue and white striped shirt (I don't even know where that came from) – that would be me in the summer. And then in the winter, it's these jeans and my Ralph Lauren shirt that I've had for forever that is a red, navy, and green plaid and it's this kind of cotton that just doesn't ever wrinkle! I just love it!
Q: What women have inspired you?
Well my Mom, definitely my Mom. It's funny because, also, my Mom's mom, who taught me how to sew when I was 8 and taught me how to do my nails and be a girl. My Mom was busy raising 3 boys and a girl and she never thought about it.  Even till the day she left the planet, she would say, "where does all this come from? This doesn't come from me." I would say, "no, it was your mother – it skipped a generation!"
Q: What's one thing that most people don't know about you?
Probably a lot of people don't know how religious I am, because I'm just really private about it. I just don't talk about it that much.
Q: So your faith plays a big part in your life?
Oh, everyday. Absolutely. I don't get out of bed in the morning without reading a little book I keep by my bed. It's a daily thing. It's really big. When everything was really bad here with the recession and I didn't know where to go or how to fix it and it just kept getting worse… I did just reach that point, and I know you hear a lot of people say it, where I truly did just turn it over. I was just like, "I just don't know, but I have this faith and this hope that You're going to keep me on the right trail and I'm just going to let You do this and keep doing what I do everyday." And I swear from right around that time point, everything started going in the right direction.
Q: What are the 3 things that you absolutely, positively, cannot live without?
Ok …1) the water, I just can't. 2) any kind of plants and flowers. 3) my bed, I do love my bed and my linens!
Q: Favorite indulgence?
Ooo…I guess my favorite indulgence is Indian Harbor (Yacht Club). That whole thing is a big indulgence when you think about it. Whether you're going for a drink or a sail or dinner or whatever you're doing – it's a big indulgence!
Q: What makes you smile the most?
I don't know…I smile a lot. I do, I just smile a lot! I'm just a generally happy, positive person. It's really a nice gift to have in life.
Q: If you could go back, what's one piece of advice that you wish you had heard 20 years ago?
Be true to yourself. If you listen to your gut, you're going to be "ok."