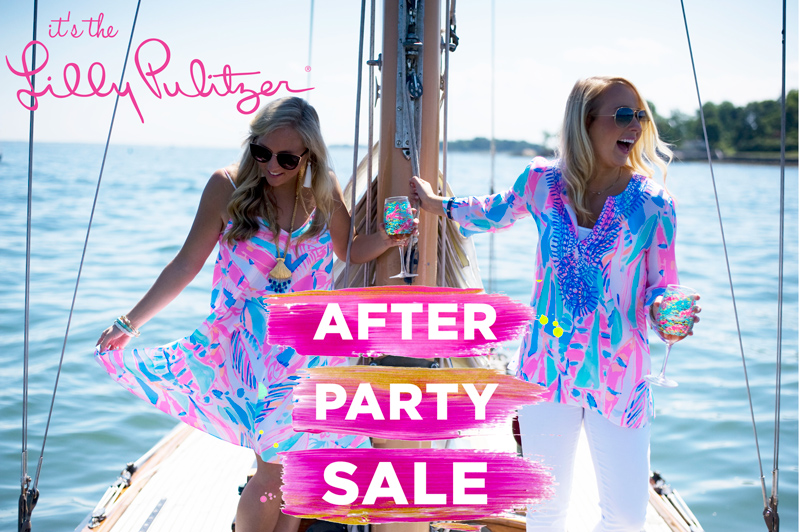 ~ Original Photo by Ashley Jahncke, taken with my friend and fellow Lilly loving soul sister, Amy from I Believe in Pink!~
~ First off, how are you all?! I hope that you had a wonderful New Year's Eve & Day and are feeling energized for the new year! I sure am! I have a post coming soon about my growth goals (the personal kind!) for 2018, and I can't wait to share more this week!
but first . . .OH MY GOODNESS GRACIOUS…IT'S HERE! One of my most favorite days of the year: The Lilly Pulitzer After Party Sale! It's when your favorite happy Lilly pieces are on SERIOUS SALE…I used to camp out in a tent with a sleeping bag for this stuff before it went to an online event (SUCH good memories from the Lilly Warehouse Sale!). ME. CAMP. . . THAT'S HOW GOOD IT IS!
I just wanted to arm you all with a few tips to make the most out of this sale…because it's a bit different than the usual online sale… (*and it's definitely more special). If there's one sport I will always play varsity in…it's shopping Lilly…so read on!

Tip One 
~ Make sure you have an account on the Lilly website. If you're like me…make sure you REMEMBER and test your correct password and add your updated payment info…tonight! Why take the time to do this now? Well…even if you add things to your cart tomorrow, it DOES NOT mean they are saved for you. This will help your checkout process go quicker AND ensure you get everything that you want. Click here and then click "sign in" on the upper left corner of the site to make an account!
Tip Two 
~ Make sure that you know your size! Luckily, Lilly has this awesome thing called True Fit, which is a super quick 60 second survey you take to narrow down the best size for you!
Tip Three
~ Take a peak around the website now! See what styles are popping out to you and what dresses you love. Make note of things that have fit you well in the past! I love to create a hidden Pinterest board for this…pin your favorite prints and items and have a separate window open of your Pinterest After Party Sale board open when you are shopping!
Tip Four
~ REFRESH EARLY and often before 8AM! I would definitely get on the site by 7:40 to see if you can get in line yet.
Tip Five
~ Each year, new products go up in waves over the course of the 2 days. Keep checking back! My friends and I always have conversations where the phrase, "oh, I didn't see that?!" is uttered when sharing purchases…and this is the reason why! Last year, I got my favorite tassel twosie that so many of my friends didn't even see on the site (it was an impromptu late night check to see if anything new had popped up…AND IT DID)!
Tip Six
~ UPDATE: I was a little under the weather early this AM, but I just rounded up my favorite product (below!)! I'll continue to update throughout the day! That way, if you are in line and at work or in line at Starbucks for your morning coffee, you can at least GET A SENSE of what great stuff is included in the sale! I'll continue to update throughout the day so keep checking back! (no…like I will be glued to my laptop ALL.DAY!)
WITH LOTS OF EXCITEMENT AND LILLY LOVE,
xoxoxoxoxoxoxo Rhiana