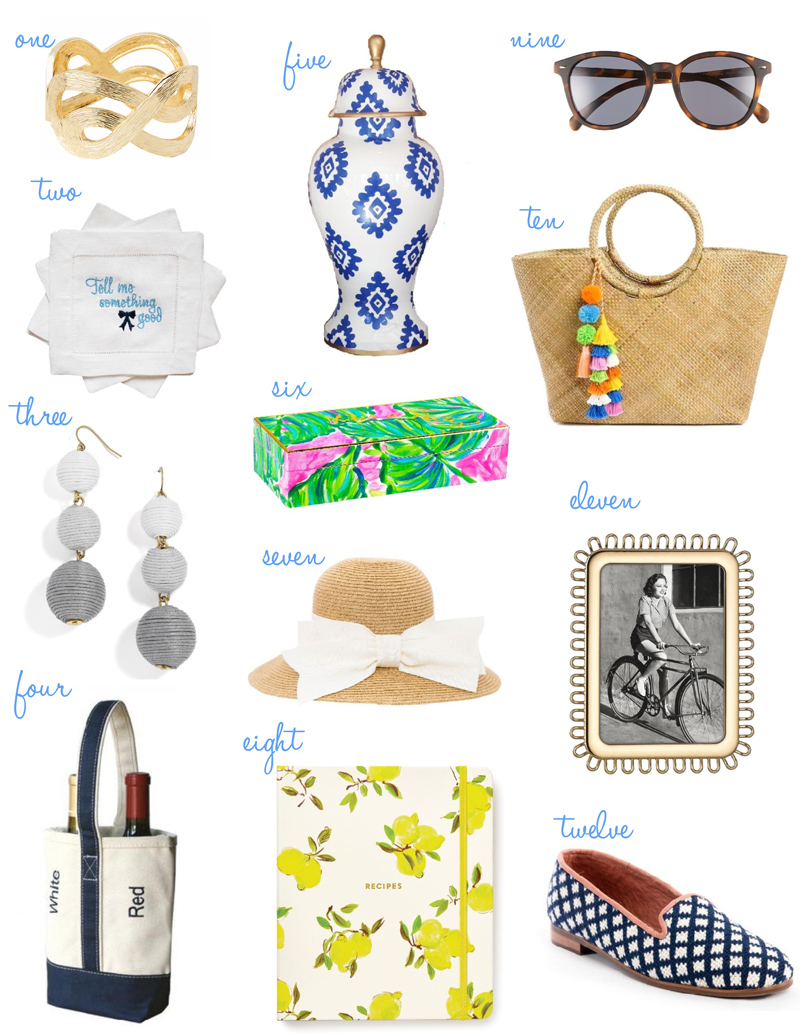 ~ My Top Picks: 1. Cuff Bracelet ~ 2. "Tell Me Something Good" Cocktail Napkins ~ 3. Earrings ~ 4. Wine Tote ~ 5. Ginger Jar ~ 6. Lilly Lacquer Box ~ 7. Bow Sunhat ~ 8. Recipe Book ~ 9. Classic Tortoise Sunnies ~ 10. Straw Tassel Bag ~ 11. Timeless Frame ~ 12. Needlepointed Loafers ~
~ If you have an awesome mom like I do, finding the perfect Mother's Day gift is a really important (and sometimes challenging) task! I hope that my guide makes life a little bit easier for you this year. Scroll down for many more ideas, and if you are reading this in your inbox, click over to the blog to see all of the amazing gift ideas I've rounded up for mom!
I also wanted to give a few ideas of creative Mother's Day Gifts! I love adding special sentimental touches and doing something different! Here are 5 more fun gift ideas:
~ 1. Frame a sentimental photo in a beautiful frame and pair it with a piece of jewelry! I like mixing something sentimental with something that she can wear and think of you when she does!
~ 2. Does your mom like the beach as much as mine?! Buy her a cute new beach bag and fill it with accessories for the beach like sunglasses, tumblers, a pretty towel, or a sunhat!
~ 3. Give her a pretty lacquer box for her nightstand and fill it with sentimental items like photos and handmade gifts (handmade cards for the win!)!
~ 4. Does your mom LOVE wine? WINE NOT fill this wine tote with her 2 favorite bottles!
~ 5. If you mom loves interior decorating, you could always get a pretty vase and fill it with her favorite flowers!
More Mother's Day Gift Ideas! 
---
Gratefully with love,
xoxoxoxoxoxoxo Rhiana