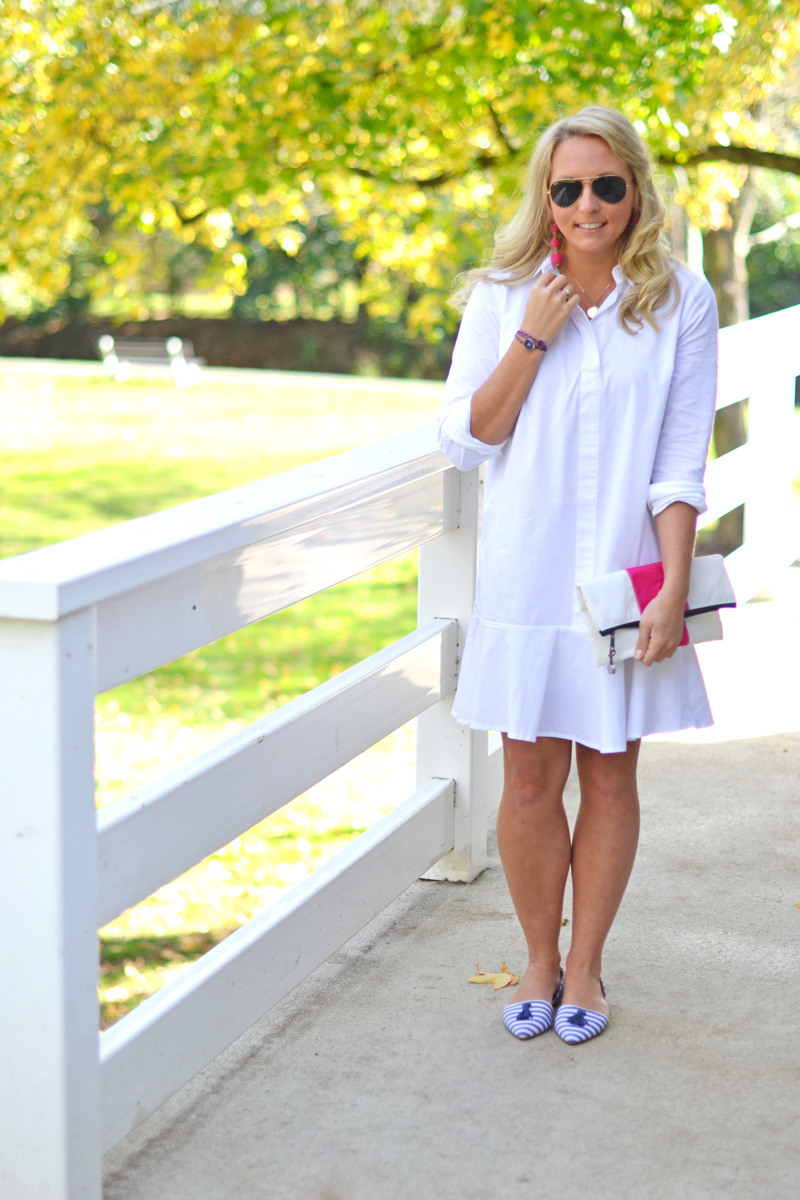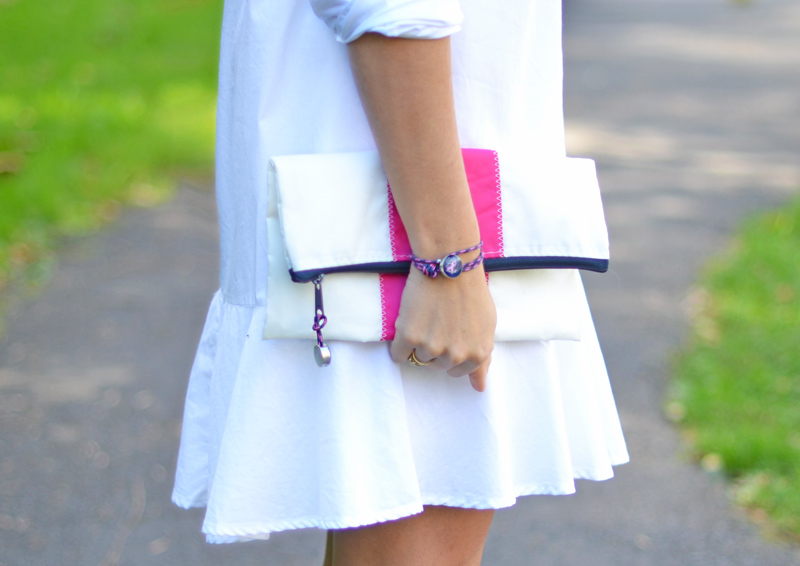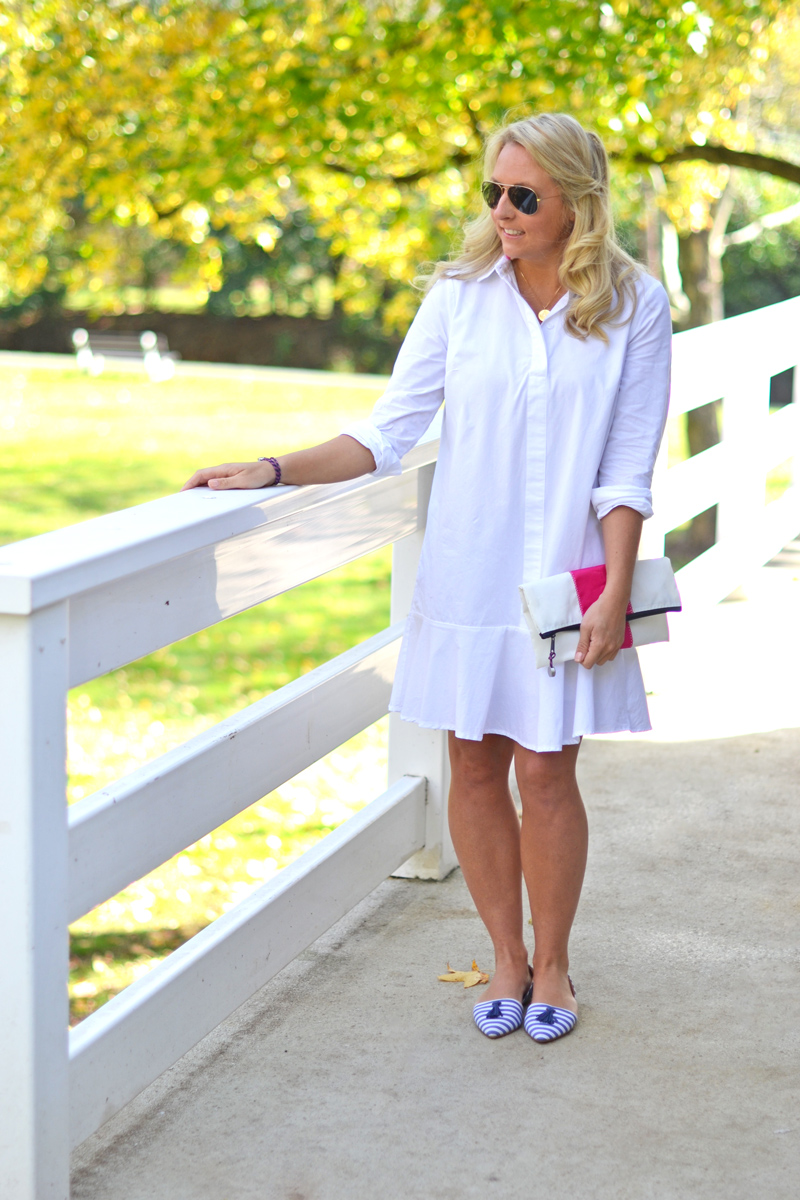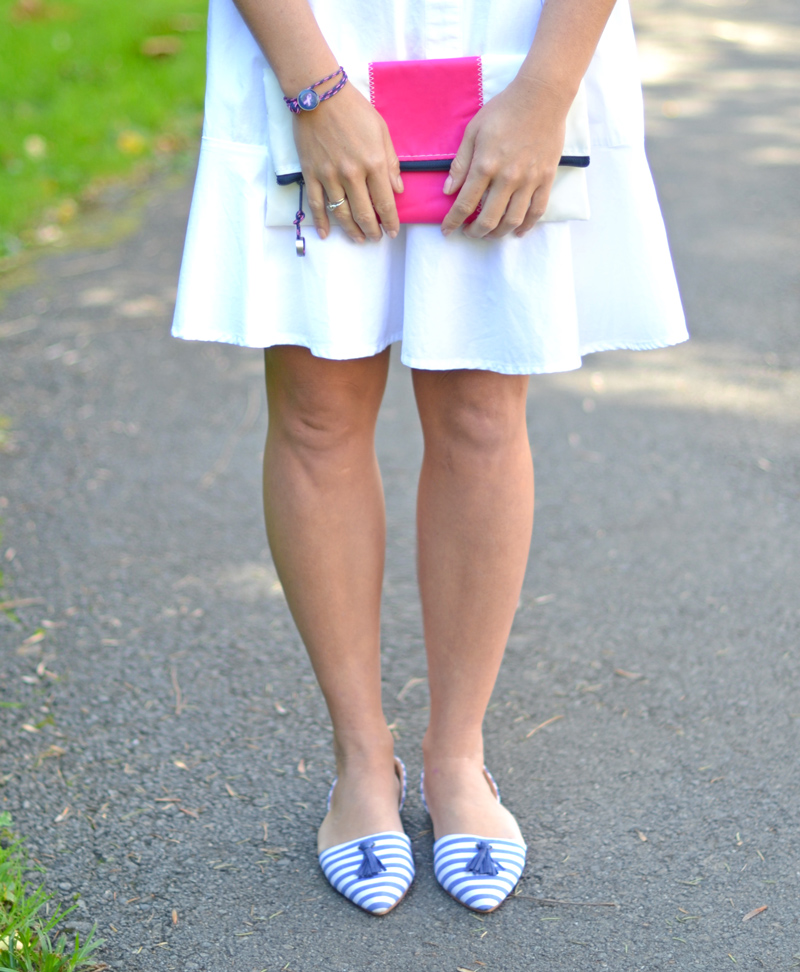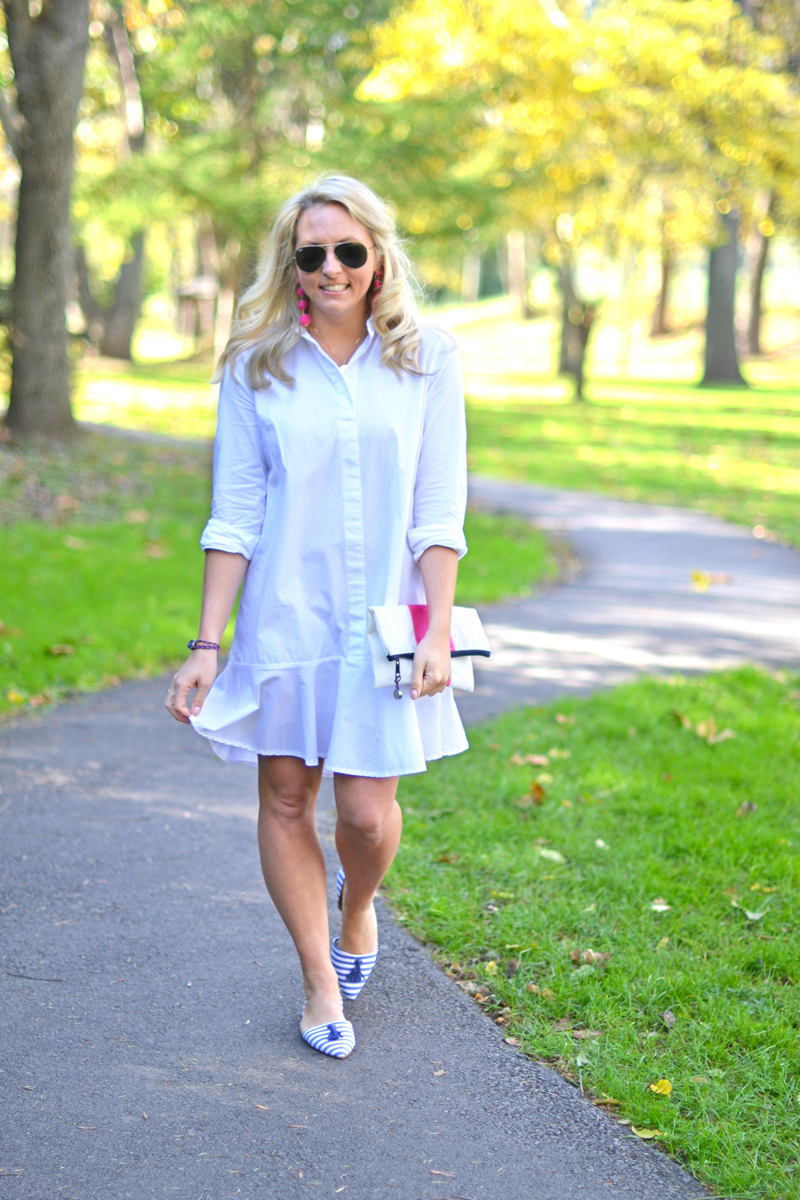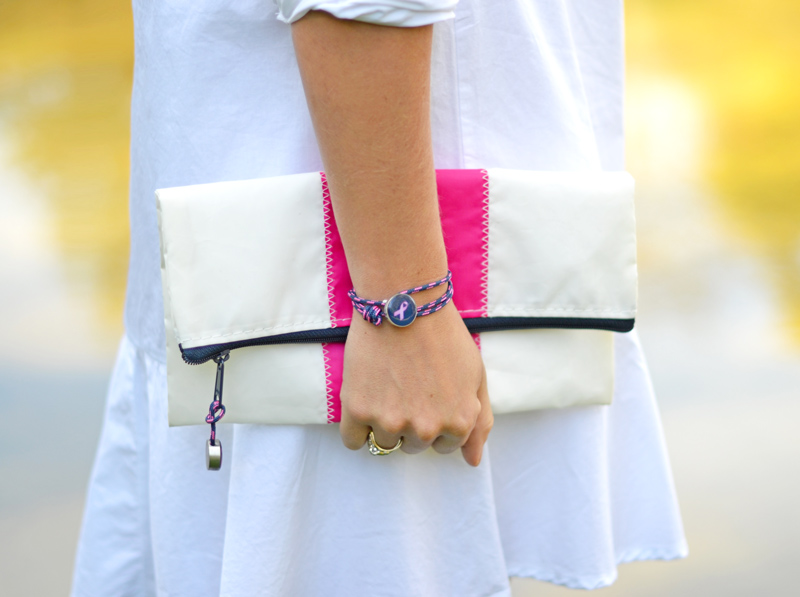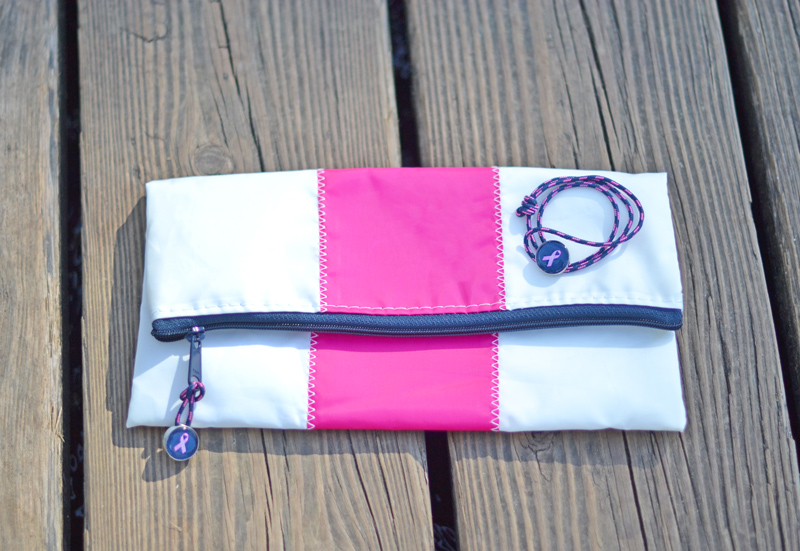 ~ Outfit Details: White Peplum Dress ~ Nautical for a Cure Bracelet & Clutch c/o Sea Bags (read more about this amazing collection below!) ~ Monogrammed Necklace c/o Kiel James Patrick ~ Similar Earrings ~ Similar Striped Flats (I seriously love them! And they're on sale!) ~ Sunglasses ~
~ Today, I'm so excited to be sharing about a long-time favorite brand of mine…Sea Bags!  As a sailor, I have always really loved Sea Bags, which are handcrafted in Maine from recycled sail cloth. I like knowing that each piece has a history and a story! Their products are as durable as the sails themselves, and are perfect for on or off the water. I love packing my Sea Bags tote with extra layers and snacks for Wednesday night racing, but I also use it as a go-to carryall and beach bag in the summer!
I'm grateful to have the opportunity to share about Sea Bags and their wonderful collection, Nautical for a Cure, which they partnered up with CHART Metalworks to create. Until December 31st, 20% of the proceeds from this special collection will go towards the Maine Cancer Foundation (how amazing is that!). The Nautical for a Cure collection includes an adorable pink stripe foldover clutch (see above!), an amazing pink and navy striped handbag, and the rope bracelet I'm wearing (above). CHART Metalworks handcrafted the adorable rope bracelet with the Pink Ribbon charm on it as well as the Pink Ribbon zipper pull on the clutch.
I really love the Nautical for a Cure clutch I'm carrying in today's look because it is the PERFECT size. It's a fold over, but it doesn't have to be if you happen to need some extra room (and I ALWAYS do). This clutch is so practical and durable, and yet adds such a fun pop of pink color to a more neutral look. The Nautical for a Cure bracelet that I am wearing is different from most wrap bracelets, in that you can adjust the length of it, allowing for so many different possibilities of how you could wear it. Pink + Nautical + Supporting a great cause?! I'm not sure you can ask for a better combination.
I think that we have all been effected by cancer in some way or another, whether personally or by knowing someone who has. Too many of my friends and family members have been effected by cancer, but it's hard to write this post and not immediately think of a good friend my age who has been battling Breast Cancer this year (Maine is a special place for her)! She is so beautiful and brave and inspires me with her courageousness and strength.
I can't always feature "meaningful" fashion here on the blog, but I am so glad to be able to do so today. I know that so many of you LOVE pink and love the water as much as I do, and so I hope that you also head over to Sea Bag's Nautical for a Cure page to check out their amazing products that give back to such a wonderful cause!
Also, Sea Bags has so many different and wonderful products that I know you would love! There is also such a variety in their patterns that make them appropriate for all seasons (I love the plaid tote for fall)! Definitely head over to their website and sign up for their mailing list to see more from this awesome brand.
Gratefully with love,
xoxoxoxoxoxoxoxoxoxoxoxo Rhiana
P.S.
Biggest thanks to Sea Bags for partnering on this post!