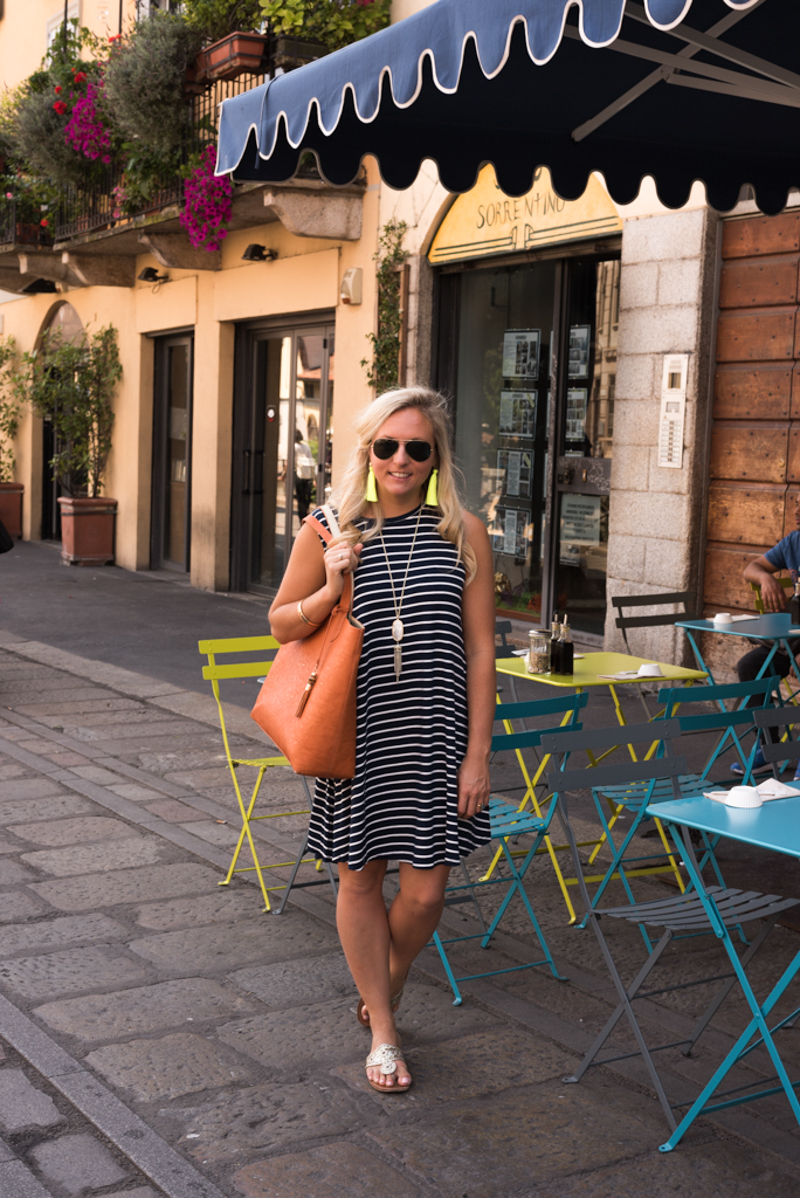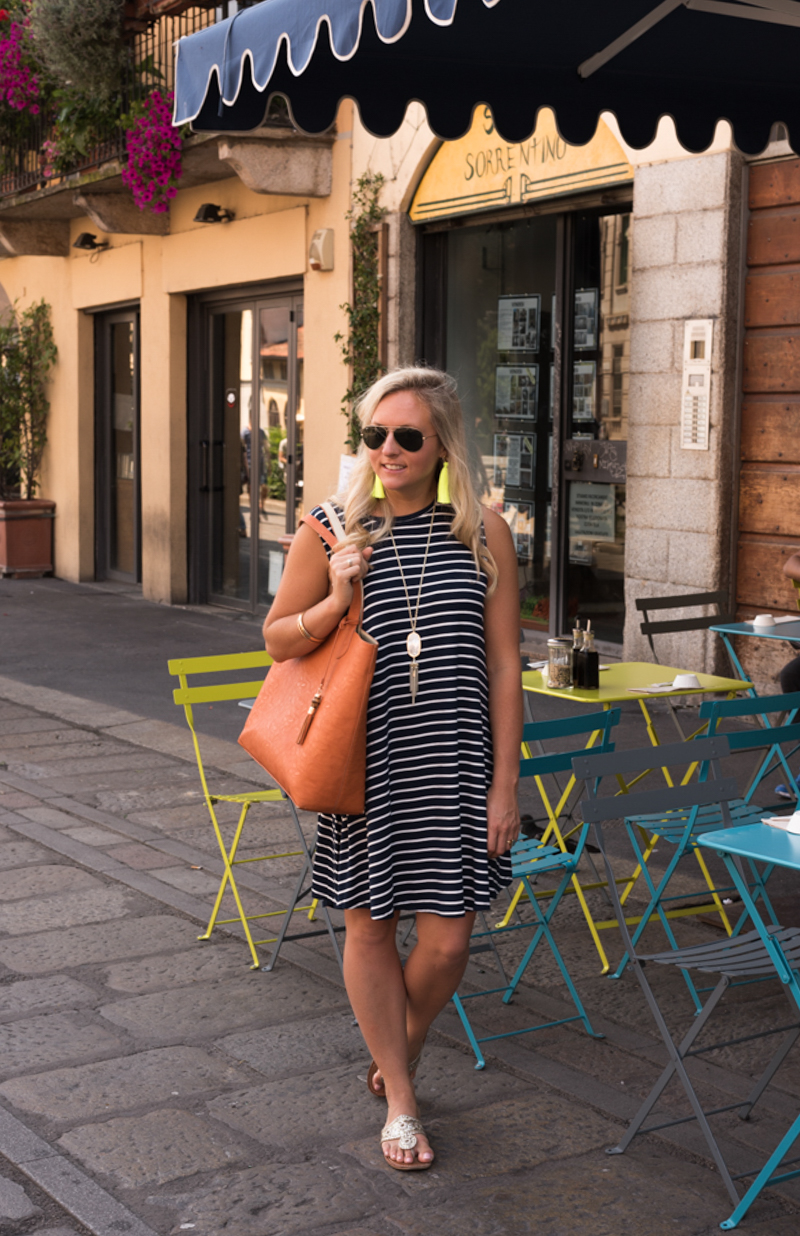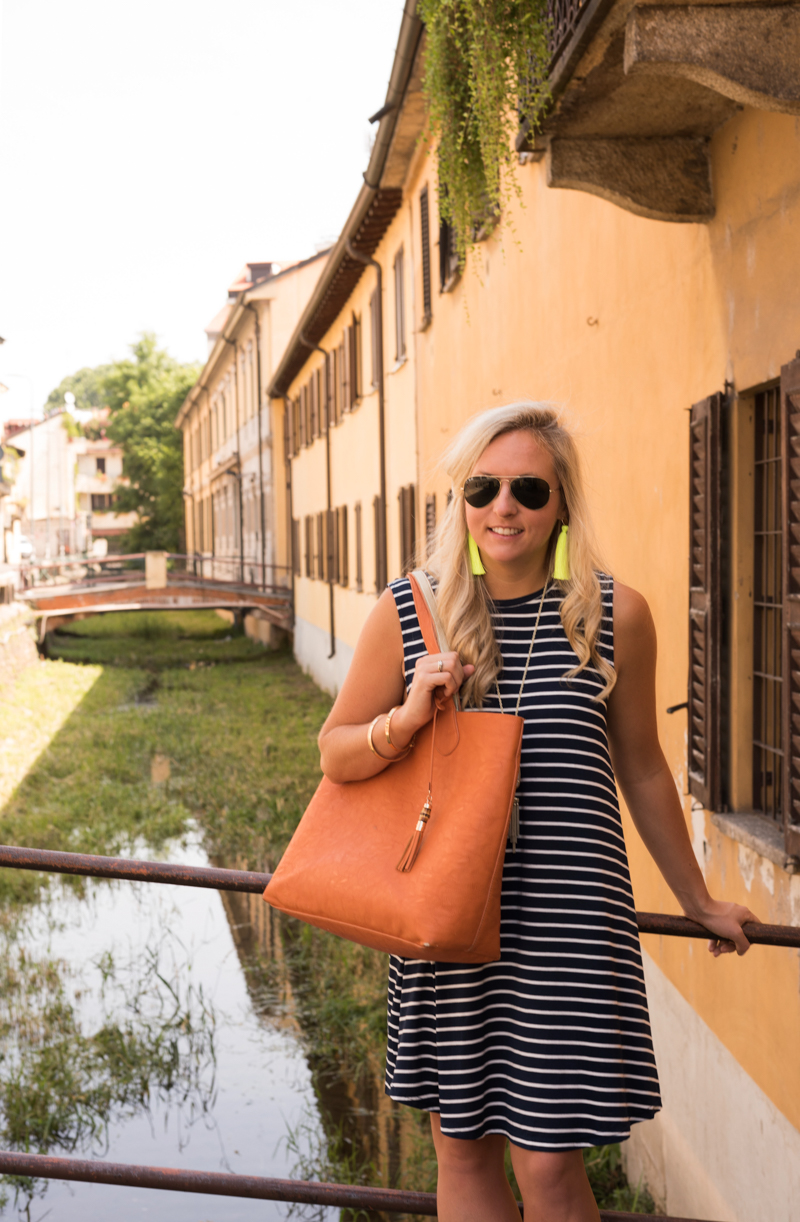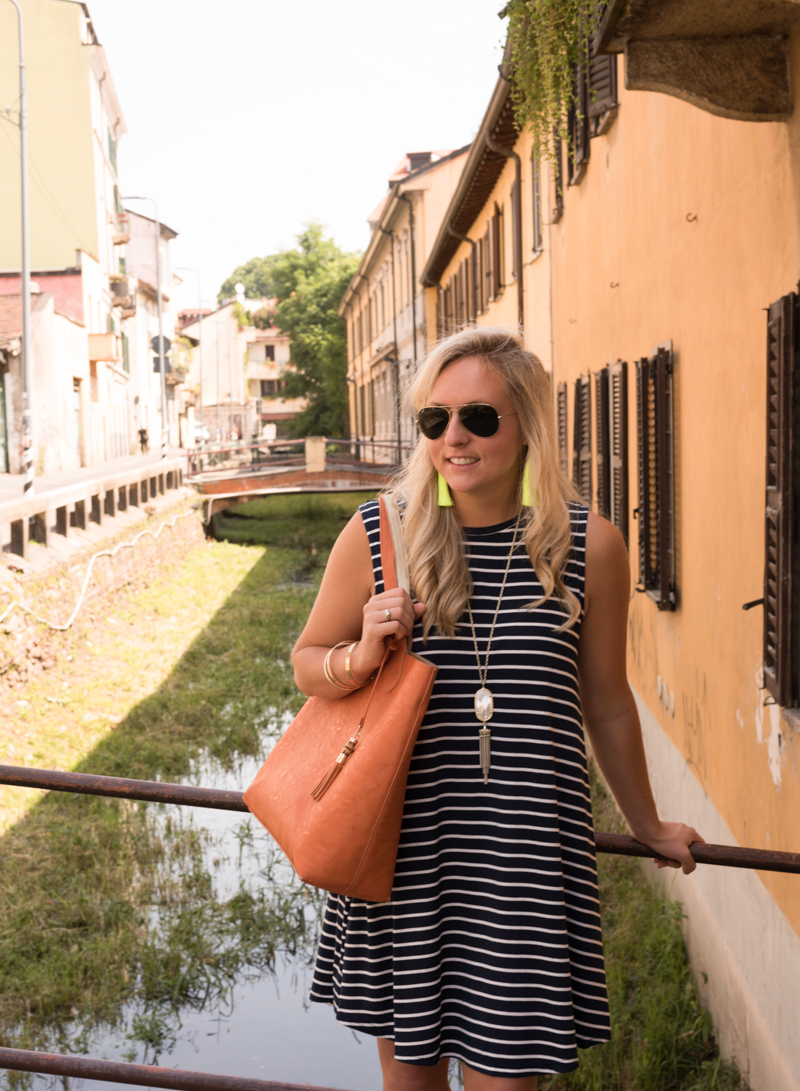 ~ Photography by Natalia Szumlasnka ~
~ Outfit Details: Swing Dress (under $20! Believe it.) Here in White & Red, Here in 3 Gray Stripe Versions, Here in Green, Here in Black, Here in Royal Blue ~ Leather Monogrammed Tote c/o Toss Designs, similar here ~ Necklace ~ Earrings (available in so many great colors! Under $50) ~ Sunglasses ~ Classic Gold Jacks ~
~ Well, I think I've found the PERFECT travel dress for summer (and I've travelled a lot…)! When I travel, I want something loose and comfy, something breathable, and something versatile. This dress comes in a bunch of different color options, but I've also rounded up my favorite travel dresses of the moment below (head over to the blog to see them if you are reading this in your inbox!).
Way back when I used to work at Vineyard Vines, I travelled quite a lot for shoots. And now, I'm fortunate enough to be in Europe, which means that everything is just an affordable plane ride away! It also means that I have to be very prepared when I travel home to the US.
Back at VV, it was a bit funny how I used to always pack all the samples and then weigh them and find they were all exactly 50 pounds! I like to think that being prepared for travel (*specifically, the kind that requires a flight), is one of my acquired adulthood skills. As I sit here writing this post in the airport, I can't help but think how smoothly that all went (and today I packed half my wardrobe and winter clothes)! I'm actually kind of looking forward to a productive flight today, and I have everything I need to be comfortable and cozy for the next 9 hours! I think I have it down to a science now, and I wanted to share with you all a few of the tips that I've learned over the years to help your own travel go a bit smoother!
Travel Tips for Frequent and Not-So-Frequent Fliers
~ 1. Get to know your carry-ons. Are you someone who travels heavy? Do you have little ones and lots of gear? I've never been a light traveller as far as carry-ons are concerned, but that's also because I have a ton of camera equipment and a laptop with me at all times. I liked to have a few bags that are my "go-to" carry-ons. It means I have to think less each time I travel about where I put my ticket, my passport, where my chargers usually go, etc… I have an old North Face backpack from high school that is my best bud when I travel. I KNOW IT'S NOT SUPER FASHIONABLE. But, it gets the job done and all the little compartments on the inside front pocket allow me to organize in a way that I'm familiar with. It also allows for me to have my hands free, which comes in handy when I have giant luggage to carry! I also usually carry a handbag (which is usually one of my favorite large totes)! Right now, my ski boots and bridesmaid dress are sharing my tote (yes, you read that right).
~ 2. Know what to bring on board to FEEL your best when you land. If you know me personally, you know that I could care less about how anyone else thinks I look. If I curl my hair, it's because I felt like feeling a little extra sassy and confident that day! It's the same with flying. I'll never be the girl who brings her entire makeup bag with her on the plane…but I do have a little zip cosmetic bag that I put my go-to items to freshen up in at the end of the flight. This is a little something I picked up from my time traveling for work. Let me tell you…THIS IS KEY! Here's what I keep on hand to freshen up:
-> A zip-lock bag of my favorite Burt's Bees Sensitive Skin Face Wipes. This makes me feel SO much better after the flight.
-> A travel sized compact filled with Benefit's Boi-ing concealer and eye-brightener. I keep this with me always! I have about 5 and never leave the house without them. Even if I can't feel awake, I can definitely look it 🙂
-> Oil Blotters! Why does my skin get so oily when I travel? I think it has something to do with how dry our bodies get from flying and my face producing oil in defense.  (disclaimer, this is my educated guess)
-> Mini baby powder. I LIVE by Dry Shampoo! The Blonde Batiste is my favorite, but sometimes airport security is funny about aerosol bottles (depending on country), so I like to play it safe and use some baby powder in my hair before landing. Bam, good as new!
-> Carmax (I'm a chapstick fanatic)!
-> Mini wipes (you never know what sticky situation you will get into)!
-> Mini Tide-to-Go Stick. I spill on myself all day every day. It's inevitable.
-> Advil, because my post ACL surgery knees do not love flying so much…
~ 3. Know how to BLOCK THE NOISE! My rose gold Beats came for free with my laptop because of my student discount (thank you, Grad School), and even though I never would have bought them on my own…I LOVE THEM. Crying babies, loud engines, those ladies who talk the whole flight…they got you covered! But either way, bring some headphones or earbuds and have some playlists downloaded on your phone. I have a playlist for sleeping that I love. There are also a ton of apps to help you sleep, I like Relax Melodies and am a big fan of the rain and ocean sounds.
~ 4. SNACK SNACK SNACK. Plane food…even when it comes with free wine…not my favorite. Since I am also gluten-free, I like to be safe rather than sorry and stock up on nuts and dried fruit before my flight.
~ 5. Need to use that time? Be prepared! For me, each minute that I have to sit down and get work done really counts! However, you never know what the wifi situation on your plane will be like, and so I like to have a few projects that I can do offline prepared on my laptop. (Usually, that means downloading photos to edit beforehand, or pulling product photos into a folder for a round-up or gift guide) I also like to have a notebook, big or small, so that I can write a to-do list and have a specific goal for that flight time. It might sound crazy, but hey, 9 hours is 9 hours…
~ 6. Beat the bloat! Are you someone who swells on planes? Because I AM! Like…so so so bad. To help with this, I carry a tea bag of my special Detox Tea by Yogi with dandelion root, which really helps with excess water retained while in the air.
~ 7. Go for the Eye Mask. I never used one until my secret santa, Solange, got me one this year! It's silly…it has eyes on it, but it really does work!
~ 8. Bring SOCKS. Cozy socks on the airplane, especially on an overnight flight, are such a must!
~ 9. Layer UP! I always love a cozy waterfall cardigan sweater for the plane. Something that you can wrap around and feel comfortable in.  I also love soft scarves that can double as blankets when you need them to! My favorite scarf for this is still in-stock and comes in 3 colors – it feels like cashmere and everyone asks if it is, but it's not (it's under $50!)! In the winter for long flights, I really don't like to be in jeans that long, so I will roll up a pair of Lulu spandex to change into right before boarding.
~ 10. Reading Material. I'm sure this goes without saying, but there are those moments in a flight where you can't have your electronic devices…plus…reading is now my incentive to get work done. I'm an English Major. I love to read! Unfortunately, this year I've had so much work that I don't always have time for it. I always make it my incentive now to get my work done so I can read on a flight. Sometimes I even splurge on a British Vogue in the airport (my favorite)!
Top Travel Dresses!