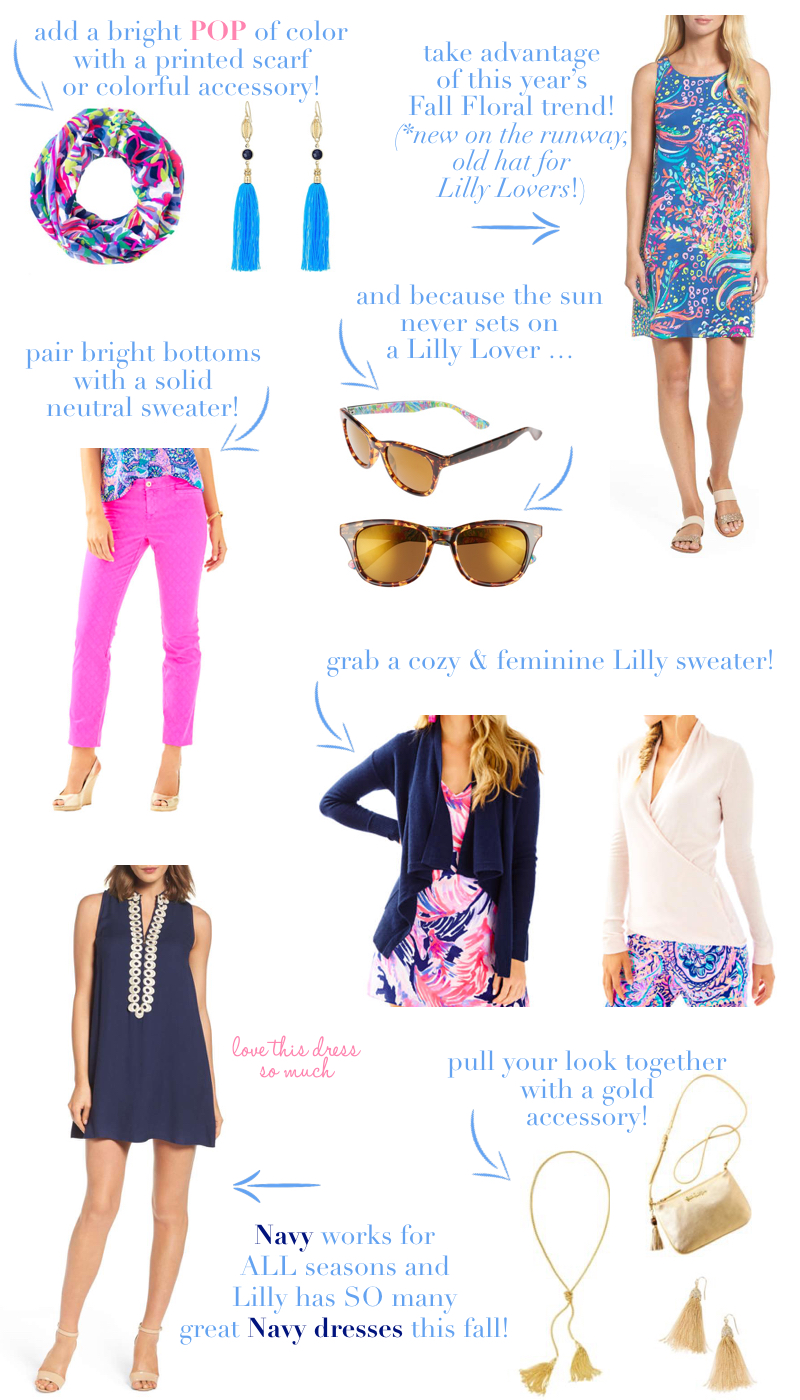 ~ This morning, while I was dropping my car off to be serviced, I spotted an instagram from a friend who works at the Pink Palace. HAULT ALL LIFE… there's a LILLY PULITZER SAMPLE SALE TODAY?! I called my mom on the way home…we had a quick turn around and got to the sale around 12 (it ended at 2!). I went from feeling a little bit blue this morning to having an awesome day. There was nothing better than a Lilly sample sale with my mom and seeing Lilly friends to cheer me up! I also found LOTS of great things 🙂
I started thinking at the sale about their "Resort 365" campaign and how that might translate into a *northern* fall wardrobe. I know what you're all thinking…"Another Lilly post?! It's fall, Rhi, are you crazy?" I hear you New Englanders loud and clear, I promise! I'm certainly NOT about to suggest that everyone ditch their Frye boots and Barbour jackets in lieu of bright Lilly shifts for The Hunt  this weekend! Hear me out on this one…
Walking out of the sale, my mom joked about how she is just not really Lilly girl (*she has Lilly and I've been trying for years). "Mom…I really just CANNOT relate," was my response. Lilly makes me happy, no matter what the season. There's a magic potion in those bright prints…I'm immediately ELATED and joyful when I slip into a Lilly shift. THIS SHOULD NOT HAVE TO END because of cold weather and a love for fall clothes!
Here are a few ways that I like to incorporate Lilly into my classic fall wardrobe:
~ 1. Add a bright pop of color with a colorful Lilly accessory, such as a scarf or amazing piece of jewelry!
~ 2. Take advantage of this year's Fall Floral trend! Everyone was showing this on the runway, and it was definitely my personal favorite trend for fall. Lilly has such great new prints for fall incorporating more seasonal colors in awesome styles that flatter different body types.
~ 3. SUNNIES! I love Lilly's fun sunglass designs. Somehow, I think that sunglasses make me feel like I'm somewhere warmer (even if it's snowing outside)!
~ 4. Grab a cozy & feminine Lilly sweater! Each year, they have the CUTEST wraps, cardigans, and sweaters. Some of them are bright, but many are more neutral and I love it! Their cashmere is also SO SOFT.
~ 5. NAVY NAVY NAVY. It's one of my favorite colors for many reasons, but especially because it transitions so well into fall. Lilly has SUCH great Navy dresses for fall (see below).
~ 6. Add a gold accessory to pull it all together! Lilly has amazing jewelry and accessories. I think that gold is such a great metallic for fall and it's also a great investment accessory since it will always be appropriate each year.
~ 7. Not seen above, but Lilly has such amazing athletic wear (called "Luxletic"), that will brighten your workouts and your spirits. I'm excited to wear my Lilly Luxletic as base layers this year for skiing!
See below for ALL of my current Lilly favorites! (*important: if you are reading this in your e-mail inbox, be sure to click over to the blog to scroll through!)
Gratefully with love,
xoxoxoxoxoxoxoxoxoxoxo Rhiana
My Lilly Fall Favorites
---