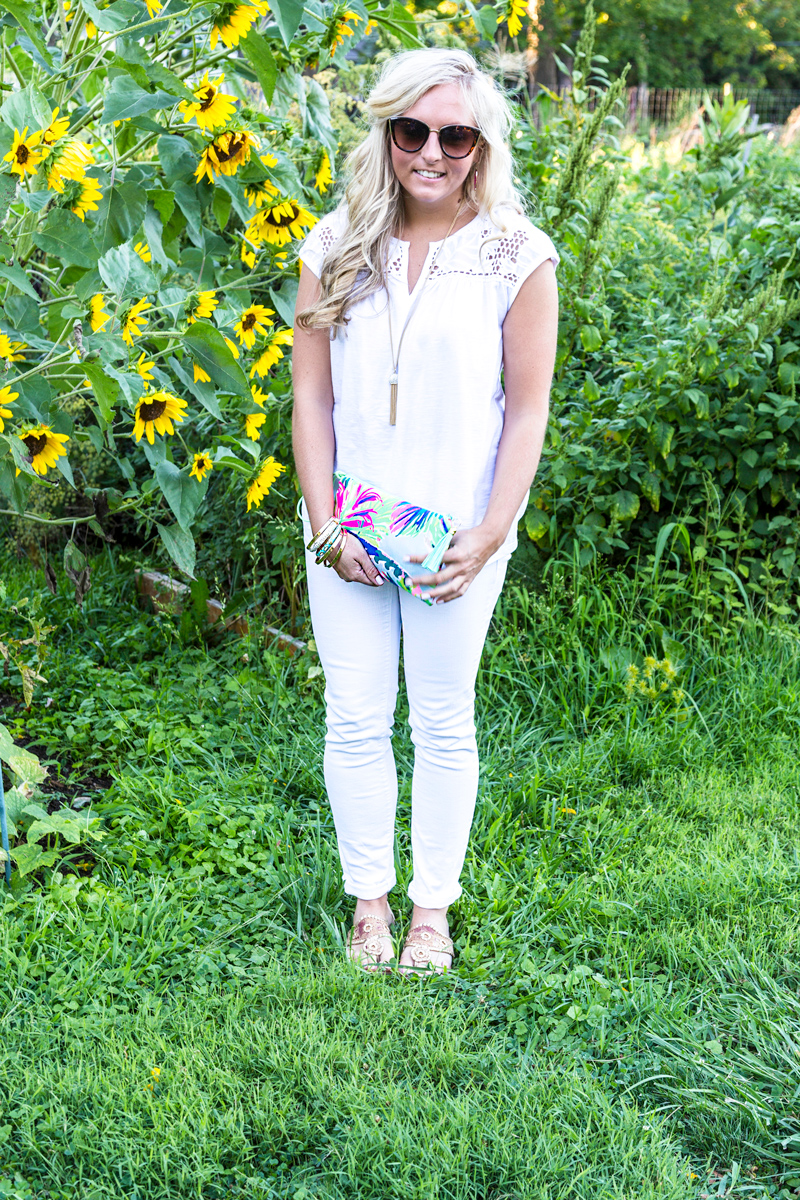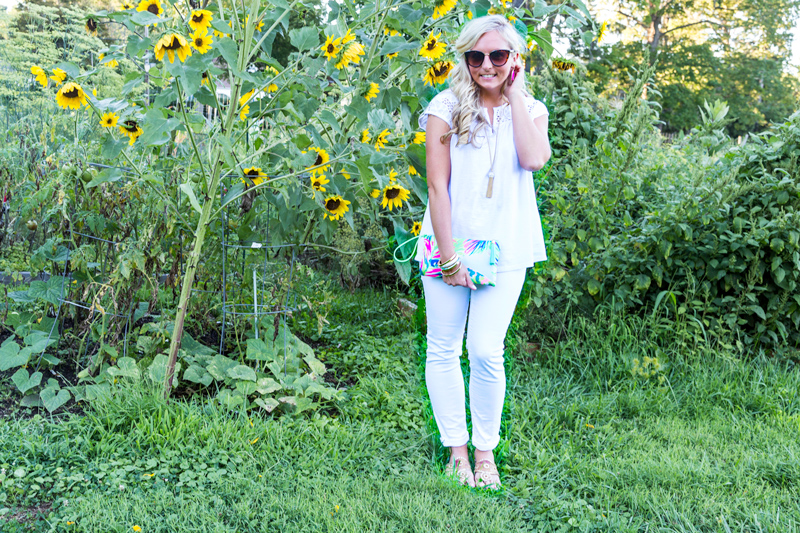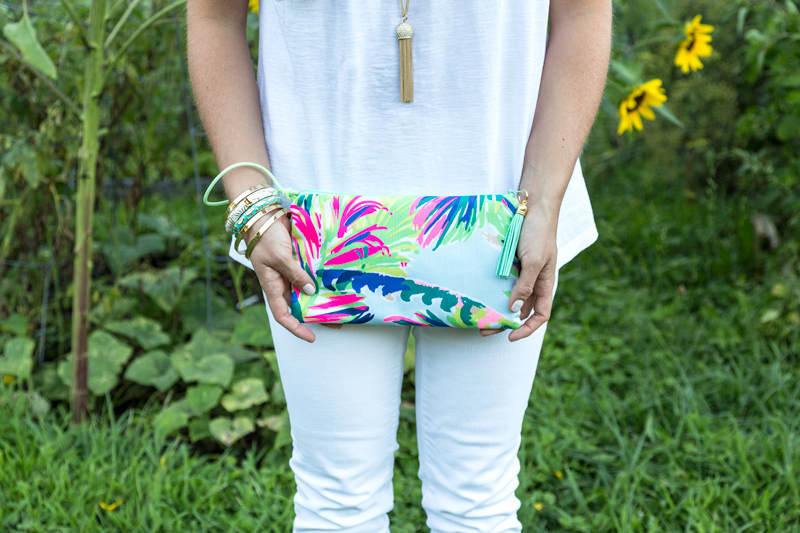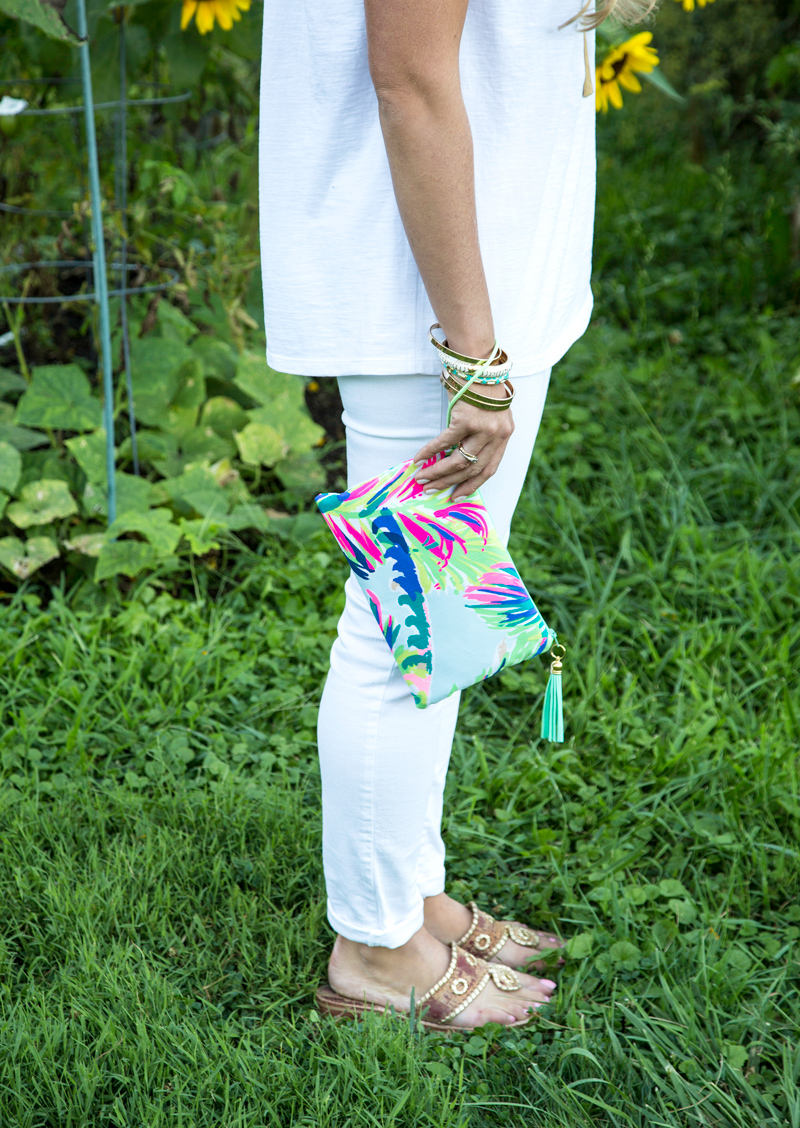 ~ Photography by the dearest Craig Perry of Pop Up Photo (I'll miss you, Craig!) ~
~ Outfit Details: Lilly Printed Tassel Wristlet by Originals by Mare ~ Top by Lilly Pulitzer ~ White Jeans by Vineyard Vines ~ Tassel Necklace by Lilly Pulitzer ~ Earrings by Kendra Scott ~ Solid Gold Bangles by Charming Charlie ~ White and Aqua Enamel Bangles (old) by Fornash ~ Sandals by Jack Rogers ~
I have a confession: There are days when I wear my white and bright colors because I need a boost of positivity and brightness in my life. These past few days qualify! Moving to another country is tough…well, editing your wardrobe into 3 suitcases and getting a Visa is tough. However, I'm determined to somehow make it to Italy in good spirits with more energy and smiles than usual!
So, I have a wonderful little happy story about this Lilly printed wristlet. August 12th was a date I'll never forget, as it was the first available appointment open at the Italian Consulate in Philadelphia when I went to book my Visa appointment many months ago. Despite the daily calls, e-mails, and hand-written personalized faxes (in cursive), nothing sooner opened up for me. It was so close to my departure date for school that if anything went wrong, I might not be able to go! I cannot deny that I was shaking with nervousness that morning as I took 2 trains to get from CT to Philly. Ok, maybe I cried a little bit when the Amtrak attendant asked me if I was working on wedding invitations (* I WISH *), when I was actually working on Visa paperwork. It ended up going fairly smoothly at the consulate, but the best part happened after it was all over. As I got into my mom's car for her to take me back to the train station, there was a pink and white gingham bag FILLED with the most beautiful Lilly printed clutches I have ever seen!
Immediately, it was as if the sun had come out! AH, Lilly P., you get me every time! Overjoyed and filled with excitement, I asked where these treasures had come from and who they were for. My mom delivered the happy news that THEY WERE FOR ME. A friend of a friend (my old figure skating coach's sister) makes original Lilly clutches , Originals by Mare, and generously gifted me a bag of them to style! These are the most beautiful, practical, and bright bags you will ever see and I just love the little accents like tassels, buttons, and pretty rope. Some of the cross-body bags are truly amazing for going out, running errands, or for having your hands free while dancing 🙂 I have been using them all the time! Thank you, Mare, for the brightest and happiest surprise on the day when I truly needed it the most!
Gratefully with love,
xoxoxoxoxoxoxo Rhiana
"Secret? There's no secret…just have fun. Don't worry about every last little thing. Somehow it always works out." ~ Lilly Pulitzer