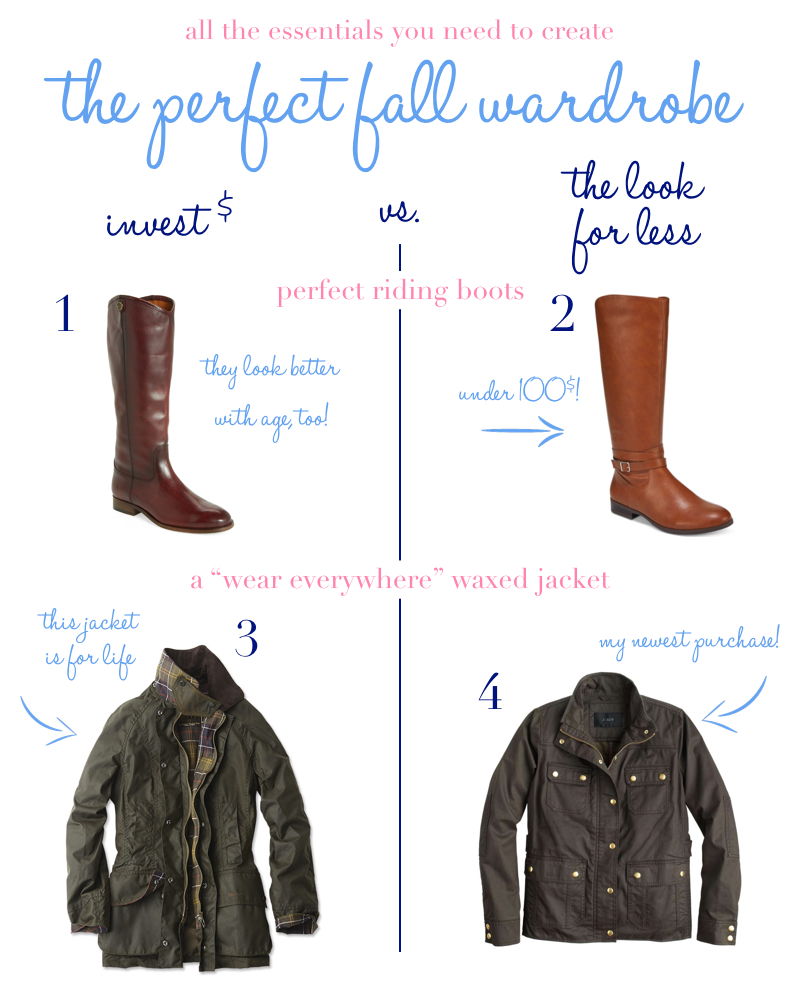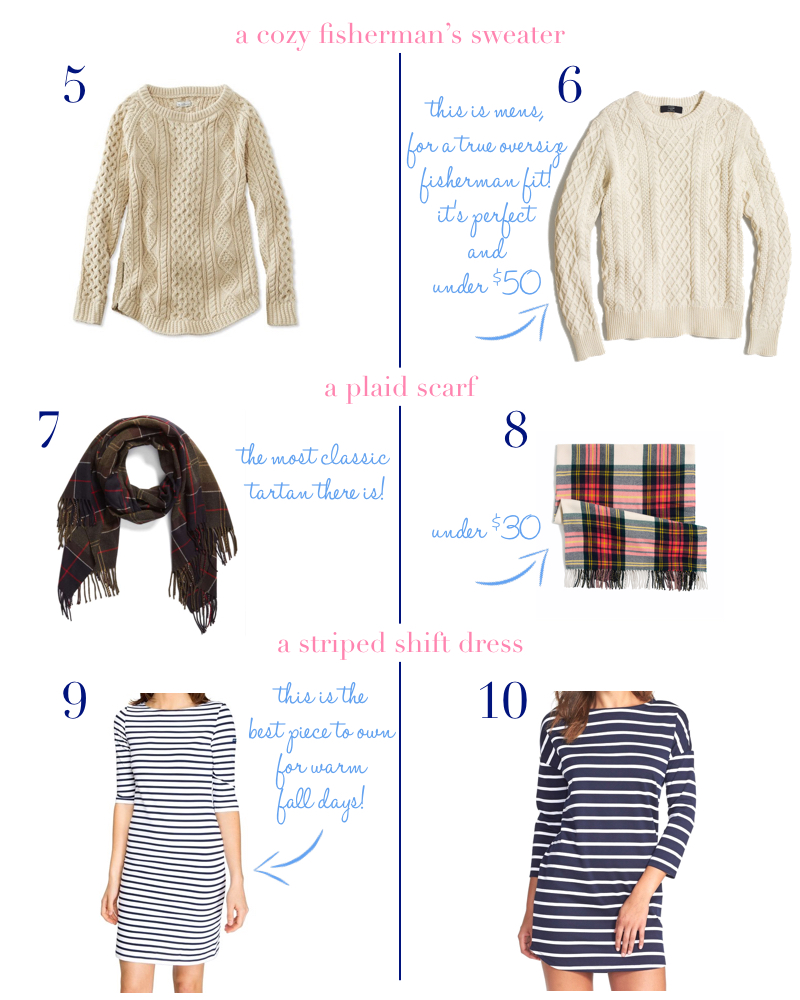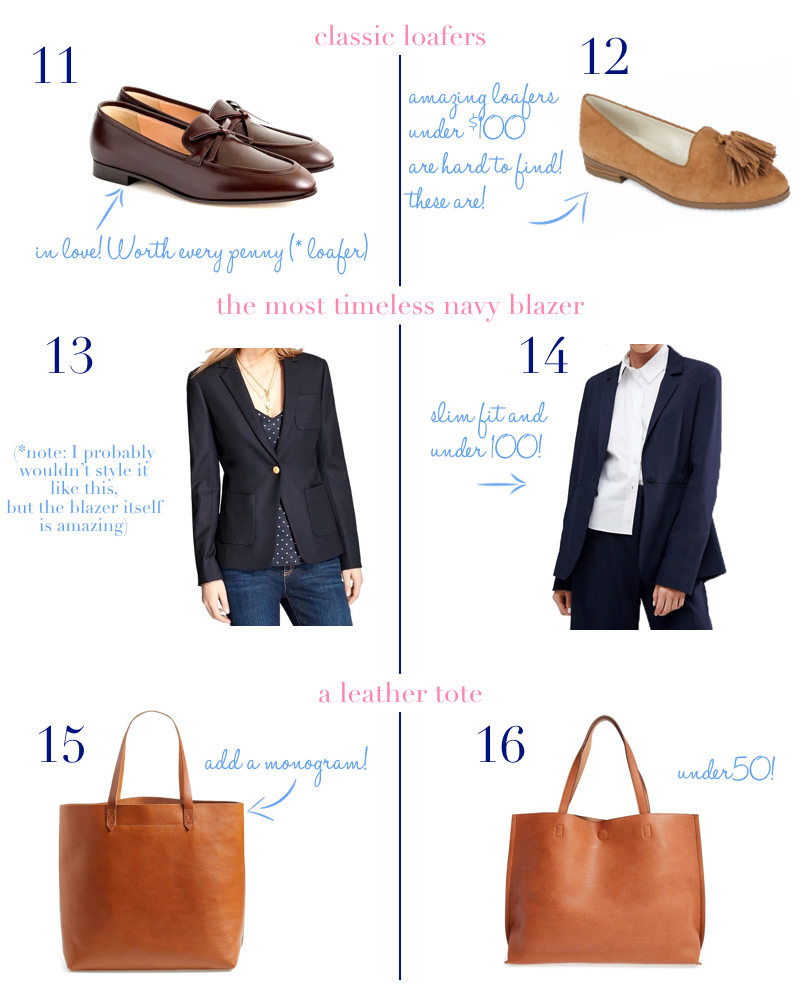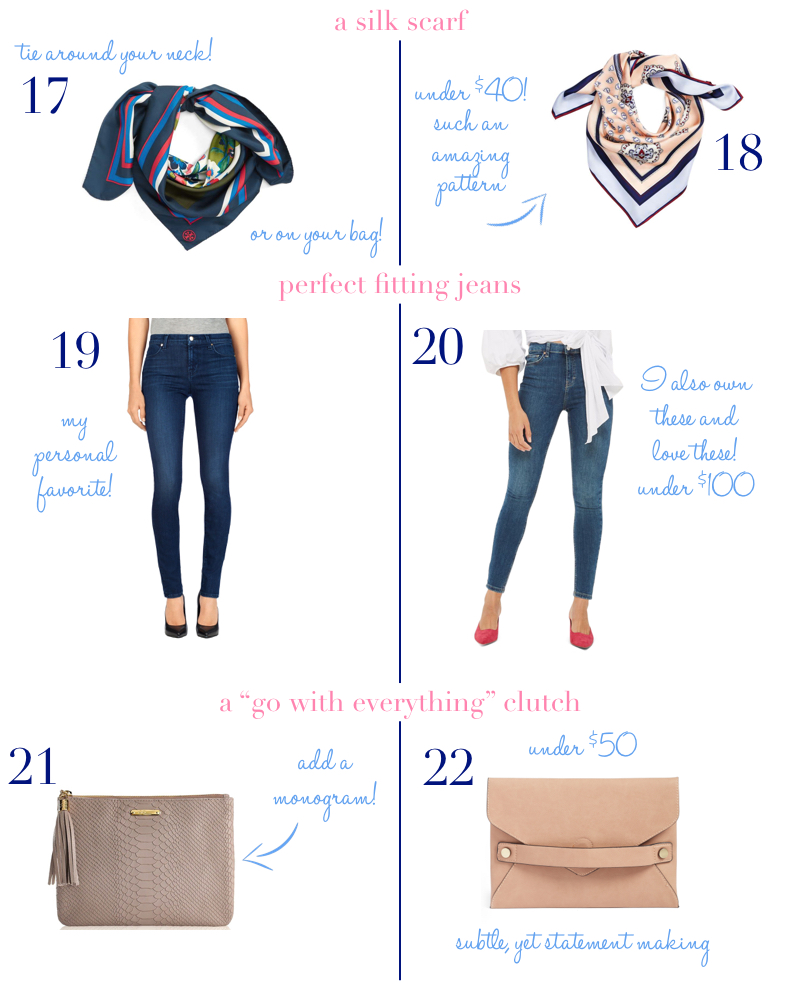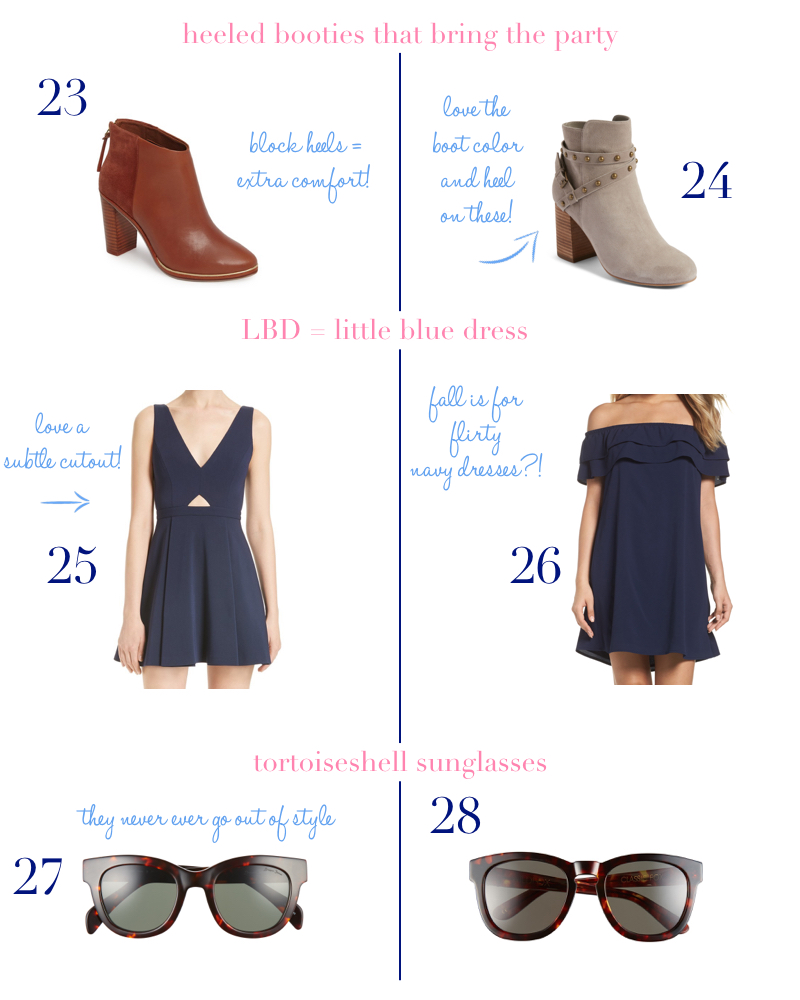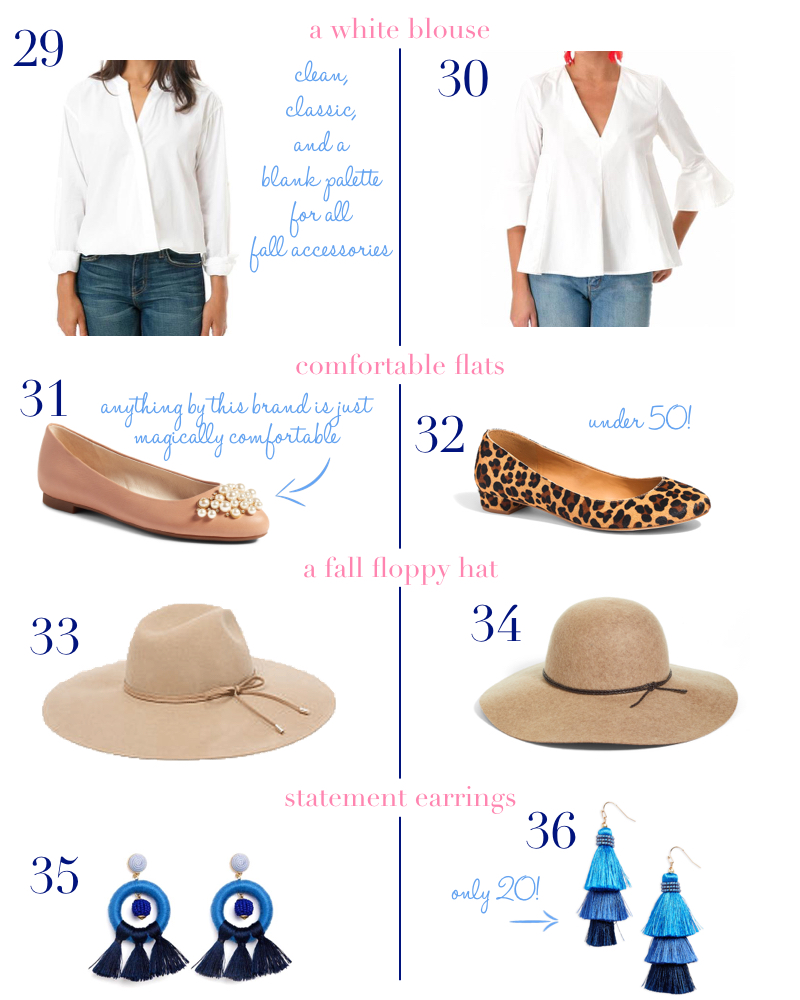 Fall Wardrobe Guide Essentials: 1. "Invest" Riding Boots ~ 2. Under $100 Riding Boots ~ 3. Barbour Jacket ~ 4. "Look for Less" Jacket ~ 5. Classic Women's Fisherman's Tunic Sweater ~ 6. Under $50 Fisherman's Sweater ~ 7. Classic Tartan Scarf ~ 8. Under $30 Scarf ~ 9. "Invest" Striped Dress ~ 10. "Look for Less" Striped Dress ~ 11. Bow Loafers ~ 12. Tassel Loafers ~ 13. "Invest" Blazer ~ 14. "Look for Less" Blazer ~ 15. "Invest" Tote (with monogram option) ~ 16. Under $50 Tote ~ 17. "Invest" Silk Scarf ~ 18. Under $40 Silk Scarf ~ 19. Dark Wash Skinny Jeans ~ 20. Under $100 Jeans ~ 21. Tassel Clutch with Monogram Option ~ 22. Under $50 Envelope Clutch ~ 23. Brown Booties ~ 24. Gray Booties ~ 25. Cutout Navy Dress ~ 26. Off the Shoulder Navy Dress ~ 27. "Invest" Tortoiseshell Sunglasses ~ 28. "Look for Less" Tortoiseshell Sunglasses ~ 29. Wrap White Blouse ~ 30. Bell Sleeved White Blouse ~ 31. Pearl Flats ~ 32. Leopard Flats ~ 33. "Invest" Floppy Hat ~ 34. "Look for Less" Floppy Hat ~ 35. Dreamcatcher Earrings ~ 36. Under $20 Earrings ~
---
~ I have grown to absolutely love my fall wardrobe! Each year, bringing out your fall favorites from storage feels a little bit like seeing an old friend. I'll never forget when my mom brought my my fall clothes last to Italy around this time last year. Putting on my Barbour was really like putting on a comforting piece of home and I was so excited to see my Frye booties.
Summer will ALWAYS be my favorite season to dress for. I go crazy for summer colors and summer whites! But…there's one thing about a well curated fall wardrobe that truly tops every season: You only need a few trusted classics to mix and match for the perfect fall looks. Easy as (*apple) pie!
I can't take all the credit for dreaming up this post…it's actually the most requested post that I get from friends each year! I decided to break down this fall wardrobe guide into "Invest" and  "Look for Less" because I know that we are all operating on different budgets (*and seasons of life?). Take a look at the options above and click on the links below to shop! I've also linked to them below the post (in-case you like to scroll and click better!).
One thing I DO want to mention is how much I absolutely love it when one of you reaches out with a styling question or a question about finding a certain piece. PLEASE don't ever hesitate to e-mail me at wearbowsandsmile@gmail.com with any styling questions that you might have 🙂
Gratefully with love,
xoxoxoxoxoxoxoxoxo Rhiana
"Life starts all over again when it gets crisp in the fall" ~ F. Scott Fitzgerald 
You Can Also Shop the Post Here! 
---