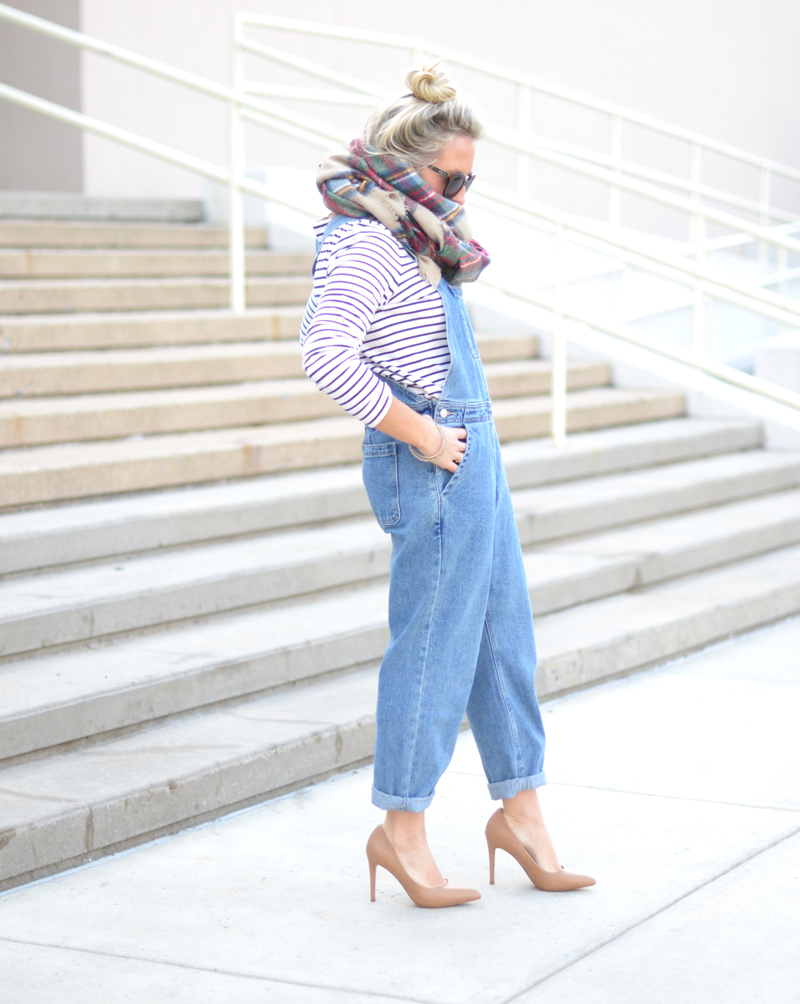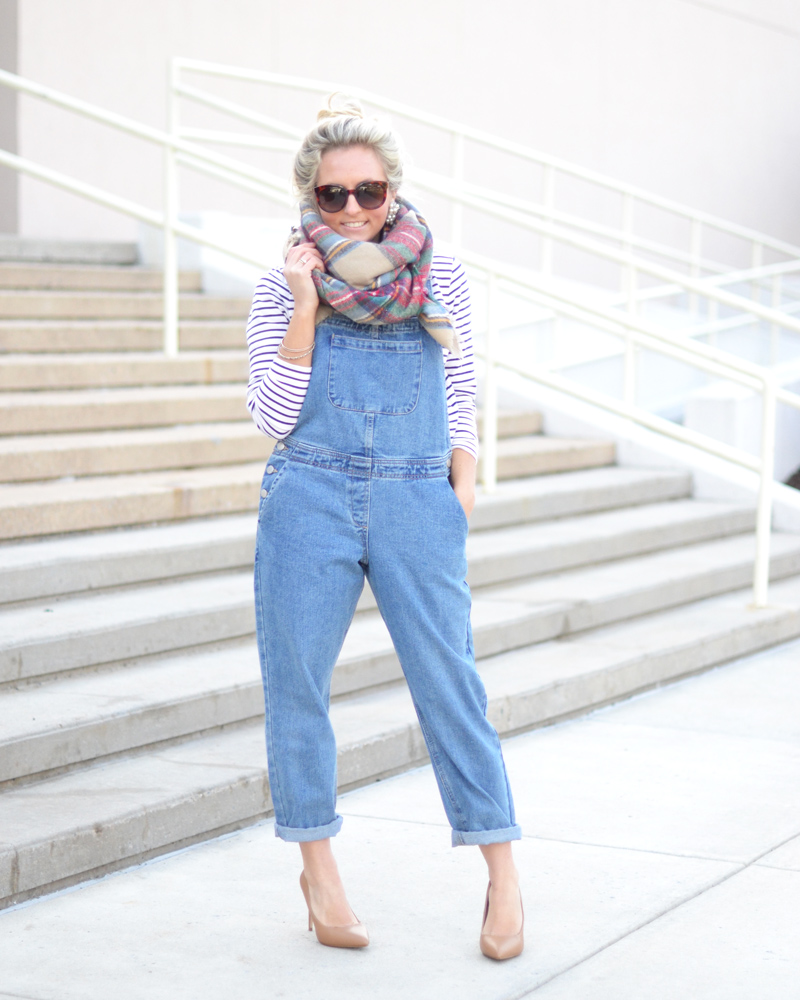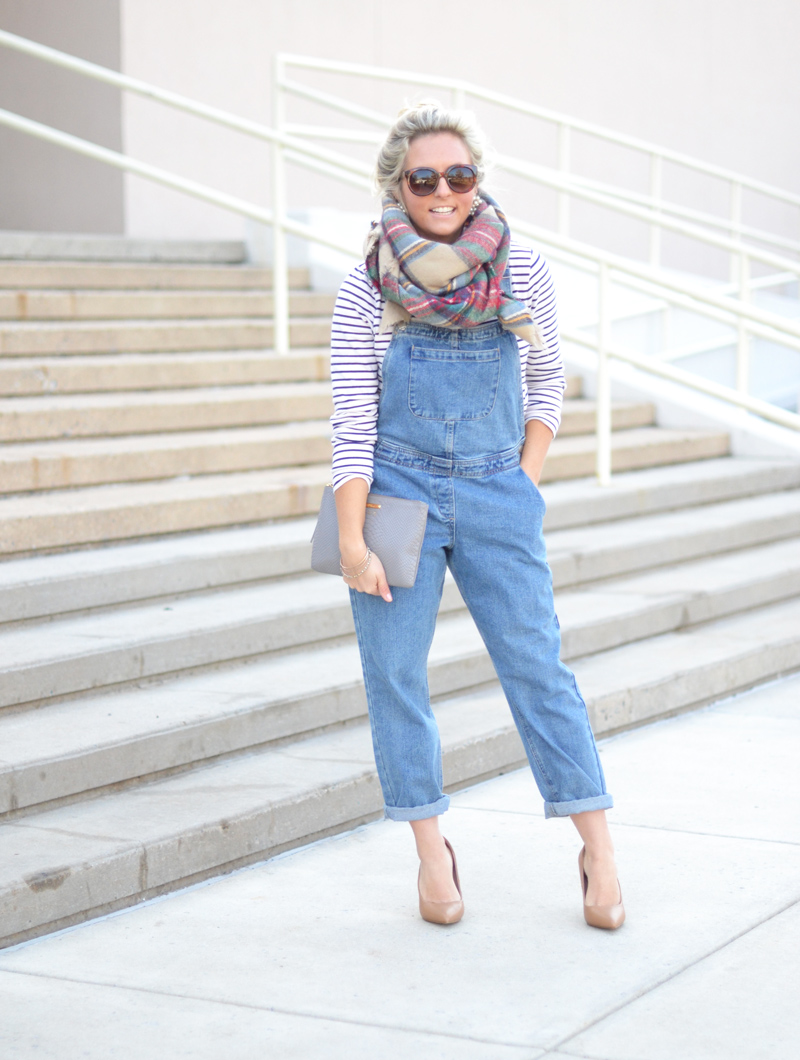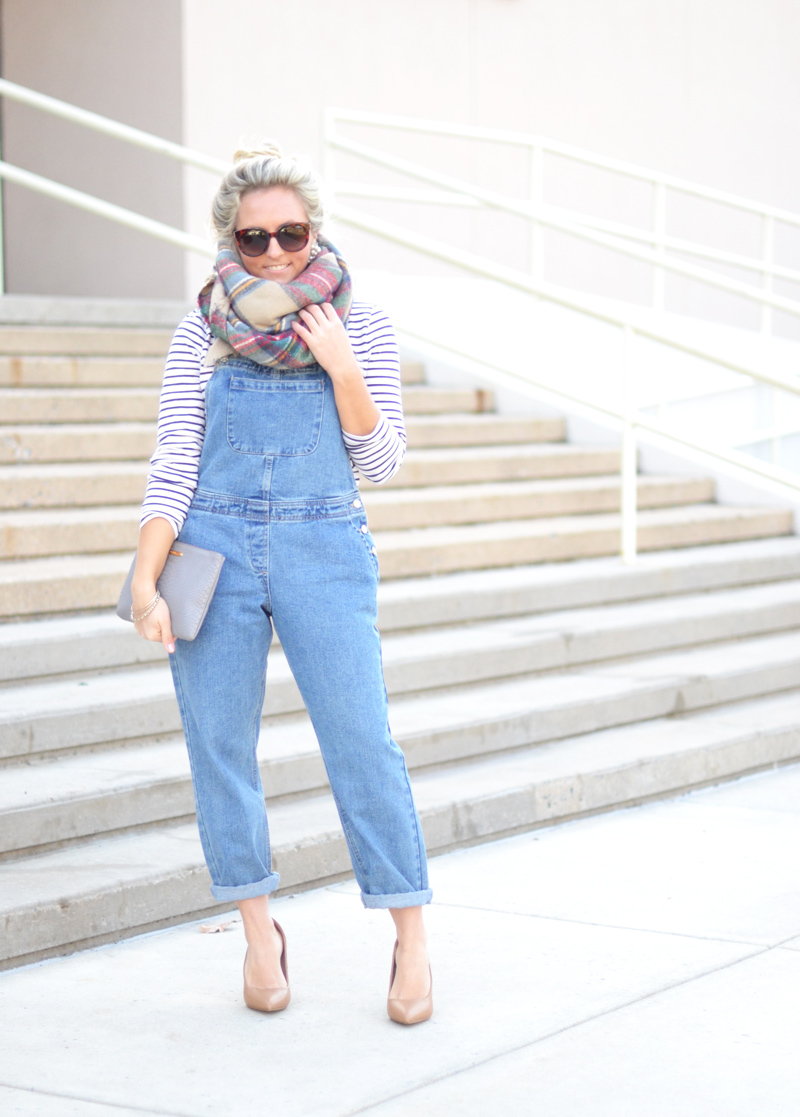 ~ Outfit Details: Petite Overalls (here in Regular Sizes and here in Tall and here in Maternity)~ Heels ~ Similar Striped Shirt ~ Similar Blanket Scarf (choose pattern #1)~ Monogrammed Sunglasses ~ Clutch ~
~ SO I had been searching for the perfect overalls for years. Ask anyone! I tried them on everywhere I saw them, yet nothing fit the way I hoped. I searched and waited. I refused to get a pair less than what I had pictured in my mind. It's been probably 5 years of this…really!
I had ordered this similar style in a darker wash and in regular sizes….and the torso was so big on me I actually had to wear them for 30 minutes because they were cracking me up! It was clear, I NEEDED the petites! I finally pulled the trigger on this petite pair and am SO excited about them! They are MY DREAM OVERALLS! The mid wash, the big pocket on the front, the loose fit…AH! I finally found them! They also come in regular, tall, and maternity! WOOHOO! (*If you saw the video on my instagram story of me trying these on for the first time…I think it appropriately captured my uncontrollable excitement)
When I'm styling on set…I end up clamping and pinning everything to me for efficiency sake. I don't always wear my styling kit for ecomm shoots, and end up destroying my nice work clothes in the process. My sweaters have seen better days! I am SO EXCITED to wear these overalls on set. I can pin, clamp, and stuff things in and around all of the pockets and they are seriously a stylists DREAM! Do you have an active job or maybe even a more relaxed work atmosphere? I have some more ideas on how you can style these!
If you're thinking, "That's great, Rhi, but I can't see myself in overalls," YOU ARE WRONG! See below for more ways to style them! Everyone can join the overall party and make them their own!

~ What they were made for! If I were to take this look and make it casual, I would pair it with a soft tee, a cool pair of sneakers or slide-on's, maybe a hat, maybe a fun pair of earrings, and either a woven clutch or a backpack! Scroll below to see some ideas of casual items that would pair well with overalls.

~ It's possible! (*for a lot of professions and/or "workplace casual" offices) I LOVE LOVE LOVE the idea of throwing on a crisp button down or a feminine sweater under these and adding a pair of loafers! Top it off with a navy blazer and a tote?! RIGHT ON THE MONEY! Scroll below for some ideas on what you could pair overalls with for work.

~ The clear most fun way to wear them! HEELS. SPARKLE. GLITTER. BODYSUIT. Let's go! Scroll below for some stunning accessories to dress these babies up! I can't wait to wear mine out on the town!
Gratefully with love,
xoxoxoxoxoxoxoxo Rhiana
---
S H O P    M Y    L O O K
---