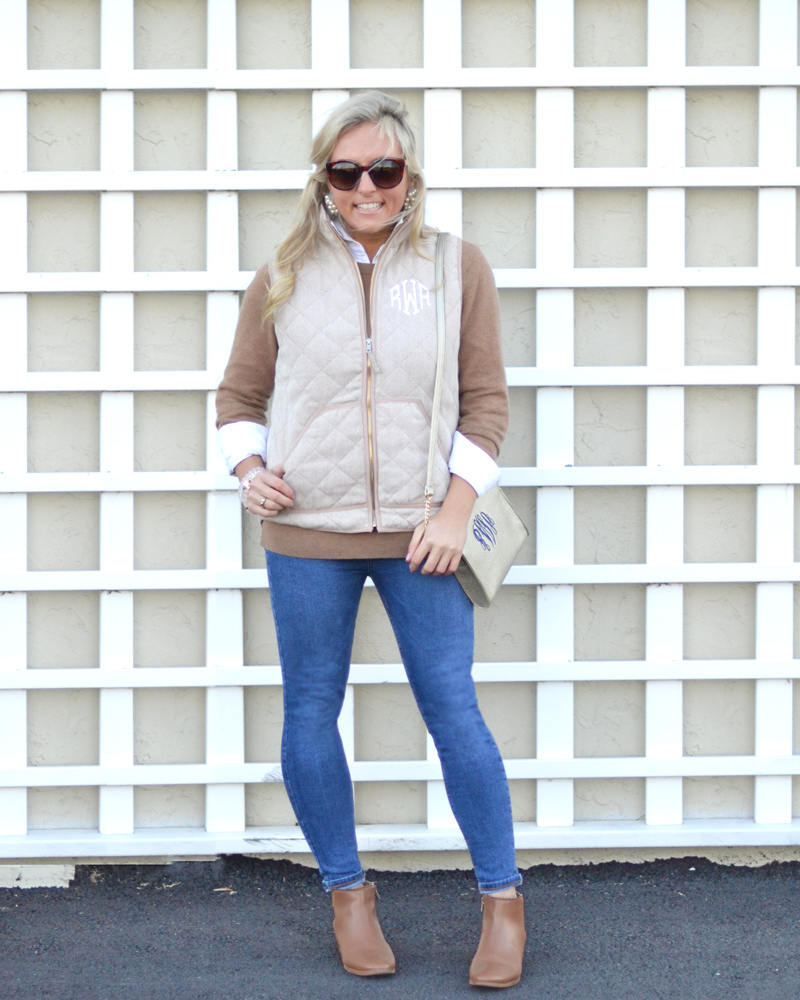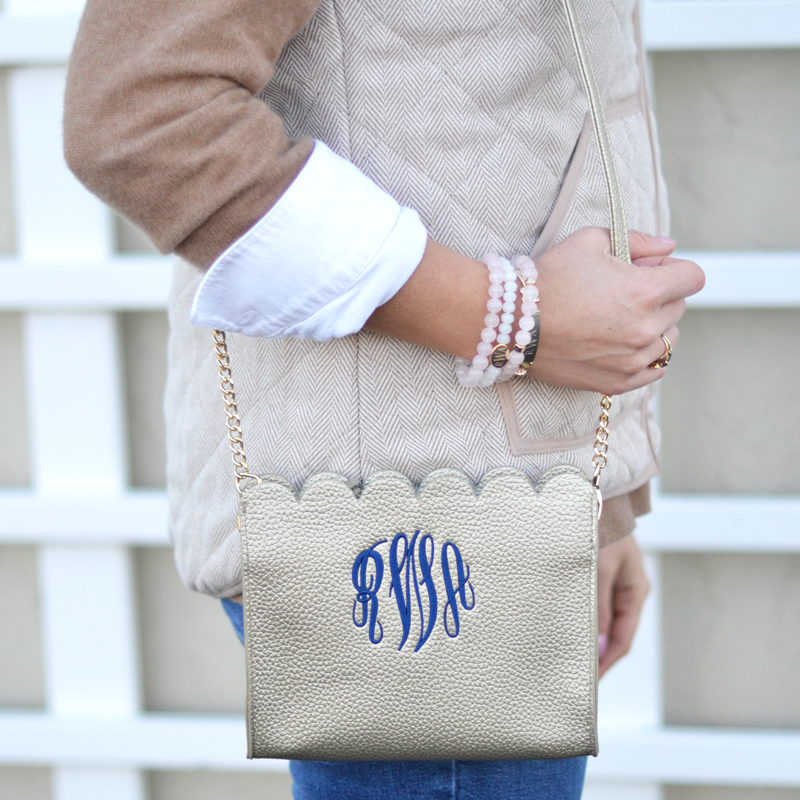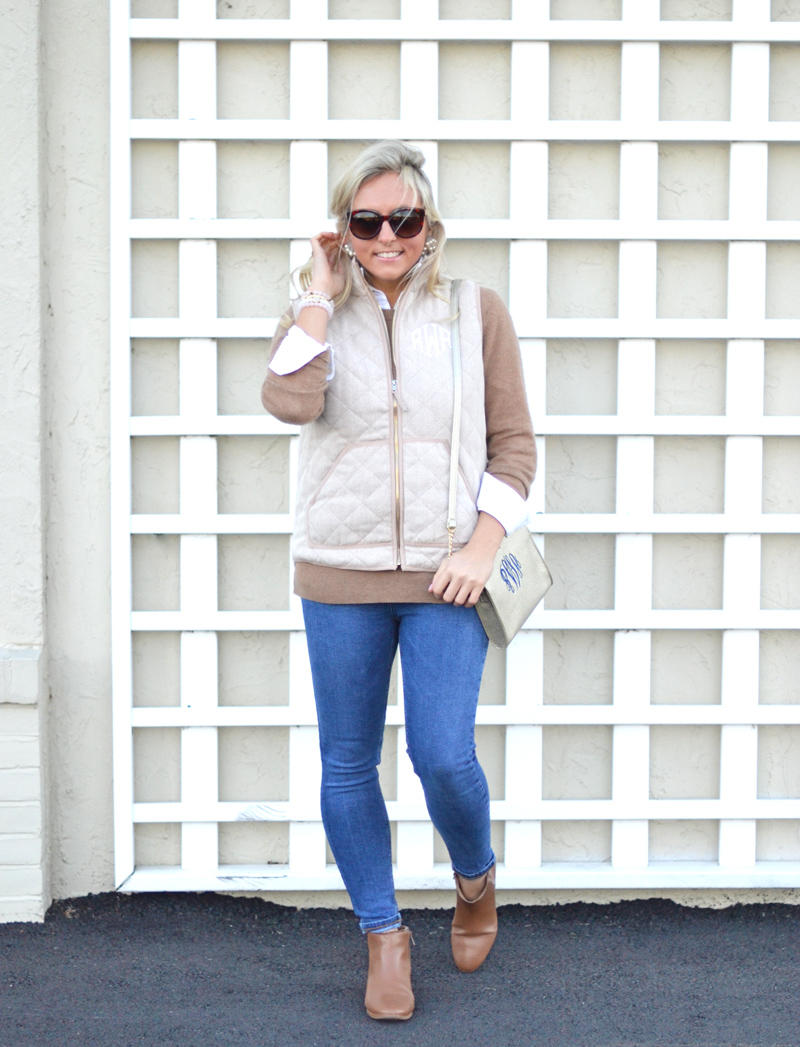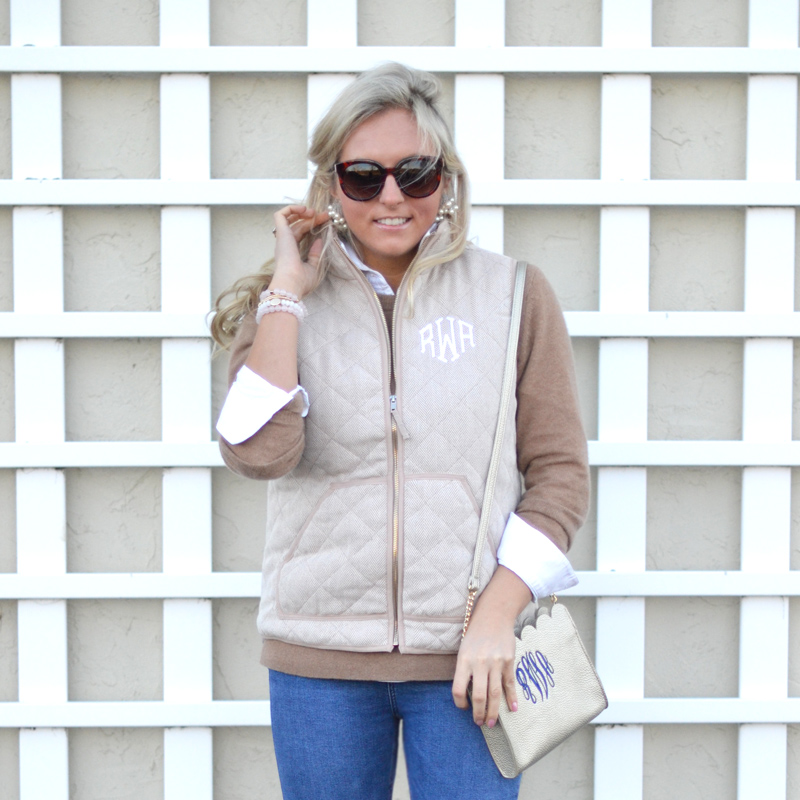 ~ Outfit Details: Monogrammed Vest, Cross-body Bag, Sunglasses, Bracelet Set, Gold Rope Cuff all from Marleylilly ~ Camel Cashmere Sweater (Comes in 6 colors!), since it's almost sold out in Camel, here is another similar style from the same brand ~ Earrings are Vintage ~ Jeans ~ Boots ~
~ OH HOW I LOVE MONOGRAMS! I can't tell you how many times I had to explain monograms to friends and classmates during my year in Italia. "You Americans put your names on everything," was a common phrase I heard when I would pull out yet another monogrammed item from my bag. I guess we do this more than any other country since it was such a big topic of discussion! But, I kind of enjoyed all the chances to explain monograms and how we use them to those from other cultures. (*also, I never thought of monograms as being something cultural…but it turns out that they are! Haha)
Monograms add a little something special…a little something personal…and a little something feminine to everything that they touch. They are my "go-to" for special gifts, especially for engagements and weddings (A new monogram?! Who can resist that!). They are often a conversation starter, even here in the US (except the question usually goes more like "Where is that from?" or "Where did you get that monogrammed?"). Thankfully, that's usually an opener to talk about Marleylilly, one of my absolute FAVORITE monogram brands. If I have been to your wedding in the past 10 years, you definitely own something from them. If I have been IN your wedding in the last 10 years, you definitely have MULTIPLE items from them! If you've had a baby in the last 5 years…you also own some Marleylilly from me!
Besides great gifts, they also have the most amazing pieces for my own wardrobe, and I am having so much fun styling some of their newest pieces. From loafers (stay tuned!) to jewelry to totes, clutches, and clothes…they have such a broad range of products and it's always exciting to see what new things they get in each season! Currently, I am loving this herringbone vest which comes in black and tan. I have seen a lot of variations of the black herringbone (*which I also love), but I hadn't ever seen it in this tan color, which I love so much! There are a lot of ways you can style this, and I've also been wearing it with my tall brown riding boots. It's so cozy and plush, adding extra warmth and thickness for those cooler days (today was one of them, brrr!)!
This week seems to be going by in a blur, with so many unexpected and exciting meetings and happenings! Sometimes I'm hard on myself when things pop-up and I can't stick to my weekly to-do lists and daily schedule….but, this week I am just riding the wave and grateful for all of the awesome opportunities that seem to be coming out of nowhere!
I hope that your week is going well, too! Are you someone who likes routines and schedules? I thrive on them! Any tips for playing catch-up when you feel behind?
1 more day until the weekend!
Gratefully with love,
xoxoxoxoxoxoxoxo Rhiana
---
SHOP THE LOOK