~ Click on the above items to shop my favorite Lilly pieces for summer! 
~ HAPPY NATIONAL WEAR YOUR LILLY DAY and Happy First Day of Summer! This is a special and bright day…one of my favorites of the year! The first day of my favorite season combined with a full day to celebrate my favorite colorful brand…does it get any better than that?! NOPE! 
I've written about my time interning at Lilly, my love of Lilly, and done countless blog posts wearing Lilly on the blog before…so I won't repeat myself! Since I knew it would be pretty impossible to beat last year's National Wear Your Lilly Day post with my friend Amy (shot by my good friend, Ashley, on a boat in Indian Harbor!) I wanted to find a new way to celebrate this day from Milan and pay homage to my favorite brand. I thought that I would reach out to some of my Lilly loving friends to hear why they love wearing Lilly so much and feature them here! I hope that you enjoy meeting them and reading about why Lilly is so special to them! I couldn't think of a better way to celebrate this epic day!
~ Genevieve Murphy ~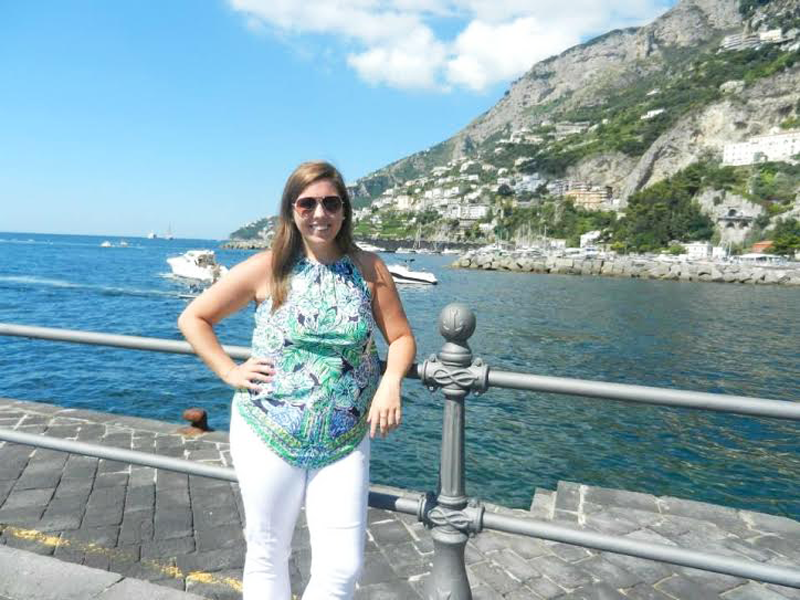 Your Profession: Senior Customer Success Manager at WeddingWire
Your Location: Baltimore, MD
Your Favorite Lilly Print: Tie between Heritage Floral and Let Them Eat Cake
Favorite Sunshine Location: Don Cesar on St. Pete Beach -a giant pink hotel that is perfect for Lilly lovers 🙂
Favorite Cocktail: Grapefruit Crush
Why do you wear Lilly and what does Lilly mean to you?
I wear Lilly because it stands for an outgoing, vibrant, and fun lifestyle that is full of adventure and hard work as Lilly pioneered herself into a successful brand. Lilly really is a lifestyle brand that I'm proud to wear and it makes me happy!
Do you have a sentimental Lilly piece or a specific memory in which you were wearing Lilly?
My favorite Lilly piece is my Bermuda bag. My grandmother got it for me when I was in middle school and passed away shortly after. I still have 6 reversible covers for the bag that match many of my shift dresses and use it regularly!
~ Martha Civitillo ~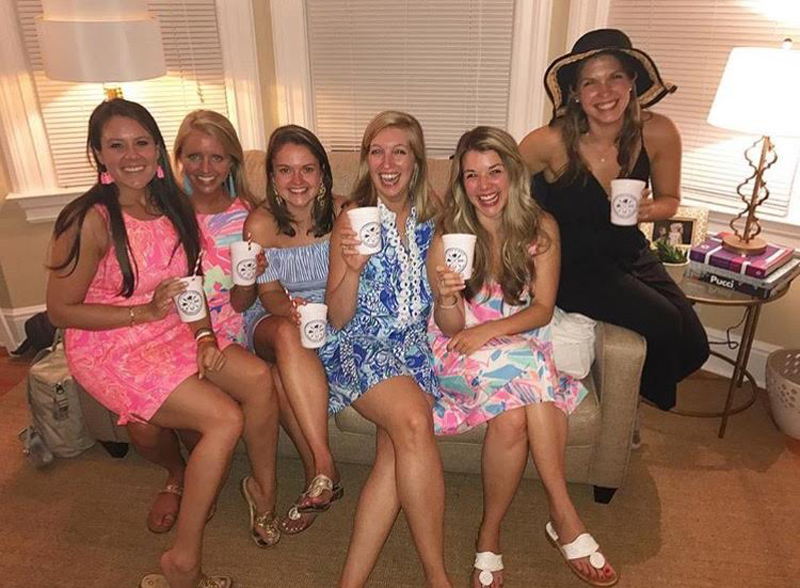 ~ Martha, third from right, enjoys the happiest of happy hours with her Lilly clad crew! ~
Your Profession: Advertising Executive at The Knot, The Nest and The Bump
Your Location: Greenwich, CT
Your Favorite Lilly Print: Lobstah Roll (new favorite) but my favorite classic is the multi print which is very vintage from the early 2000s
Favorite Sunshine Location: Nantucket
Favorite Cocktail: Dark & Stormy
Why do you wear Lilly and what does Lilly mean to you?
Lilly makes me think "warmth, positivity and happiness"! I've been an avid fan of Lilly since day 1 and truly think it brings out a glass half full attitude whenever I wear it.
Do you have a sentimental Lilly piece or a specific memory in which you were wearing Lilly?
For my 16th birthday, my parents threw a Lilly Pulitzer themed 16th party. Everyone had to wear a piece of Lilly and the party was pink, lime green and aqua blue and so incredibly preppy! Years of Lilly were represented from my grandma down to my 2 year old niece. I'll never forget all the fantastic colors and it was a wonderful way to ring in 16!
~ Rebecca McCole Lockard ~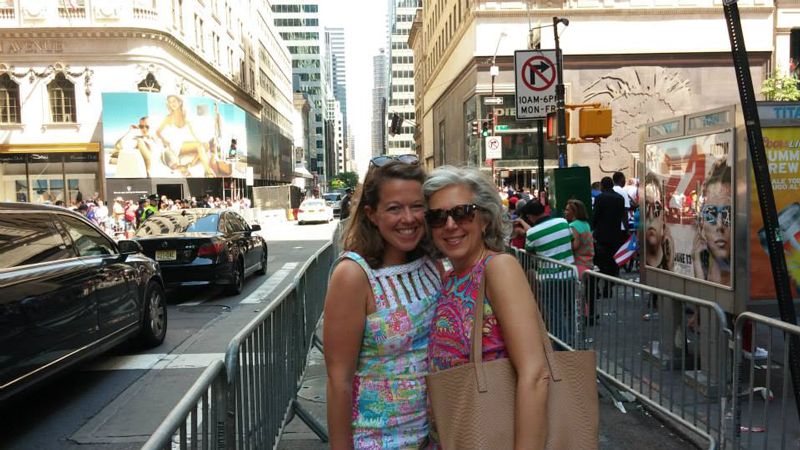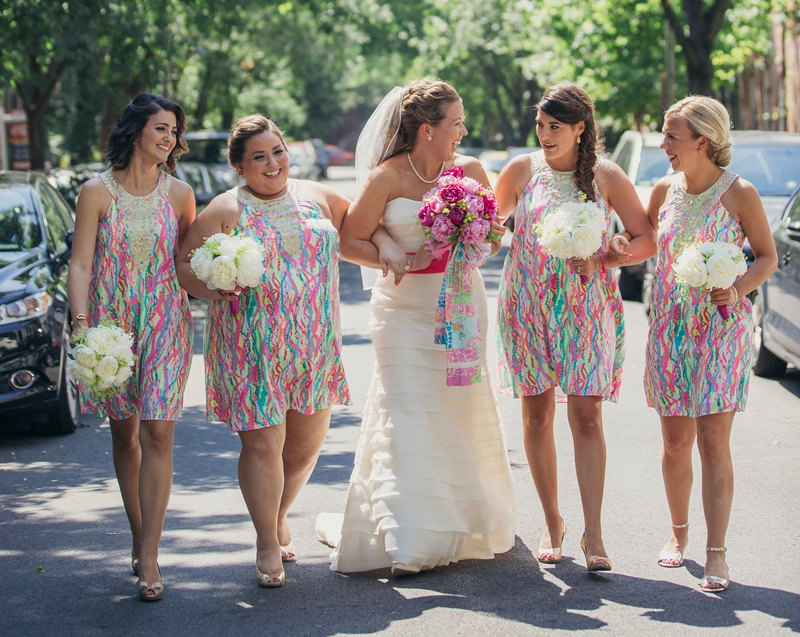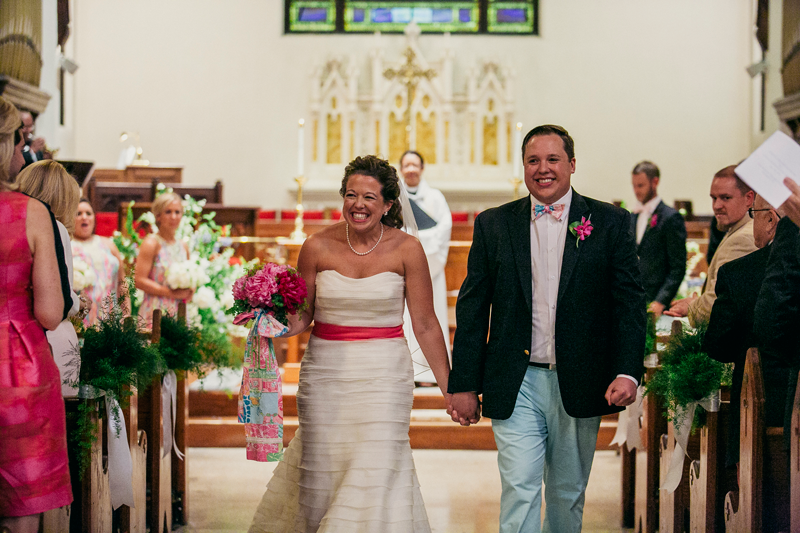 ~ Rebecca with her mom in NYC and with her bridesmaids and husband at their Lilly-filled wedding! How much do you love the Lilly bow on her bouquet?!
Your Profession: Digital Marketing Manager
Your Location: North Shore, MA
Favorite Sunshine Location: Nantucket, MA & St. John, USVI
Favorite Cocktail: I just started loving Papa dobles, but my go-to is tangeray & tonic, extra limes!
Why do you wear Lilly and what does Lilly mean to you?
Wearing Lilly makes me happy. I know I'm going to have a good day when I wear Lilly – I always have an extra spring in my step and extra wide smile (I swear, its true!). Wearing Lilly is like being a part of the best girl gang. If you see another girl in Lilly, you know that she'll have the same attitude and that you'll have this immediate common ground. I met my best friend on the first day of college because we were both wearing Lilly Capris. I marched right up to her and told her I loved her pants and she smiled and introduced herself "Hi, I'm Lilli". The rest is history!
Do you have a sentimental Lilly piece or a specific memory in which you were wearing Lilly?
I had one dress in particular that got a lot of use during college that I would wear to fraternity parties, to watch the Boston Marathon, etc. I also happened to wear it on one of my first dates with my now-husband. We used that very dress to make the sash around my bridal bouquet and my husband's bow tie on our wedding. It is so special to have the then & now photos and all the good memories associated with that dress.