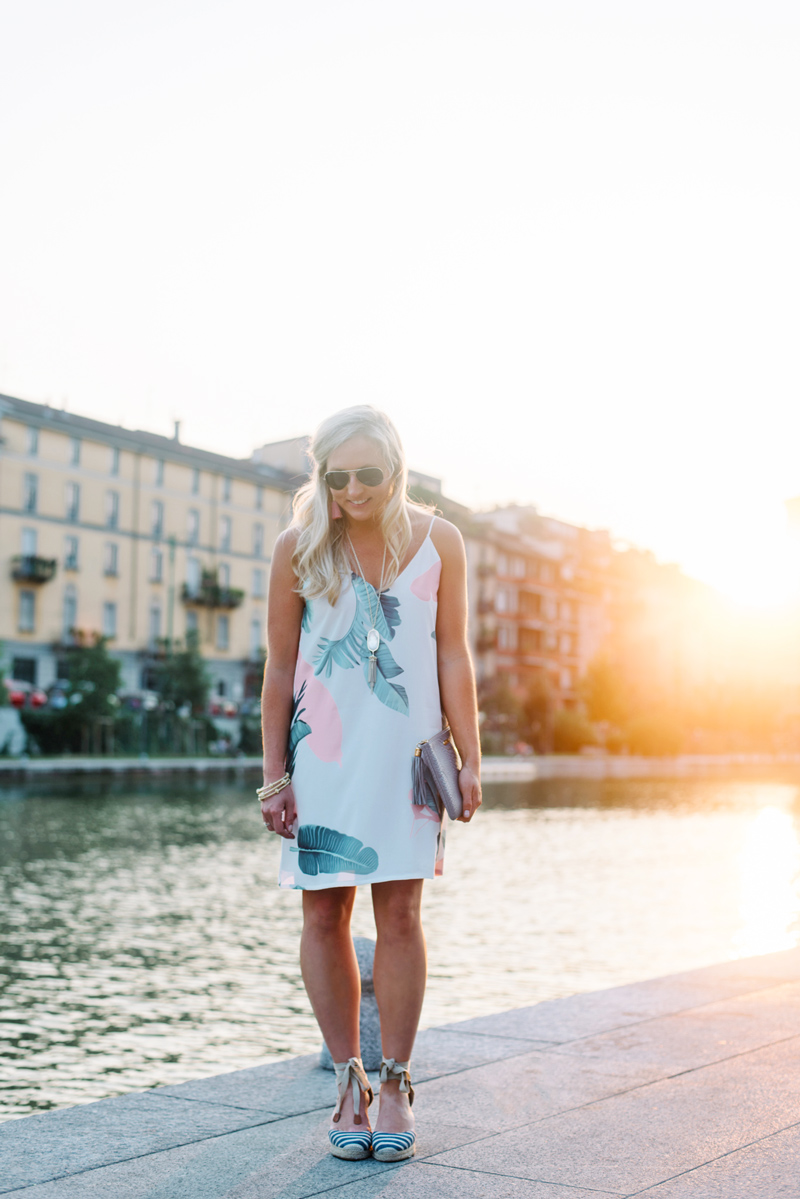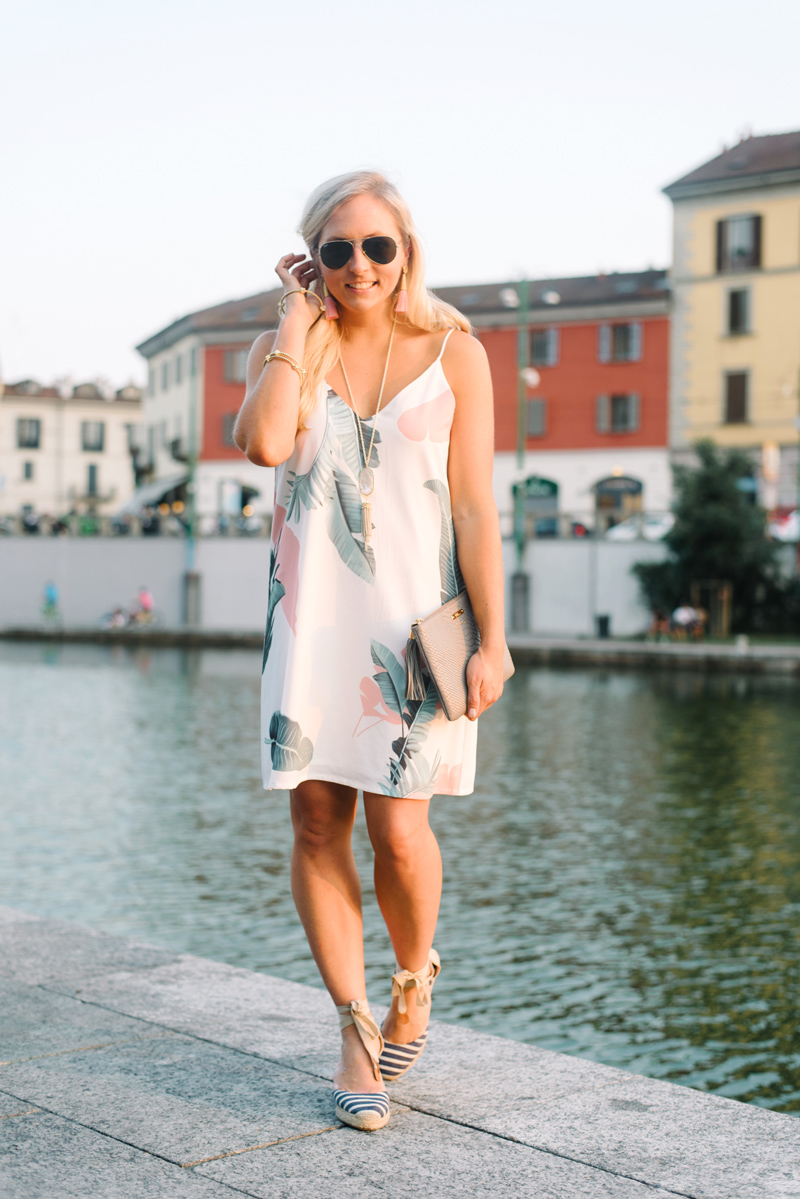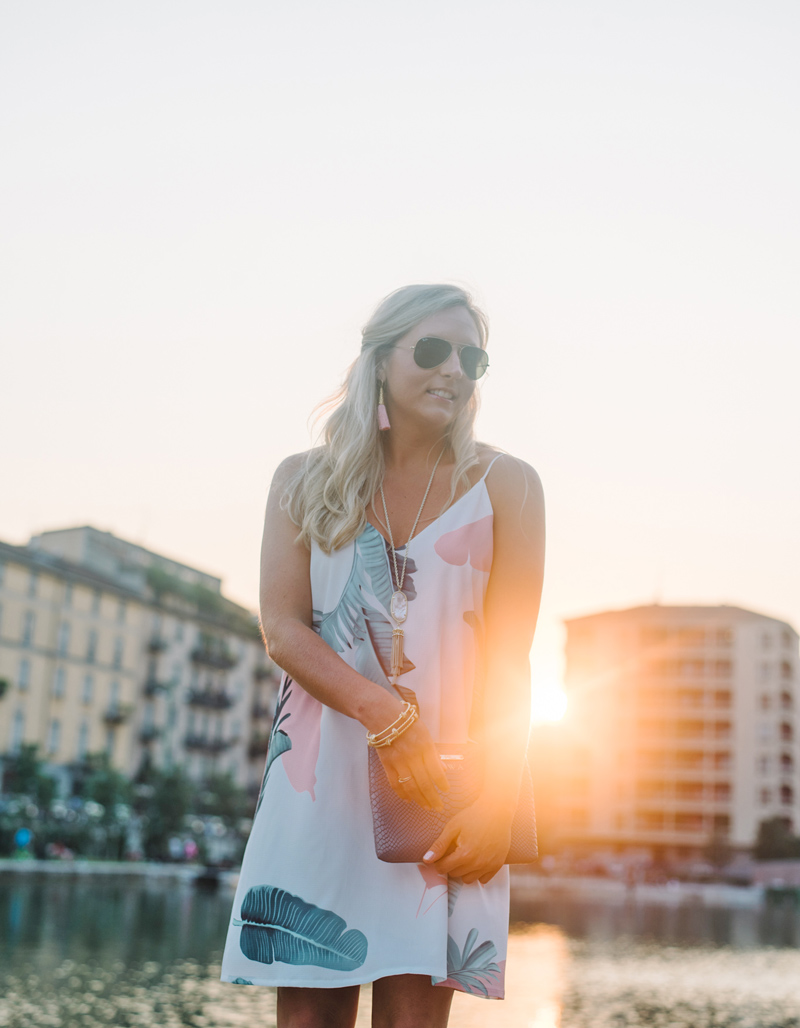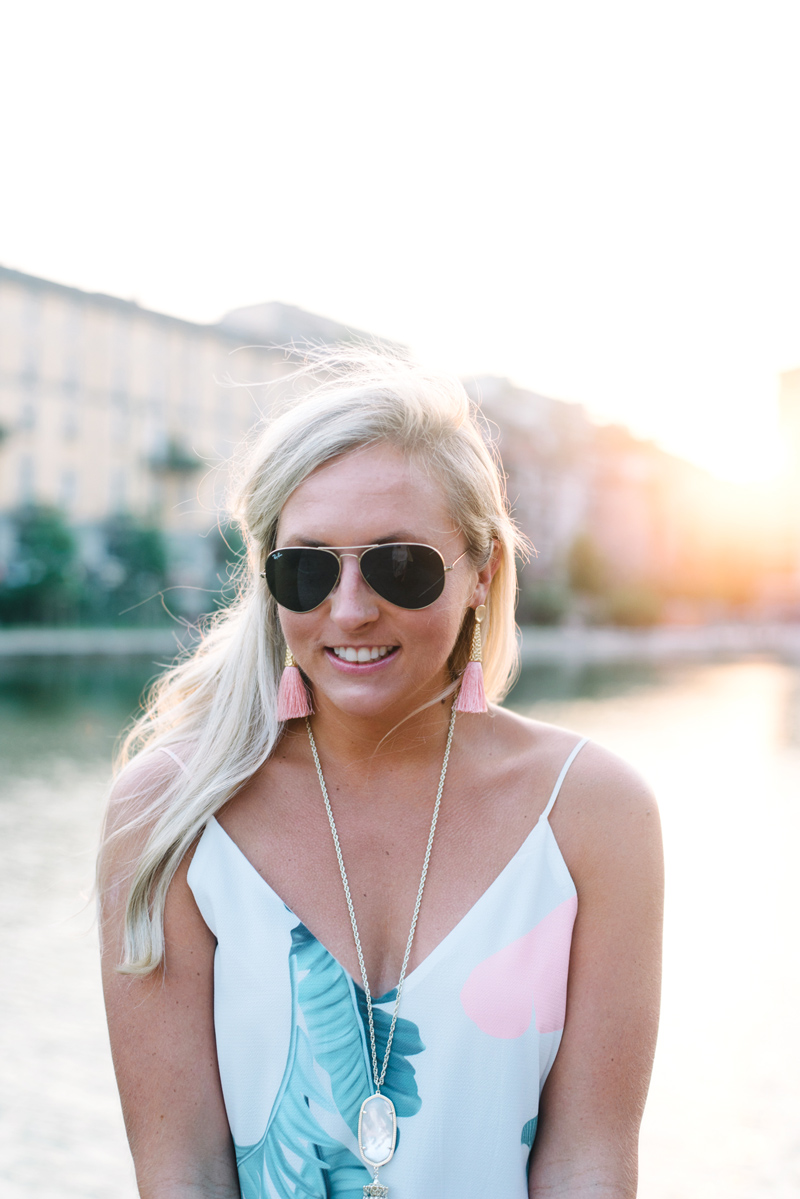 ~ Photography by the talented Mandy Wu ~
~ Outfit Details: Dress (under $20! More palm printed dresses below!) ~ Similar Espadrilles ~ Clutch ~ Necklace ~ Earrings (under $50!) ~ Bangles ~ Sunglasses ~
~ I can't believe that I am in my last few weeks in Milan. Really…I have moments where it hits me, but I don't think it will actually sink in until I'm gone. I'm extra grateful to have these photos in this palm print dress, taken by Mandy around the corner from my street in my neighborhood <3
I LOVE this year's palm print trend. There are so many ways to wear it, but with the heat here in Milan, a day-t0-night sundress seemed like the best option! This palm print also has a touch of pink in it, which I love! I wanted to play off the pink, so paired the look with these amazing hammered tassel earrings from one of my best friend's jewelry lines! I'll always think of stripes as a neutral and since I love mixing prints, my favorite old striped espadrilles were just perfect to complete the look.
This week is GRADUATION WEEK. Holy smokes. Just typing that seems crazy. My mom and cousin are on their way over as we speak! I bought a new dress this weekend and we all get to wear the pretty crowns made of laurel, which is a tradition here in Italy. I'll be traveling until my big move (tbd…) but have SO many exciting things coming up on the blog. Did you see the new section I added to the blog menu?! Up top, click on the "Nordstrom Anniversary Sale" to shop by product category! Also, be sure to check back this week for even more Nordstrom Anniversary Sale updates and an exciting giveaway! I promise to stay on top of the blog in the midst of life changes and traveling (I will make the most of each train ride!).
Thank you all so much for continuing to follow along on this journey. Each little comment and encouragement has meant SO much to me. I couldn't have done this year without you all!
Gratefully with love,
xoxoxoxoxoxoxoxoxo Rhiana
~ Shop the Post (and my favorite palm printed dresses of the moment!) ~