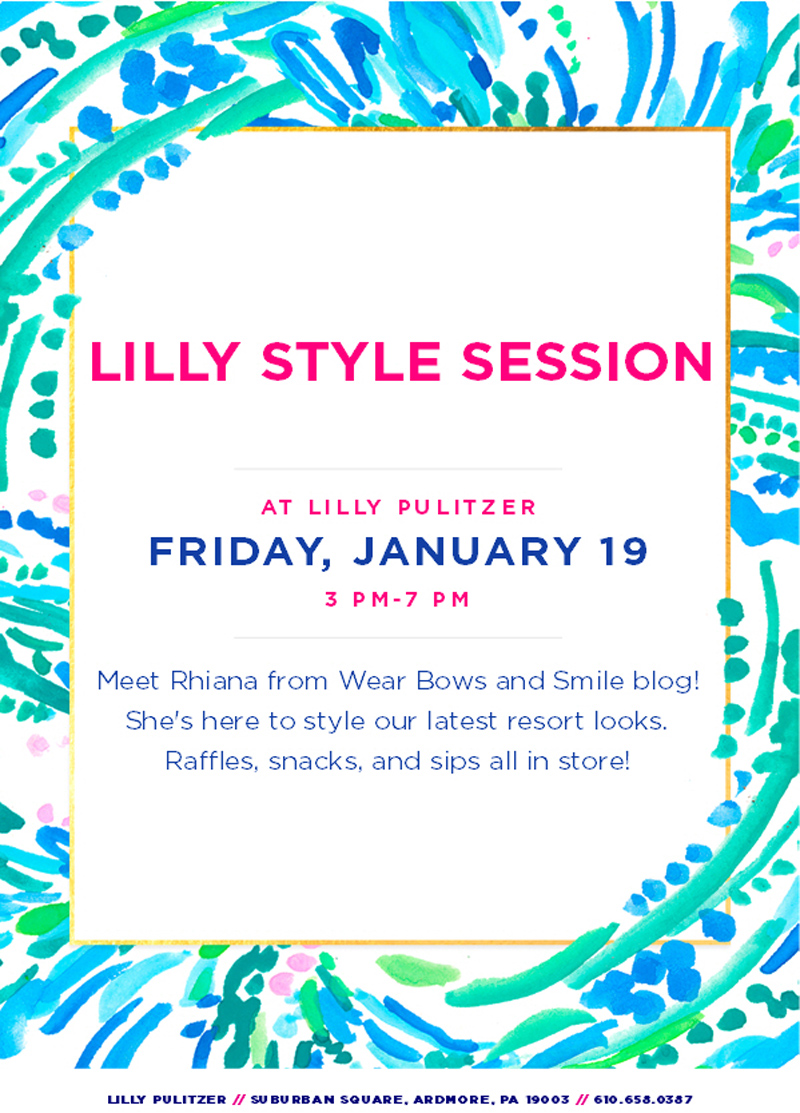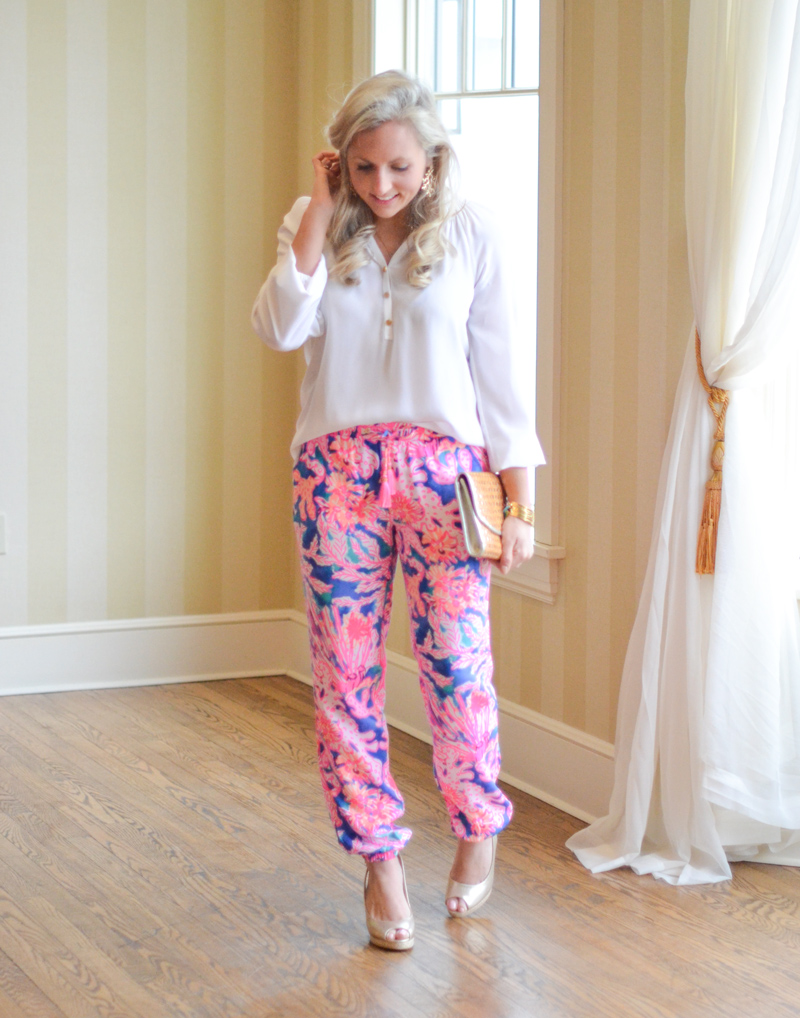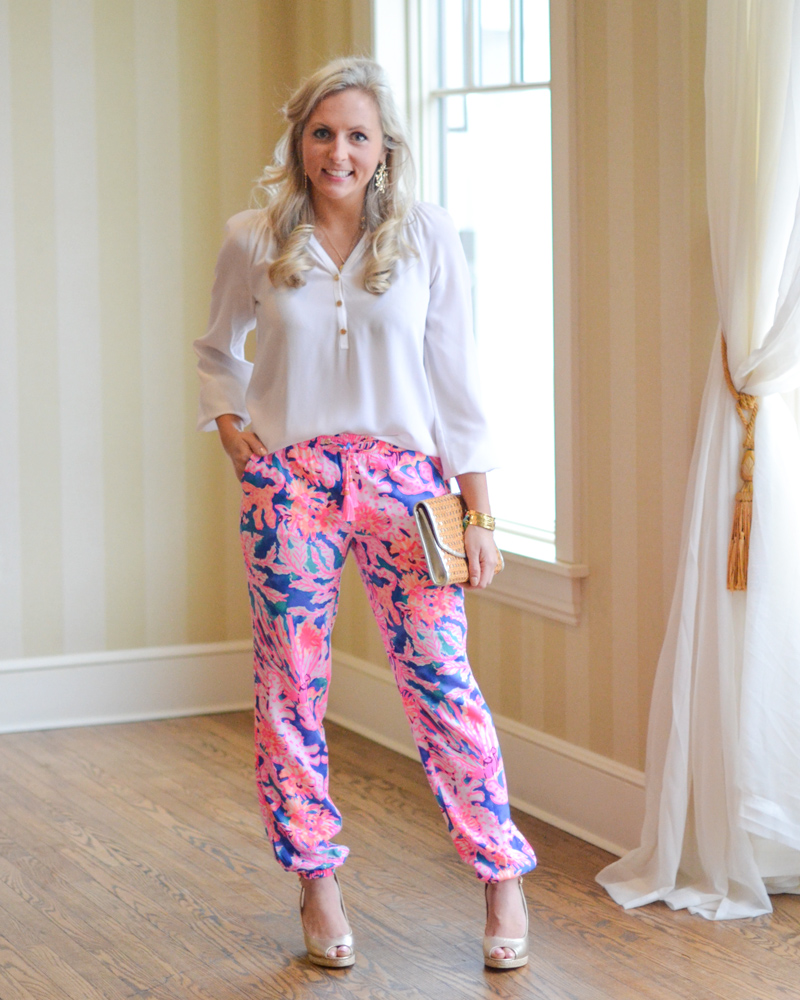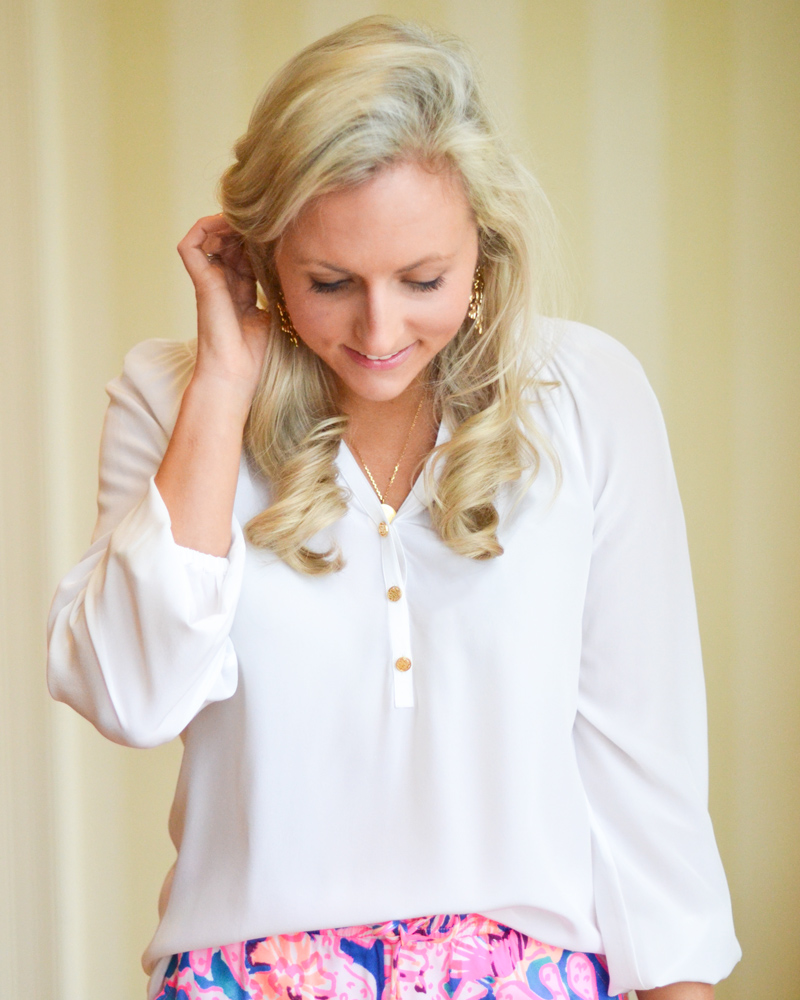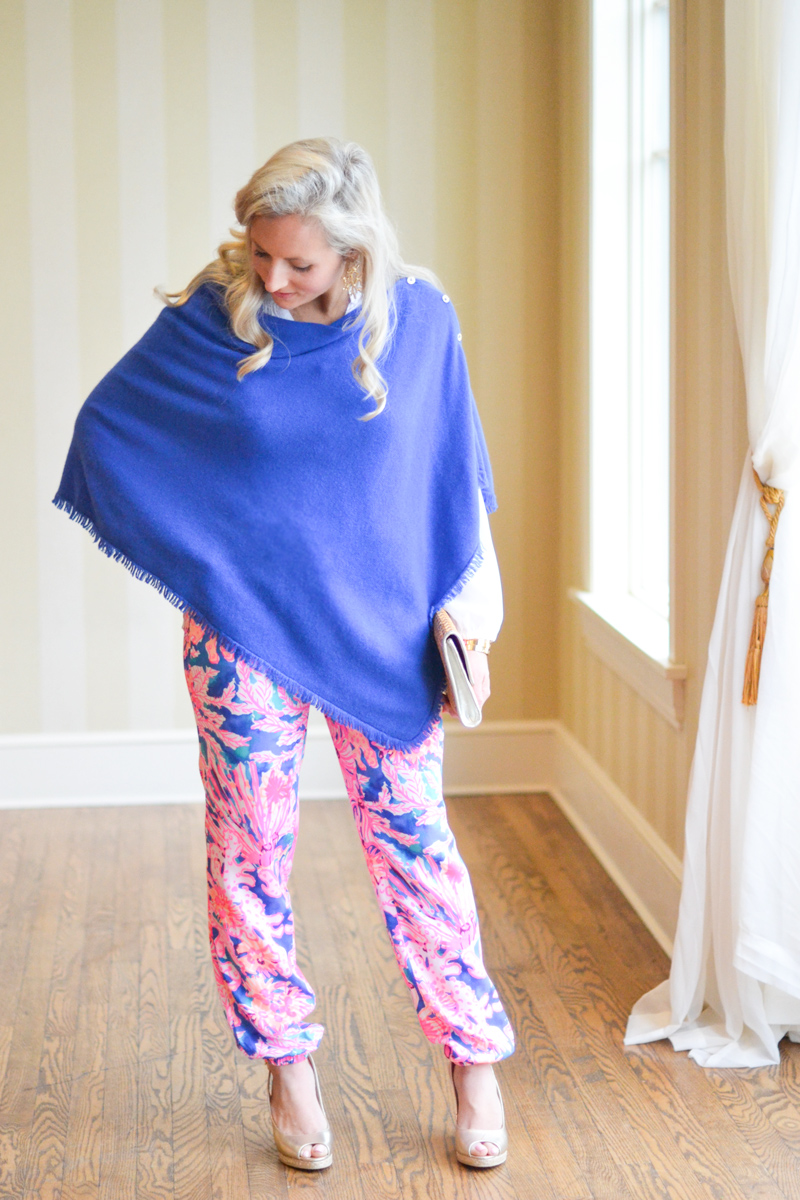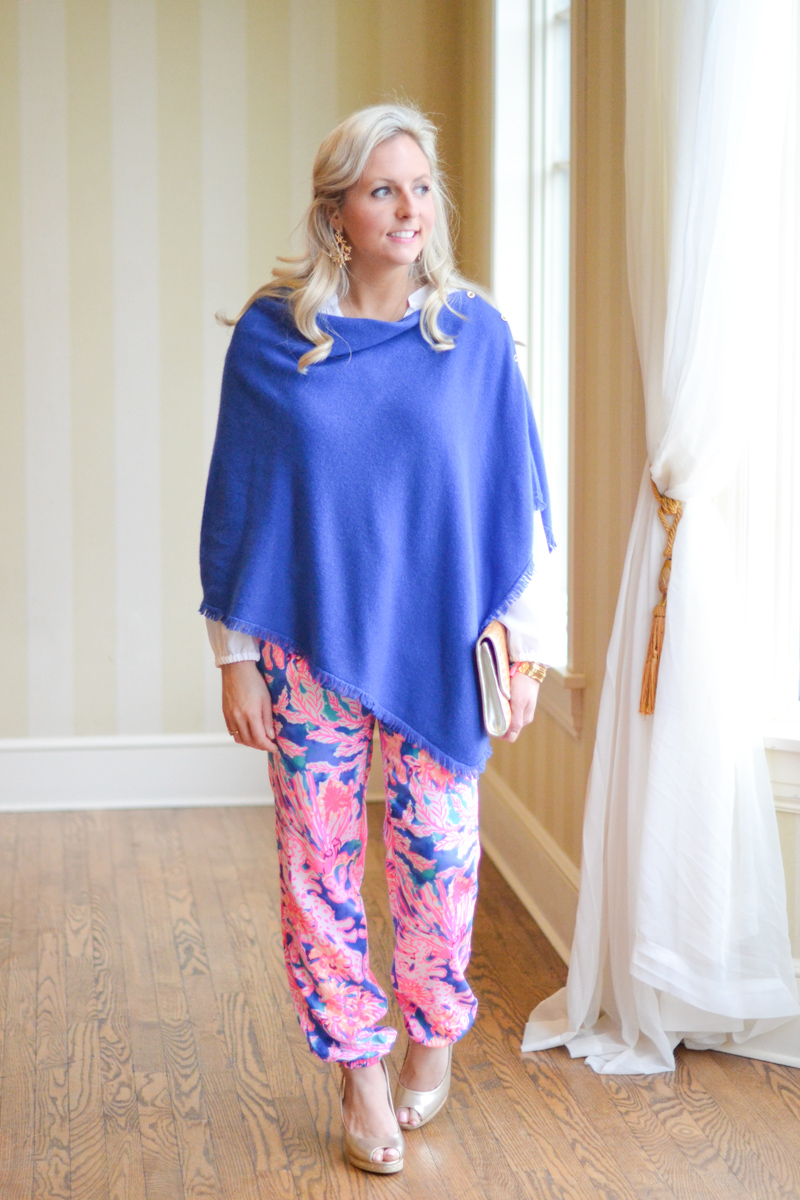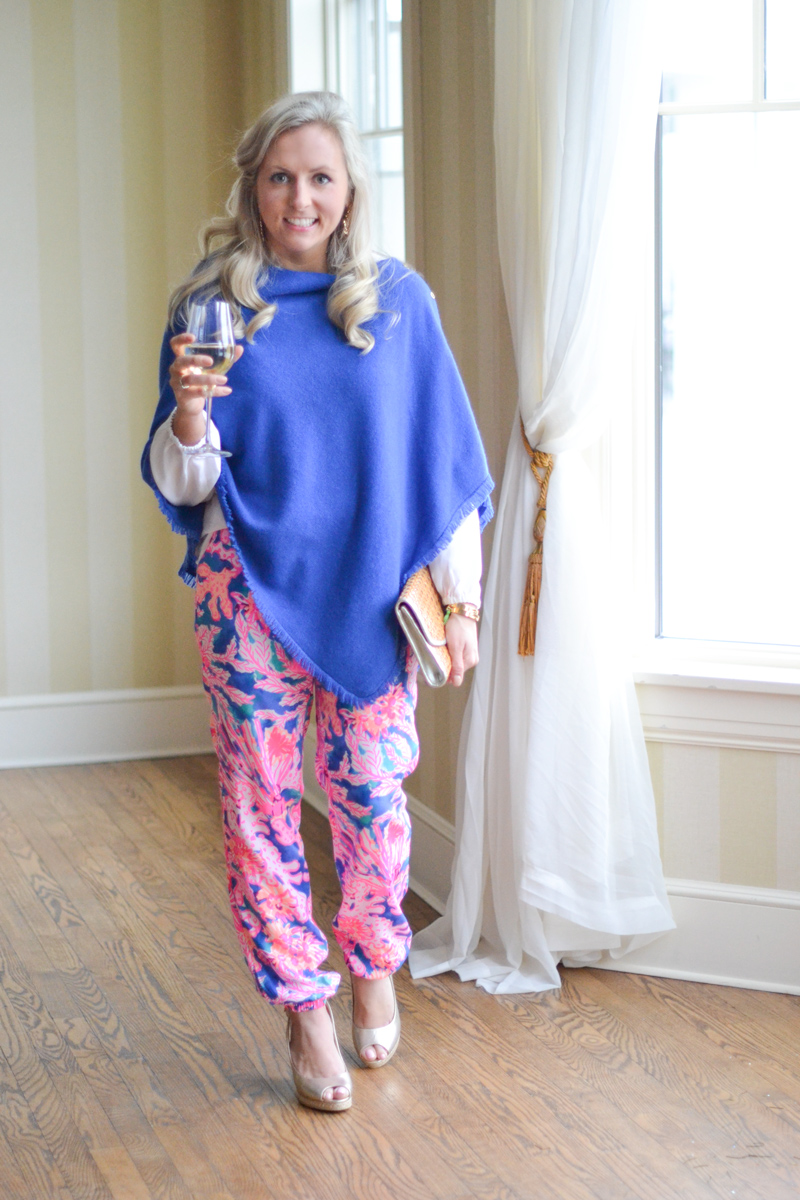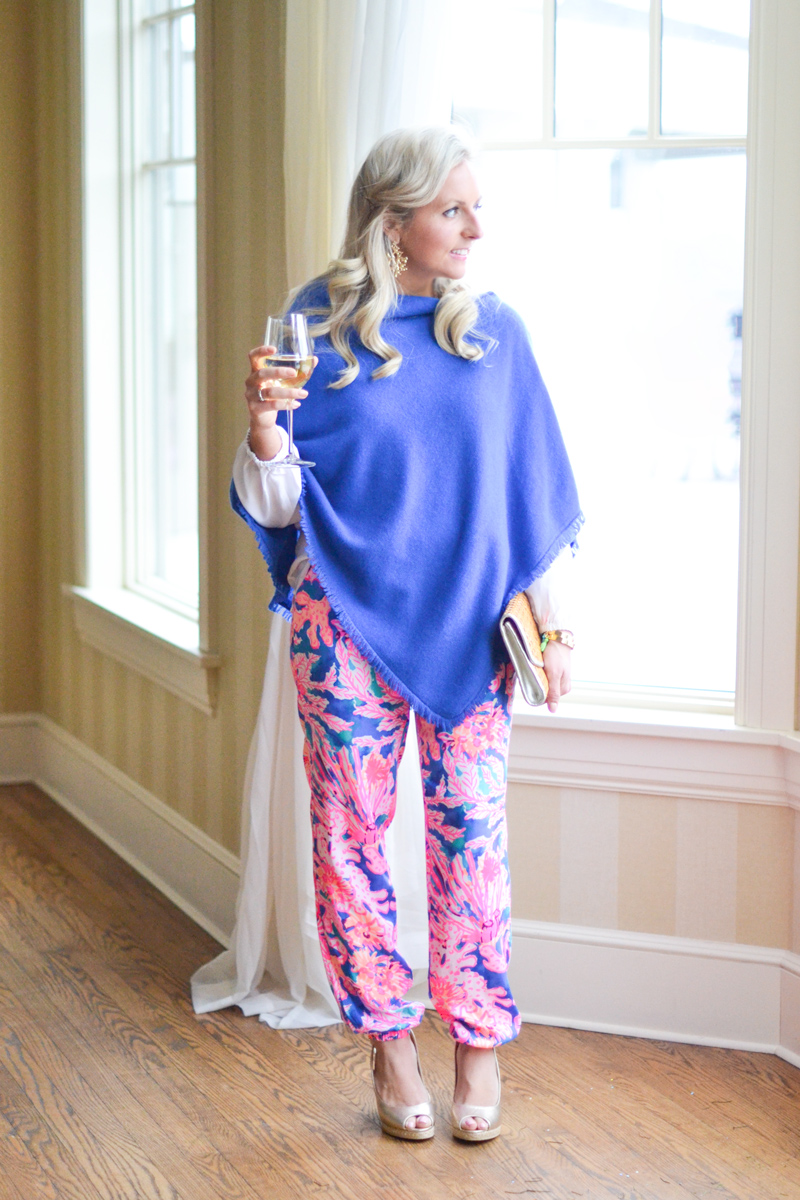 ~ Outfit Details: ALL by LILLY PULITZER! ~ Pants ~ Shirt ~ Cashmere Poncho ~ Wedges ~ Earrings ~ Clutch (Old Lilly, but I'm also loving this clutch) ~ Bracelets (Old Lilly, but SO IN LOVE with this bracelet and this bracelet, which would be great stacked together!) ~
~ Ok, FIRST, I just wanted to point out the most exciting news ever: Tomorrow I'm hosting a Lilly Style Session/ Meet and Greet at Lilly Pulitzer Ardmore (see the event flyer, above)! Really, I'm over the moon excited! To be able to meet more of YOU in person, meet other Lilly Lovers, and do what I love to do the most (STYLE), is really such a dream come true opportunity. Tomorrow is going to be such a special day, I would LOVE LOVE LOVE to see you there if you are in the area!
As a lot of you know already, since returning from Milan, I have been freelance styling for some really awesome companies (*and department stores)! This means that I'm back in the photo studio, styling looks that you see on some of your favorite websites. It's really wonderful and I feel so grateful for these opportunities! There's so much that goes into making things look "perfect" on a website, and just this week I was asked what my biggest strength as a stylist was. I thought hard for a minute…but then decided it wasn't anything technical or monumental. I think it's my ability to stay positive on set and bring happy energy every day, even when the situation is stressful (*which is usually pretty often in this field). Even when it seems like a long dark day ahead, I make the conscious choice to bring the sun. 365 days of sunshine – well, I can really only think of one brand that matches that mindset!
I love Lilly's "Resort 365" brand slogan, because really, it's true for me. Lilly brings the sunshine to my wardrobe ALL the days of the year. Whenever I put on Lilly, I feel like there's extra pep in my step – even if it's in the middle of a SNOWSTORM (when we shot this look above at our country club!). If happiness is contagious, than I like to think that wearing Lilly is contagious too!
This look is HEAD to TOE Lilly and I love it so much! These pants are BLINDINGLY bright and it's wonderful! They also have these hot pink tassels on their drawstrings that I just LOVE! I paired them with this white Elsa top, which is so elegant and flattering on everyone. I really think it's the perfect piece to have to go with any Lilly printed bottom. I'm absolutely OBSESSED with these gold CORAL earrings, which make such a statement and go with just about everything. The look really became complete when I tried on this royal blue cashmere poncho – BAM! SO ELEGANT! The poncho also unbuttons and becomes a shawl/wrap for summer nights! Lastly, these wedges are just so absolutely comfortable. It's like you forget you're in heels (which is clearly the best way to wear heels!)! I seriously had the best time styling out this look. When many women think "Lilly," I know that immediately shift dresses come to mind, but the brand offers a collection of treasures that are comprised of so many wonderfully different styles and products!
On another note, I just wanted to say "thank-you" to everyone who I've chatted with on instagam this week! I have LOVED connecting with so many of you and am so grateful for your support this week and all weeks! This past week was a big one, and I really decided to get brave about VIDEO – you were all so supportive and it really encouraged me SO much! Thank you so so much!
As I deliriously write this post, I feel exhausted…but with a heart SO full of love and gratitude and EXCITEMENT for tomorrow's event! WHAT. A. WEEK. it has been, and I cannot wait to end it with extra sunshine tomorrow!
Gratefully with love,
xoxoxoxoxoxoxo Rhiana
"Style isn't just about what you wear. It's HOW YOU LIVE" ~ Lilly Pulitzer
---
SHOP THE LOOK