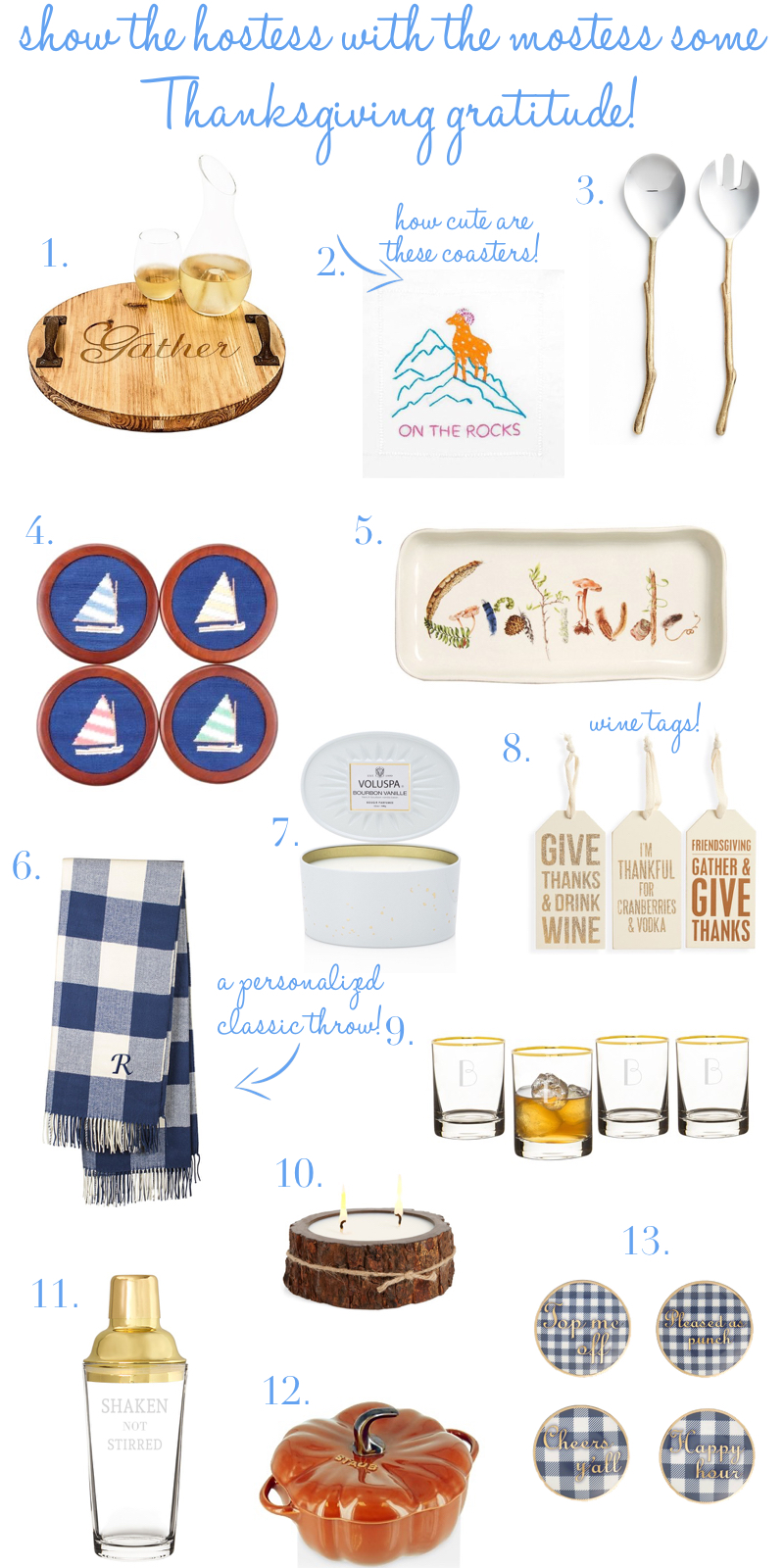 ~ Hostess Gifts: ~ 1. "Gather Tray" ~ 2. "On the Rocks" Coasters ~ 3. Twig Salad Servers  ~ 4. Needlepointed Catboat Coasters ~ 5. "Gratitude" Tray ~ 6. Monogrammed Buffalo Check Throw ~ 7. French Bourbon Vanilla Candle ~ 8. Thankful Wine Tags ~ 9. Monogrammed Old Fashioned Glasses ~ 10. Double Wick Tree Bark Candle ~ 11. "Shaken Not Stirred" Cocktail Shaker ~ 12. Pumpkin Cocotte ~ 13. Gingham Coasters 
~ My own personal experience being the guest at many Thanksgiving dinners inspired this Thanksgiving Hostess Gift Guide! I have spent SO MANY Thanksgivings with other families, and I am so grateful for each of them! Because my parents often head somewhere warm for Thanksgiving, I'm usually "the friend" at the table of one of my closest friends – but I've had some of the most special days celebrating with these families! I usually bring a bottle of wine and something I baked…but as with most things, I'm always running so last minute and wish I had thought of another gift more thoughtful to show my thanks. Wether you are spending Thanksgiving with your own family, your significant other's family, or with friends, I think there's something in this hostess guide appropriate for each and every host/hostess.
I also know that so many of you are participating in "Friendsgiving," and hosting "Friendsgiving" is A LOT of work (and no, your potluck dish is not an appropriate hostess gift!). A lot of the items on this list are under $50 and show that you put some thought into it 🙂
I cannot BELIEVE Thanksgiving is next week. We still have no plan for the actual day (am I a nerd if I go to the gym and do work?!), but I DO know I'll be baking something this weekend for the potluck Thanksgiving lunch at work next week. There's nothing I love more than feeding others gluten (I swear…it's the weirdest thing)!
Gratefully with love,
xoxoxoxoxoxoxo Rhiana