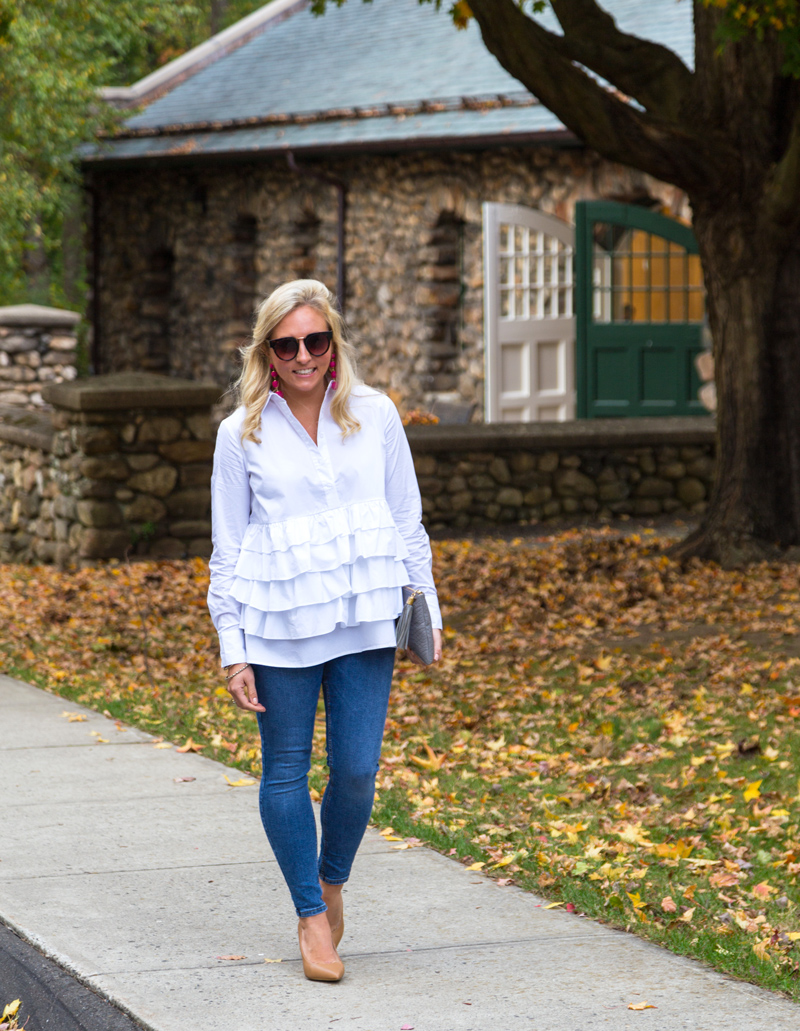 ~ Photography by Craig Perry of Pop Up Photo (big thanks to Craig! It was so great to work together again and I can't wait to share the next post!) ~
~ Outfit Details: White Ruffle Shirt ~ Jeans ~ Heels ~ Clutch ~ Similar Earrings ~ Similar Sunglasses
~ FIRST I have to start by saying that it's been a while since I've gotten so many compliments on one piece everywhere I go….but this white ruffle shirt has been an attention-getter! I wore it to meet my friend Patricia for lunch the other week and ended up giving my business card to a woman who came over to the table to ask about it! After lunch I popped over to the mall to pick up some things and had 6 people compliment me! YOU NEED THIS SHIRT. I feel like it's an especially great top to wear if you are needing a pick me up! Plus…it somehow is the best combination of two of my favorite things: the classic white shirt AND excess amounts of ruffles!
If you follow me on instagram, you know this week was MUCH quieter than it's ever been. If this week had happened to me in my high school days, it would have been one of the many weeks I hid under the covers in my dorm room and watched Gilmore Girls with my headphones in…BUT I have so much to do, (I honestly can't remember the last time I watched a full show on TV), and the adult version of this looks a lot more like "just keep swimming." 
GRACE not PERFECTION is the phrase I've been repeating over and over. It's hard to find balance when you feel like you've been totally knocked off a balance beam by a linebacker. My parents (and I) are still in the midst of a move, and at first I was pretty pumped but lately I've been feeling a wave of "this again!?" When my parents put empty boxes in my childhood bedroom (*still preserved in its 8th grade state – I kid you not, that's the last time I've been there), they said "I know this might be hard" and I joked "No worries! I do this all the time!" But seriously…it feels like I do this ALL. THE. TIME. I'm feeling super ready to lay some ground roots down SOMEWHERE. ANYWHERE. (But like…preferably out West, in a ski town, with really nice people, and maybe a Whole Foods…?)
Everyone warned me about how I might have trouble adjusting to a new culture and a new city and a new language when I moved to Milan. I received a lot of advice and words of wisdom from older friends before I left about the adjustment period. The funny thing is that I was totally, completely, 100% fine with adjusting to Milan. It's coming back to PA that feels more foreign than a foreign country. Can someone tell me what "the blue route" is? Is it ok to say that I've never once rooted for the Eagles? When will I be able to stop using my GPS to get from Starbucks to the gym? Why does the word "hoagie" sound so weird?
I don't want to sound negative. I'm so grateful for the opportunity to freelance with such nice people and live at home. It's just that I listened to a podcast this week about influencers "living their truth" and I think I just prefer to share the really good, really happy, and wonderful things on the blog. BUT, I think that leaving out the ordinary life struggles paints a one-sided picture that becomes misleading.
Who knows…maybe in 3 months, I'll be driving the blue route (?) to eat a gluten free hoagie, spilling WaWa coffee all over my Eagles jersey and then we'll all look back and laugh about the time when I felt like a foreigner in PA. (*you have to admit, the visual is at least a little bit funny!) 
Gratefully with love,
xoxoxoxoxoxoxoxoxoxoxoxoxo Rhiana
---
Shop the Post!
---