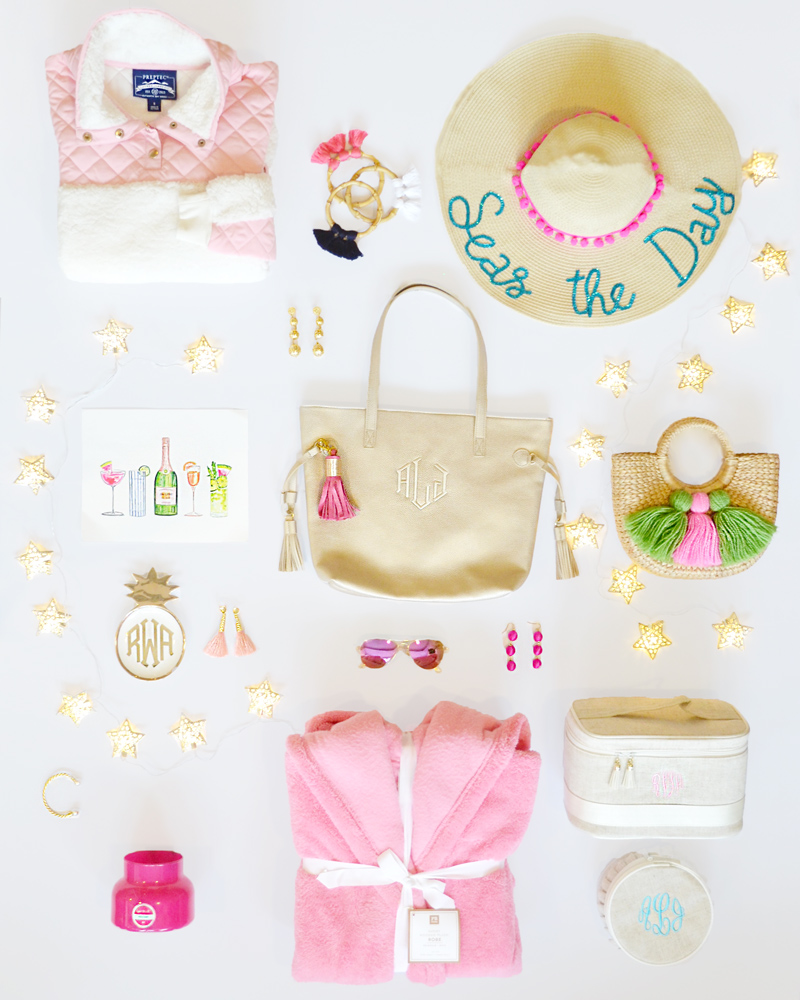 ~ Below, Amy and I are talking about each of the products in this photo! Head on over to instagram to enter!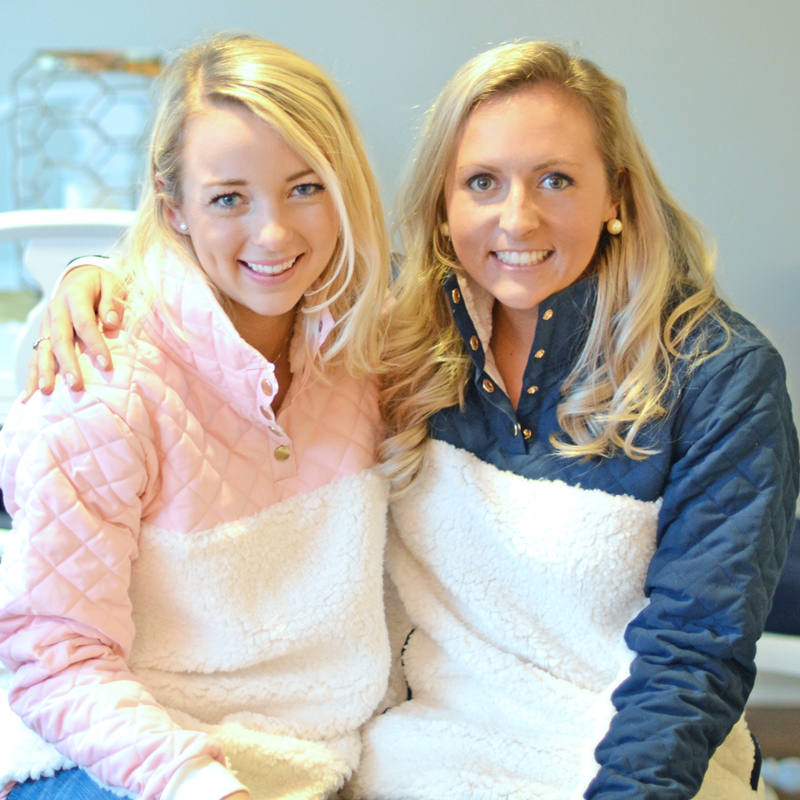 ~ Our soft-as-ever quilted pullovers are by Lauren James and we will be giving one away as part of our giveaway! ~
~ I am SO beyond excited to be partnering with my blonde blogging partner-in-crime, Amy, from I Believe in Pink, to co-host the biggest giveaway I've ever done on the blog! We got together and rounded up our absolute favorite products from this past year (above) and are so excited to be giving away such amazing products ($1,000 total value!)! Entry is easy and is on instagram!
If you aren't following Amy's blog and instagram yet, you absolutely should! During the day, she works for Lilly Pulitzer HQ, but by night, she curates the most beautiful and colorful space full of inspiration of all sorts (travel, interiors, fashion, shopping guides, etc.)! You might remember Amy from the time we teamed up to share our mutual love for Lilly on National Wear Your Lilly Day before I left for Milan. Having a blogging friend a phone call away who totally gets it and is always on the same page has made all the difference! I'm so grateful for Amy (P.S. I don't know how she does it all… she's truly amazing!)
Below, we decided to give you a run-down of what's included in the giveaway and tell you a little bit about why we love each thing!  We are SO grateful to each brand that we've partnered with for this giveaway. Many of them are brands we have featured this past year on our blogs, but if you are unfamiliar with them, I think this is an AWESOME opportunity to click over to their pages and discover something new. So many of the brands below are owned by amazing #girlbosses and friends of ours and we know that you will love them as much as we do! Don't forget to head on over to instagram to enter!
---
~ From Amy: 
~ Tiny Tassel Bracelets : "I sold these in the I Believe in Pink pop-up boutique this summer and they were a HIT. They're effortless and stackable, and the tassels and bamboo add a touch of bohemian color to any ensemble."
~ I Believe in Pink Boutique Tassel Straw Bag: "Mini but makes a big statement. I adore the island vibes of this pink and green straw tasseled bag! Perfect to take out for beachside cocktails and dinner."
~ Marley Lilly Monogrammed Tote : "This platinum tote is the perfect middle ground between silver and gold. I chose the Octagonal Script in Khaki thread for a simple and modern touch of personalization. Another major plus: it fits a 13″ laptop. Your work purse just got a lot more chic."
~ Evelyn Henson "Happy Hour" Print: "Evelyn is a good friend of mine and paints the most adorable and whimsical paintings. This print is one of my all-time favorites of hers. Put it in a gold bamboo frame and hang it above your bar cart… cheers!"
~ Diff Eyewear Sunglasses: "Don't be surprised with how many compliments you get wearing these… Diff Eyewear sunnies have far and away been my favorite sunglasses brand of 2017. For every pair of sunglasses they sell, they donate a pair of glasses to someone in need. For someone who needs strong prescription glasses/contacts, I LOVE this."
~ PB Teen Star String Lights: "Stars are trending right now and these twinkly lights add instant coziness to any room. We just hung string lights all over our apartment living room and are obsessed with the warm atmosphere they create. We will be sending the winner two sets of these, batteries included and ready to light up the room!"
~ PB Teen Robe: "Plush meets pink. PB Teen was definitely one of my favorite home brands in 2017, as I moved in and decorated my first apartment, and this robe proves how well-made their items are. It will be your new best friend post-shower or on chilly mornings."
~ Capri Blue Candle: "Now that I'm officially out of on-campus living (ha), I've discovered my love for candles. Capri Blue does scents like no other. The winner will be receiving this candle, which is a functional and gorgeous accessory for any room. Use it up (you'll never want to blow it out!) and then use the jar as a glam pen or makeup brush holder. Two in one."
~ Lisi Lerch Earrings: "No one does statement earrings like Lisi Lerch. She lives close to both Rhiana and I and is total girl boss #goals. Rhiana and I and we have been wearing her outfit-making jewels for years. This gold ball pair are begging to be worn with your New Year's Eve outfit… and then every outfit after that."
~ Belle Adore Tassel Key Chain: "Jessica of Belle Adore (she is a junior at the University of Richmond where I went!) makes these leather tassel key chains and they are too much fun to add to your set of keys, clutch, or tote. The winner will get this pink one, which goes with literally anything. 😉 "
---
~ From Me: 
~ Lauren James Quilted Pullover: " I just love this brand and all of their bows and seersucker! They do a great job of putting a feminine twist on the classics. Amy and I just LOVE our quilted pullovers from them and they are even softer than they look (*like, unreal soft). This might just be my new favorite pullover which is a big statement from a girl who basically lives in ski clothes all winter! You're going to live in it."
~ Carolina Dandy Monogrammed Train Case and Jewelry Case: "This perfect duo – oh my goodness! The Monogrammed Train Case and matching Monogrammed Jewelry Case from Carolina Dandy might just be my new favorite everyday essentials! I desperately needed both of these, which are perfect for at home and for travel. They have just the right amount of compartments on the inside and somehow make my morning routine feel more organized and polished! You will love them!"
~ Andrea Del Bello Jewelry Hammered Silk Tassel Earrings: "Maybe I'm biased because she's my best friend? But…as a stylist I've been trained to look at things with an impartial eye…and even if she weren't my best friend, I'd still choose her tassel earrings over every other pair of earrings in my collection! They are light (you don't even notice you're wearing them), come in PERFECT colors, and it's impossible for me to leave the house in them without getting more than 2 compliments. This light pink color goes with everything and can be worn in all seasons!"
~ Honeymoon Hats "Seas the Day" Hat: "Megan, the amazing #girlboss owner of Honeymoon Hats, made me the most amazing 'La Dolce Vita' hat while I was getting my masters in Italy. I basically LIVED in that hat…almost as much as I lived out the phrase itself! Her hats are SO happy, fun, and colorful, and everyone will stop you and ask where you got it – I promise!"
~ SUGARFIX by Baublebar Ball Drop Earrings: "OH how bright and festive are these earrings?! They are also surprisingly light. In the winter, I'm always looking for ways to add pops of color to my outfits, and these earrings are the perfect accessory to brighten up winter neutrals!"
~ Kiel James Patrick Classy Girls Bracelet: "I have become so loyal to this jewelry line by KJP! It's incredibly well-made, and their pieces somehow just elevate every look in the most stunning way! This bracelet with giant pearls on the end is perfect for stacking or for wearing solo. It's a beautiful final touch to all of your outfits in every season."
~ Marley Lilly Monogrammed Pineapple Tray: "HOW CUTE is this gold monogrammed pineapple tray? It's a perfect catchall for your jewelry on your dresser, or you could use it to spice up your desk or bar cart! Amy, her sweet roommate, Caroline, and I all agreed it would make the perfect gift for your co-workers and friends!"